Jon Kyte Extends Record at Cash Game Festival Bratislava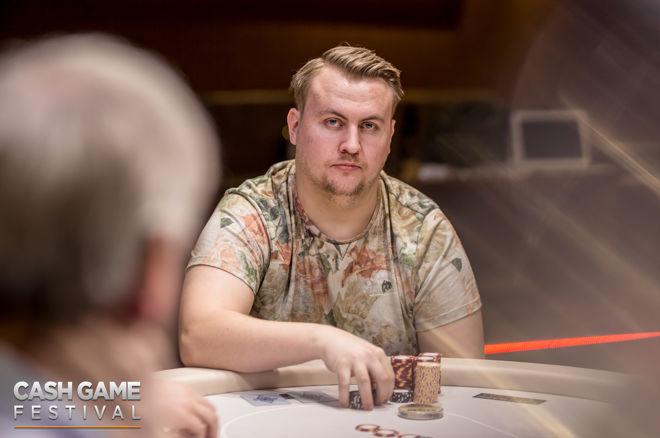 The action was booming on Day 2 of the Cash Game Festival Bratislava at Banco Casino Bratislava.
Typically on a Thursday evening, the casino attracts one to two cash game tables with stakes of €1/€2. Not only did the Cash Game Festival attract nine tables as of midnight but higher stakes games were also available including play at €2/€5 no-limit hold'em, €5/€5 pot-limit Omaha, €10/€10 pot-limit Omaha, and €1/€2 Sviten Special (otherwise known as drawmaha) that plays much like a €5/€5 game or higher due to the nature of the game.
The action will be even more packed with the weekend approaching, and many players are coming in from nearby Austria and others confirming they are flying in from abroad.
As will be the case throughout the festival, there were two televised feature tables hosted by the British duo of Henry Kilbane and George Sandford.
Italy's Paolo Caverzaghi was the most prominent winner at the early €2/€5 no-limit hold'em feature table booking a profit of €1,182 or 236.4 big blinds.
The stakes then moved up to €10/€10 pot-limit Omaha, and the action got huge. Jon Kyte, who entered the action with a record for being the biggest winner at a Cash Game Festival feature table on five different occasions, broke his record after he finished on top once again of another feature table with a massive profit of €3,736 (373.6 big blinds). This also is a festival high at this point for the most big blinds won at a Cash Game Festival Bratislava feature table.
In addition to all the action on the felt, online qualifiers and those with the hospitality package headed off early in the evening to the Great Bratislava restaurant for a world-class meal and endless drinks. Tomorrow, players will enjoy a players party that will be one to remember. Unlike tournament festivals, players can go to all of the events as they can stop and start playing as they please.
As will be the case every day during the festival, live streaming is scheduled at lower stakes at 6:00 p.m. and higher stakes at 9:00 p.m. local time. You can watch all the action on the Cash Game Festival Twitch channel and under the Live Stream tab in our coverage. Stay tuned to PokerNews as the festival has just begun and will continue to grow as the weekend approaches.