Poker Twitter is Back: Doug Polk vs. Dan Bilzerian Over Crypto & Poker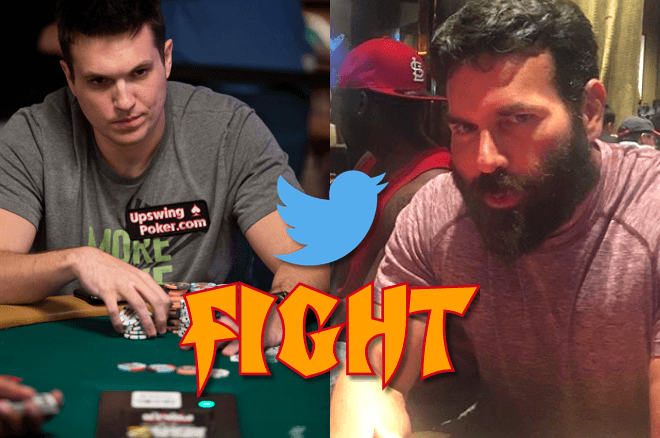 New day, new feud. Once again we are reminded why poker Twitter is one of the most entertaining things around. It's not uncommon to see quarrels initiate through Twitter and sometimes get settled on the felt — as was the case between Cate Hall and Mike Dentale.
Recently, Doug Polk took a shot at Instagram playboy Dan Bilzerian with this tweet.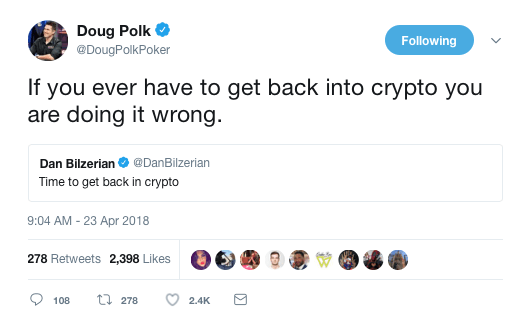 Bang, bang! Now we're not experts on buying and selling cryptocurrency, but I think it's safe to say that Polk does know a thing or two about Bitcoin and other cryptocurrencies. I mean, his Crypto YouTube channel only continues to grow — he's now nearly at 200K subscribers. Is he a financial advisor? No, and he doesn't claim to be, but he does the research and seems to be knowledgeable.
The exchange didn't stop there, though. And so our day just got a little better.
Polk responded by doing two things. 1. Bringing up "daddy's money." and 2. Bringing up the relationship between crypto and poker.
@DanBilzerian Since you brought up the subject, make sure to continue to use Daddy's money so people pay attention to you as well.

— Doug Polk (@DougPolkPoker)
Professional poker players know that just because a decision is profitable it doesn't mean it was the correct one.… https://t.co/wnpKJ0zUZ6

— Doug Polk (@DougPolkPoker)
Polk even retweeted his own daddy comment, ya know - for the extra needle.
The two made a few more exchanges — you should read the thread — before Bilzerian said that he could show his winnings of more than $40 million made in poker and that he probably has won more in one night than Polk had made throughout his entire career.
@DougPolkPoker To save time, I'll bet you a million dollars I can show wires for poker wins in excess of 40 million… https://t.co/PZUTzmNorN

— Dan Bilzerian (@DanBilzerian)
Then finally, the good stuff. Polk responds with a challenge to a poker game.
@DanBilzerian As fun as it sounds to settle this by getting your accountant involved (he does an amazing job btw) h… https://t.co/pgnU2dCUqY

— Doug Polk (@DougPolkPoker)
To no one's surprise, Bilzerian refuses by saying, "point is, you said I didn't make money playing poker, so let's bet on it." Of course, no one cares about bank statements, we want the poker, right?
Well, we may never get the heads-up for rolls we all want, but Polk does end with a small tip and it's that "you should never be fully exiting cryptocurrency. The value will increase over time, and trying to time the market will be on average an inferior strategy to investing in the long term success of Bitcoin."
I'm not much into taking sides here because I'm not in cryptocurrency and don't follow Bilzerian, but if there was a side to be won, I'd think Polk takes this one — at the very least, because he's still continuing to educate his audience. He's just doing so by taking a jab or two at someone to make that happen.
But answer the poll below and tell us...