Gordon Vayo Sues PokerStars for Non-payment of $692,000 Win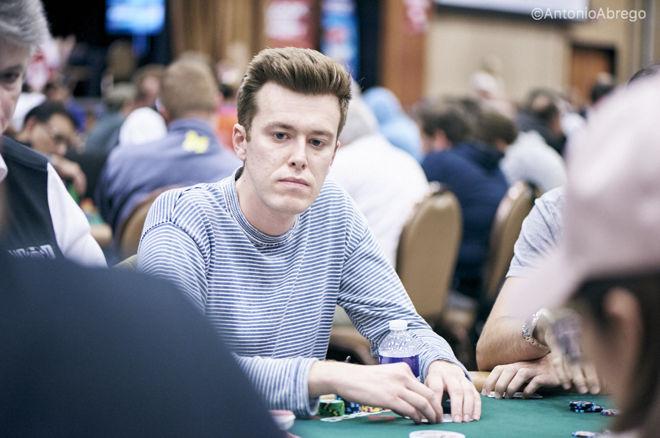 This is a developing story.
Professional poker player Gordon Vayo has filed a lawsuit against online poker room PokerStars for not paying out $692,000, an amount that he won during the 2017 SCOOP series under his screen name "[email protected]", according to Tuesday's article on Forbes SportsMoney. The lawsuit is pending in the U.S. District Court for the Central District of California and includes counts of fraud and deceit, false advertising, and breach of contract. The full complaint can be found on courthousenews.com(PDF).
Vayo, best known for his runner-up finish in the 2016 WSOP Main Event for a $4.66 million score, has over $6.23 million in live cashes to go with plenty of online success. His SCOOP win last year is not in dispute - in fact, information surrounding his win in SCOOP #1-H $1,050 NLHE is displayed on the PokerStars blog itself.
"Mr. Vayo had submitted uncontroverted evidence – which Defendant did not contest – that he was in fact in Canada on the first two days of the SCOOP tournament."
But his big SCOOP score was never collected, due to an investigation by PokerStars into Vayo's potential whereabouts while playing the event. PokerStars posited that Vayo may have played some or all of the tournament while located within the United States, which would represent a breach of PokerStars rules.
According to the Forbes article, Vayo denied this allegation, saying that he provided PokerStars with evidence of his whereabouts in Canada during the entirety of the event in question. PokerStars maintained that it was "still 'not inconceivable' that Vayo was in the U.S. at some point during the tournament.
A spokesperson from The Stars Group provided the following response regarding the matter:
"We cannot comment on pending litigation matters and our investigation into this particular matter is ongoing. However, as operator of the most regulated poker site in the world we believe that we have a duty to protect the integrity of the game and ensure we provide a safe and fair poker platform by enforcing our terms of service. We have paid out over half a billion dollars in tournaments winnings this year alone and will continue to implement rigorous security procedures to protect our players."
In Vayo's Words
Vayo was quoted in Forbes as saying that PokerStars:
"[H]as engaged in a practice of approving U.S. citizens and residents for play on the PokerStars.com site, allowing and encouraging them to play on the site, happily taking their money – in many cases for years. Then, after a U.S. citizen or resident wins a significant amount of money on the PokerStars.com site, Defendant conducts a sham investigation into the user's activities and the location of the user's access of the site, placing the onus on the player to retroactively prove that it is 'inconceivable' that his or her play could have originated from within the United States, in order to gin up a pretext to deny payment."
According to Vayo, Stars' claim violates his rights as a player, withholding money due to him on grounds that bear no proof. He hopes his lawsuit against the company raises awareness for other situations similar to the one he has been dealing with for the past year.
VPN
In the complaint, it's noted that Vayo used a Virtual Private Network (VPN), something that PokerStars' terms of services prohibits, according to the FAQ on PokerStars.com.
While Mr. Vayo did not understand what prompted Defendant's sudden inquiry, he surmised that the issue may have been related to a problem with the VPN he was using to access internet sites which he had encountered earlier that Spring, and which had persisted between March and May of 2017. He promptly responded to Defendant that same day, on August 5, 2017 – less than two hours after receiving Defendant's email – and informed Defendant of the VPN issue that he had encountered earlier that Spring.
The claim also states that Vayo has proven he was in Canada for at least the first two days of the event:
60. Defendant made this assertion despite the fact that Defendant itself did not even allege that there were any out of jurisdiction logins to Mr. Vayo's account during the SCOOP tournament, and despite the fact that Mr. Vayo had submitted uncontroverted evidence – which Defendant did not contest – that he was in fact in Canada on the first two days of the SCOOP tournament, on May 20 and 21, and it
would have been virtually impossible (not to mention inexplicable) for him to travel to the U.S. in the middle of an active, intensive, major tournament that required nearly around-the-clock play and focus, leaving time for only brief periods of rest and nourishment.
Precedent
In 2007, the winner of the WCOOP, playing under the screen name "TheV0id", was never paid out as PokerStars accused the person behind the account to be in breach of the terms of services by using more than one account in the same tournament. A subsequent lawsuit by the account holder, Natalie Teltscher, sister of avid poker player Mark Teltscher, was dropped after some months.
In that case, the other players received a retroactive pay jump as they all moved up a spot. Initial runner-up "ka$ino" was declared the winner, while former PokerStars Team Pro Vanessa Rousso, playing under the screen name "LadyMaverick", received the runner-up prize.
While cases in which someone multi-accounted have typically resulted in the prize pools being redistributed amongst the other players, other cases have resulted in PokerStars donating the money to charity.
When Dutch poker player Jimmy Jonker, playing under the screen name "zeurrr", placed fourth for $518,000 in a special edition of the Sunday Million back in March of 2011, he was stripped of his prize money when it was found out he was underage at the time of playing. In that case, the $518,000 prize was donated to charity by PokerStars, as reported by PokerNews.nl.
It's currently unknown what was done with the $692,000 prize PokerStars is withholding from Vayo.
The Stars Group owns a majority share in iBus Media.