Origin of Being Felted – A Conversation with Phil Laak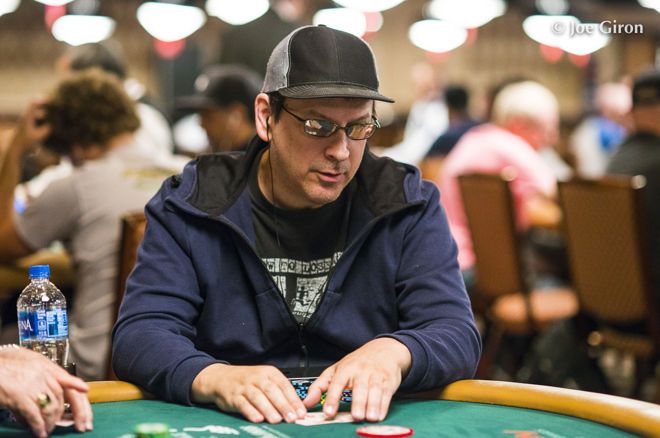 Phil Laak, who rose to prominence as the "Unabomber" on the World Poker Tour, is a bit of an enigma. If you've ever chatted with him, you've likely wondered if he's a raving madman or a misunderstood genius. It's probably a little of both.
Laak, the longtime boyfriend of actress Jennifer Tilly, has nearly $3.7 million in lifetime earnings. That is even more impressive when you consider his best score to date is just $265,290 for winning the 2005 William Hill Poker Grand Prix Final. In 2010, he became a World Series of Poker bracelet winner when he took down the WSOP Europe £2,500 NLH Six-Handed for $263,494.
Other highlights in the career of the Unabomber include winning a WPT title, playing the 2008 WSOP Main Event disguised as an old man, being BFFs with Antonio Esfandiari, and playing a then-record 115 hours straight in a single 2010 poker cash game session. He is also credited with creating the poker term "felted."
As legend has it, Laak, who learned to play poker in 1999, coined the term while playing cash games in California during the early 2000s.
Laak: "I like to play games. Games are so much fun, I can't take it."
"The term had already found its footing less than six months after I said it, at least locally," Laak told PokerNews. "I already knew it was gonna wiggle its way into being an actual, practical, and universal poker term. I could feel it. I knew early on that the term had 'stickability.'"
He continued: "I remember consciously using it in conversation when a guy got busted. For it to be sticky, other people had to use it. Back then if I played four days a week it must've meant there was a wedding and a funeral I needed to go to. I just played all the time. From 2000-05, I couldn't help myself."
True to form, Laak used his ability to turn a seemingly innocuous term into an existential thought.
"If you want to live forever, you create a thing. It might last a long time, like Buddhism. Buddha is dead but his philosophy lives on. Not that felted is compared with Buddhism, it's just a term and not an interesting thing, but if the term felted exists in 500 years and being used properly for when a guy goes broke in a poker game, a little part of me would be like, 'Wow, I did something. Ok, good.' Because it's hard to leave anything. I feel pretty good that it could outlast me easily."
Upcoming Poker Plans
Laak hasn't exactly been tearing it up in 2018. In fact, his $24,019 in tournament earnings thus far is his lowest since 2002's $17,380, which was his first year playing tournaments. Most recently, Laak finished 69th in the WPT500 L.A. for $2,835.
"I try doing other stuff but I keep coming back to gambling," he explained. "Other stuff is more profitable in less time, personally for me, but I'm always waiting for the crossing the T's and dotting the I's, I just decide to go degen, you know? I like to play games. Games are so much fun, I can't take it."
Laak was in Vegas this summer where he strung together five mediocre cashes.
"I went to the WSOP thinking I was going to do a balanced blend," he said. "Surf a lot, go out to dinner with friends, play a little poker. I'm gonna have this balanced life strategy. What sometimes happens with people with children's minds is they lose the moderation button. It felt so good playing a lot of poker. I think I broke even or lost small. It was a blast."
Laak: "I used to travel a ton, but I don't travel very much anymore."
As for the future, Laak literally walked over to a calendar to glance over upcoming stops.
"There's the Poker Masters, but I don't think I'm doing it. I don't really enjoy playing those things. The olden days high rollers I felt like everyone had a chance. Nowadays high rollers are rarified air from the super elite, brilliant, money-grinding genius types. There's not a whole lot of fun players. I like to play with fun players. There's not a lot of fun players signed up for $100Ks and $25Ks."
Another poker date on the calendar for Laak is October 3, which is the movie premiere for Vince van Patten's movie Walk to Vegas. Laak and Tilly will both be there. Speaking of Tilly, Laak realized that she's actually been the busier poker player as of late.
"I'm looking at the schedule and Jennifer is doing more stuff than me," he said. "Looks like she is playing Poker After Dark in September. I have to get back on that, I haven't been doing much poker TV. It looks like I'm going to be kind of invisible. I used to travel a ton, but I don't travel very much anymore."
Laak may not know what his upcoming poker plans are, but he has committed to a trip to Austin, Texas.
"Some friends of mine are going surfing in Austin, landlocked wake surfing off the back of boats and stuff," Laak concluded. "I'll be doing that for sure."
Executive Editor US, PokerNews Podcast co-host & 2013 WSOP Bracelet Winner.