Get Creative to Win Platinum Passes from PokerStars Ambassadors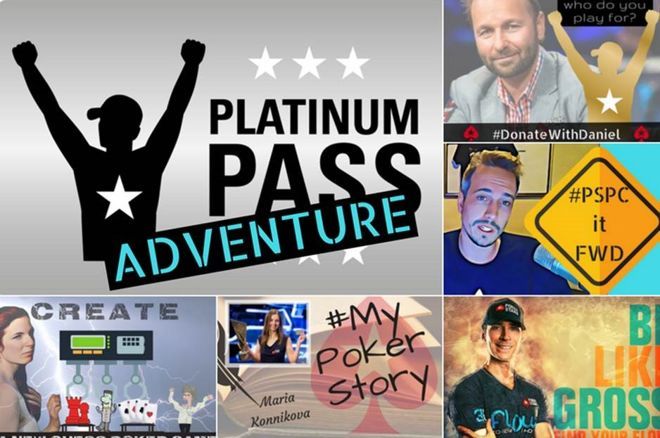 PokerStars has been giving out Platinum Passes — $30,000 trips to play in the much-hyped PokerStars Players No-Limit Hold'em Championship — aplenty since they announced the promotion last December, but most of them have involved players sitting at the poker table.
Players could win passes by winning certain tournaments, live or online. They could win passes by simply luckboxing their way through special flipouts. They could just get their seat number randomly drawn in a giveaway, like David Peters.
Now, PokerStars is shifting the Platinum Pass awarding away from the felt. Instead of something related to poker play or just random chance at the table, PokerStars has hooked up its ambassadors with Platinum Passes to give away at their own discretion. Each was charged to come up with a creative way to award a Pass.
Details have emerged about the Passes held by Maria Konnikova, Lex Veldhuis, Daniel Negreanu, Jen Shahade and Jeff Gross. Each one has presented the poker world with a challenge that's personally meaningful to the ambassador. Those wishing to win a Platinum Pass can peruse each Platinum Pass Adventure to see if it fits their skill set and desire.
Maria Konnikova
Konnikova is a storyteller, a writer who has produced best-selling works and hopped into the poker world on a whim when she decided to write a book about it. Now, of course, that book is on hold after her tremendous success has convinced her to keep the grind going and see how far she can take her newfound skills.
Konnikova's own poker story has been told dozens of times, with even mainstream media latching onto her unique tale. Knowing this, she's decided she wants to hear everyone else's poker story through her hashtag #mypokerstory.
She challenges the poker world to submit her their stories in some media form, be it writing, video or even a song. Written stories should be roughly 250 words, while videos and songs should be about a minute long.
They'll be judged first by Konnikova, then the five finalists by a panel hand-picked the famed writer, for originality, flow, relevance to poker, clarity and artistic value.
Full details can be found here.
"The most important thing is that the story is compelling and compellingly told," she said. "I truly believe that creativity and storytelling ability are among the most valuable and most often overlooked skills in poker — and I can't wait to see you embrace those skills in this challenge."
Lex Veldhuis
While Veldhuis first made his name as a brash, bluffing blaster at the live poker tables, his name is now most synonymous with the streaming platform Twitch, where he plays in front of thousands of fans.
Many people come to Twitch channels, both Veldhuis' and others, for the content. But, eventually, many stay for the sense of community and camaraderie they build with others in the channels. That feeling of community is what makes Twitch special for Veldhuis, and one thing he most enjoys is seeing those in his channel helping each other out in various ways.
That's why he's challenging poker players to do good things for others. Using the hashtag #PSPCitFWD, Veldhuis wants to hear about acts of kindness and good.
"The feeling of someone selflessly helping you, or doing something nice for you is incredible," he said. "It's inspiring and motivates anyone to do it for others as well."
Submissions should be in video form or via a blog with pictures. They'll be judged on originality, doing the most good in the most efficient manner, and what is most personally meaningful to Veldhuis and then the five judges for the finalists. Check out the full details here.
Daniel Negreanu
"Kid Poker" may have won nearly $40 million in his life playing tournament poker, but he certainly hasn't pocketed all of it, not even the net profit. Negreanu has always been a big supporter of charity, so his challenge to the poker world is all about giving as well, much in same manner as Veldhuis.
Who do you play for?
That's what Negreanu wants to know, and he wants you to tell him via video submission no longer than two minutes and 20 seconds, featuring the charity, foundation or cause of the person's choice. The winner gets a Platinum Pass, with 50 percent of any winnings going to the selected charity, while the four runners-up get $1,000 toward their charity choices.
Negreanu has selected the hashtag #DonateWithDaniel and full details can be seen here.
Jen Shahade
Before she racked up more than $300,000 in poker tournament winnings and became a member of Team PokerStars, Shahade became known for her chess skills, making her name as a champion player. There's natural overlap between the two games, as many chess champions have tried their hand at poker and it isn't unheard of to see poker players battling on the chessboard at tournament venues.
"As a chess champion and an Ambassador for PokerStars, I love the cultures that form around games of skill as players form study groups and work to improve each other," Shahade said.
She's challenging everyone to figure out a way to marry her two passions, poker and chess, by creating a game that incorporates elements of both. Contestants can send their creations via video demonstration or write blogs describing their games, all submitted with the hashtag #mychesspokergame.
They'll be judged on creativity, playability, presentation and passion for chess and poker exhibited in the submission. Full details can be found here.
Jeff Gross
Like Veldhuis, Gross became a star in poker via his Twitch channel, showing off his personality and poker skills to a community of thousands of followers. He's tying his challenge directly to his own history, as he wants others to follow in his footsteps and take the plunge into becoming poker vloggers.
"My hope that is people that try this out," he said. "Win the Platinum Pass or not, they will truly enjoy the experience and may even continue to vlog in the future. To give someone the opportunity to create something they are passionate about and send them to play in a once in a lifetime special event in The Bahamas means the world to me."
Gross wants commitment and content, so he's asking for for five weeks of vlogs, each tackling a different topic, submitted with the hashtag #VloggerInParadise.
Each one should be between five and 10 minutes, and they'll be judged by Gross and fellow vlogger Andrew Neeme. The criteria for judging are creativity, storytelling, humor, passion and doing something outside of a comfort zone. Full details available here.
Opportunities for Platinum Passes abound, as each of these challenges asks for a different set of skills and a different area of work. Poker players dreaming of a trip to The Bahamas for a $25,000 tournament can get started putting their abilities to use in any of these areas and try to book the poker trip of a lifetime.
The Stars Group owns a majority shareholding in iBus Media.