Ali Imsirovic Dons Purple Jacket After Back-to-Back Poker Masters Wins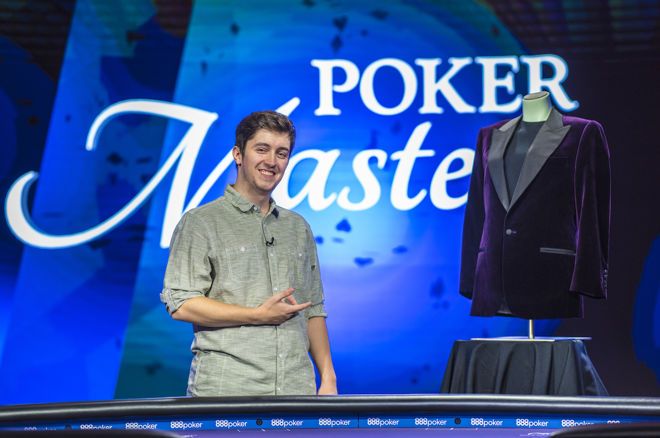 Last year, the inaugural Poker Masters served as a launching pad for Steffen Sontheimer. Fittingly, the second edition did the same for Ali Imsirovic, a 23-year old poker pro from Vancouver, Washington.
Imsirovic was one of the game's up-and-coming stars, and he blossomed by taking down back-to-back events on his way to winning $1,288,600 and the coveted Poker Masters Purple Jacket. Despite winning about $50,000 less during the seven-event series, Imsirovic edged out fellow tow-time winner David Peters by 10 points to etch his name in poker history.
Imsirovic: "There are still plenty of guys I think are much better than I am."
"There are very few things that can compare to this," Imsirovic said after his second win. "This win is very prestigious for me because this event series has all the top players in the world. I know the WSOP Main Event is seen as more prestigious, but in that event, you need to get very lucky across nine days battling against a below average field. In these fields, you constantly have to play your best because otherwise, you're just going to get destroyed."
A Career-Defining Week
During the series, Imsirovic more than doubled his career live tournament earnings – before the Poker Masters he had $1,115,899 in tournament earnings – and was the continuation of an already hot year. Back in January, he won a PCA $10K for $160,050 and April took down the Borgata Spring Poker Open $2,700 Main Event for a previous career-high $246,066. Since the end of 2015, Imsirovic has amassed $2,404,499 in career poker earnings.
At the 2018 Poker Masters, Imsirovic got off to a good start when he finished eighth in the $10K Opening Event for $27,600. In Event #5: $25,000 NLH, Imsirovic topped a 66-entry field to win $462,000 and immediately late registered for Event #6: $50,000 NLH.
He steamrolled the competition and went into the final six with more than half the chips in play. At the final table, he eliminated all five opponents one by one on his way to winning a new career-best $799,000. There were a few players who could mathematically catch him in the final event, but none came close to doing what they needed to do. Imsirovic, who had busted the final tournament early, locked up the Purple Jacket after Brandon Adams fell short of the money.
"There are still plenty of guys I think are much better than I am, so I got a lot of work to do," said Imsirovic. "I just ran better than they did but I'm looking forward to the challenge I'll play more with these guys and feature high rollers and just trying to improve and get to their level."
2018 Poker Masters Final Standings
| Place | Player | Points | Earnings |
| --- | --- | --- | --- |
| 1 | Ali Imsirovic | 660 | $1,288,600 |
| 2 | David Peters | 650 | $1,343,200 |
| 3 | Brandon Adams | 510 | $543,000 |
| 4 | Isaac Haxton | 480 | $309,900 |
| 5 | Jake Schindler | 390 | $575,000 |
| 6 | Koray Aldemir | 385 | $917,000 |
| 7 | Ben Yu | 360 | $478,000 |
| 8 | Dan Smith | 305 | $749,500 |
| 9 | Keith Lehr | 300 | $333,000 |
| 10 | Jonathan Depa | 270 | $249,500 |
| 11 | Bryn Kenney | 260 | $417,000 |
| 12 | Jason Koon | 240 | $254,000 |
| 13 | Jared Jaffee | 210 | $262,500 |
| 14 | Brian Green | 210 | $138,000 |
| 15 | Maurice Hawkins | 210 | $115,500 |
| 16 | Cary Katz | 210 | $114,700 |
| 17 | Seth Davies | 150 | $352,500 |
| 18 | Brian Rast | 150 | $214,500 |
| 19 | Rainer Kempe | 150 | $89,700 |
| 20 | Ryan Tosoc | 150 | $77,000 |
| 21 | Daniel Negreanu | 120 | $174,000 |
| 22 | Bill Klein | 120 | $125,000 |
| 23 | Dan Shak | 120 | $121,500 |
| 24 | Dominik Nitsche | 120 | $95,500 |
| 25 | Andrew Robl | 120 | $55,000 |
| 26 | Sam Soverel | 90 | $188,000 |
| 27 | Cord Garcia | 90 | $55,200 |
| 28 | Justin Bonomo | 60 | $141,000 |
| 29 | Elio Fox | 60 | $82,500 |
| 30 | David Eldridge | 60 | $34,500 |
| 31 | Matthias Eibinger | 60 | $20,700 |