Ace-High Hero Call Propels Justin Bonomo to First Poker Masters Title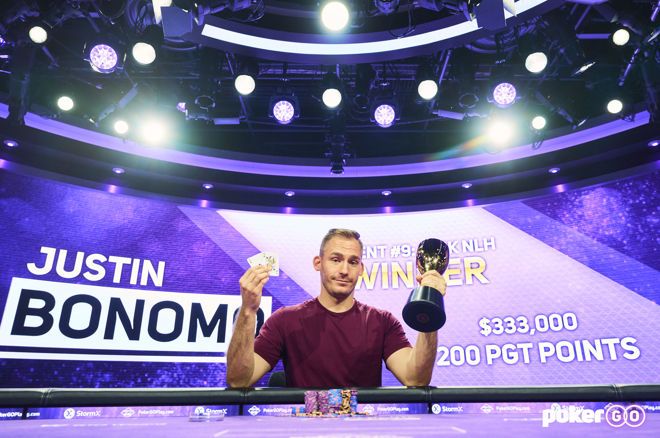 As the 2023 Poker Masters inside PokerGO Studio in Las Vegas nears its end, one of poker's most accomplished players, Justin Bonomo, earned $333,000 and his first Poker Masters title by taking down Event #9 $25,000 No Limit Hold'em.
Bonomo, who sits second on the all-time money list with $62.4 million in live tournament earnings, entered the final table of the penultimate Poker Masters event with nearly half of the chips in play against opponents including Chino Rheem (6th - $46,250) and a trio of recent Poker Masters champions in Orpen Kisacikoglu (5th - $74,000), Andrew Lichtenberger (4th - $101,750) and Stephen Chidwick (3rd - $148,000).
Bonomo held onto the chip lead into heads-up play with Daniel Rezeai and ultimately defeated the Austrian, who earned $222,000.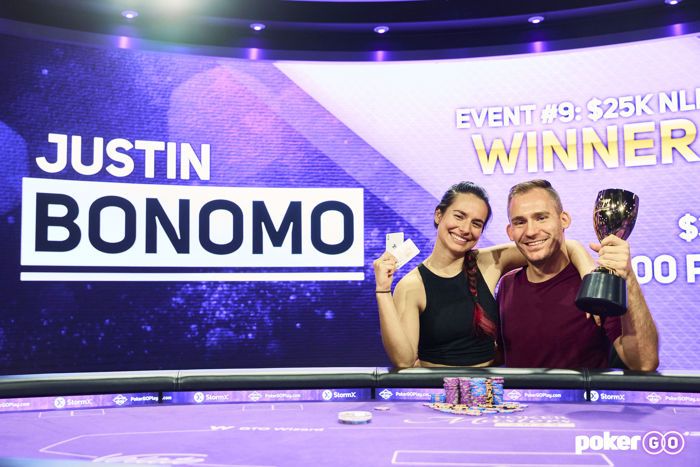 Meet The Poker Masters Leaderboard Frontrunner!
Poker Masters Event #9 $25,000 NLH Final Table Results
| | PLACE | PLAYER | COUNTRY | PRIZE (IN USD) |
| --- | --- | --- | --- | --- |
| | 1 | Justin Bonomo | United States | $333,000 |
| | 2 | Daniel Rezeai | United States | $222,000 |
| | 3 | Stephen Chidwick | United Kingdom | $148,000 |
| | 4 | Andrew Lichtenberger | United States | $101,750 |
| | 5 | Orpen Kisacikoglu | Turkey | $74,000 |
| | 6 | Chino Rheem | United States | $46,250 |
Bonomo Gets It Done With Ace-High
Bonomo's final table performance demonstrated why he is one of the most winning poker players of all time, especially an epic hero call he made for his tournament life with just ace-high during heads-up play.
With blinds of 30,000/60,000/60,000, action kicked off with Rezaei completing with jack-eight and calling a raise from Bonomo with ace-eight.
https://twitter.com/pokergo/status/1706430450833789304?s=46
Rezaei floated as Bonomo led out with a bet on the nine-seven-four flop and took a stab when Bonomo checked on the seven turn. Bonomo called with his ace-high and checked again as the five river improved neither player before Rezaei moved all in with Bonomo covered.
"I really think you're bluffing me here," Bonomo told his opponent. "I call."
Bonomo saw his ace-high was good and re-took the chip lead before eventually eliminating Rezaei to earn his first Poker Masters title.
Tamasauskas Still Atop Leaderboard
With one Poker Masters final table left to play, Lithuania's Vladas Tamasauskas still sits atop the leaderboard after winning two events at the start of the series. Behind him are Rheem and Chidwick tied in second with 386 points and Lichtenberger close behind with 327 points.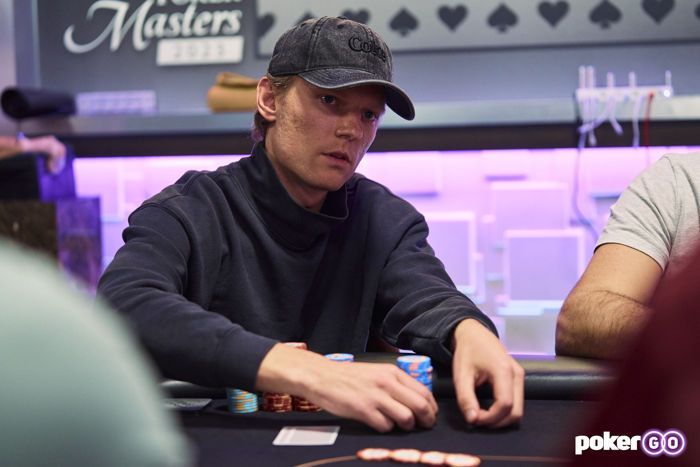 Other players on the leaderboard include Ren Lin (5th - 325 points), Darren Elias (6th - 319 points) and Bonomo (7th - 314 points).
Listen to Vladas Tamasauskas On The PokerNews Podcast!
2023 Poker Masters Leaderboard Top 10 (Through 9 Events)
| | PLACE | PLAYER | WINS | CASHES | WINNINGS | POINTS |
| --- | --- | --- | --- | --- | --- | --- |
| | 1st | Vladas Tamasauskas | 2 | 3 | $506,400 | 506 |
| | T-2nd | Chino Rheem | 1 | 4 | $434,650 | 386 |
| | T-2nd | Stephen Chidwick | 1 | 3 | $605,000 | 386 |
| | 4th | Andrew Lichtenberger | 1 | 4 | $367,450 | 327 |
| | 5th | Ren Lin | 0 | 4 | $342,800 | 325 |
| | 6th | Darren Elias | 1 | 3 | $359,500 | 319 |
| | 7th | Justin Bonomo | 1 | 2 | $447,000 | 314 |
| | 8th | Chris Brewer | 0 | 4 | $365,500 | 268 |
| | 9th | Daniel Rezaei | 0 | 3 | $355,500 | 266 |
| | 10th | Orpen Kisacikoglu | 1 | 2 | $292,500 | 263 |
*Images courtesy of PokerGO / Antonio Abrego