Inside Gaming: Online Wagering, Sports Betting Boost NJ Casino Revenue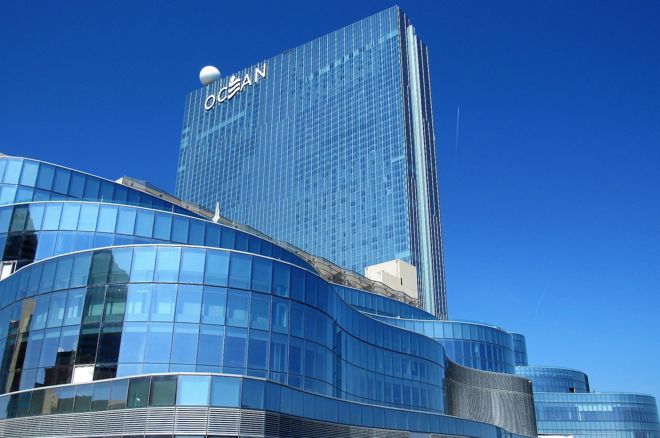 This week's Inside Gaming starts with an Atlantic City casino opening its doors to those needing shelter from a major weather event in the southeast, shares revenue information from August for New Jersey and Maryland casinos, then reports on a major operator applying for trademark protection in Macau despite not currently having any properties there.
Ocean Resort Casino Offers Free Lodging to Those Fleeing Hurricane Florence
Hurricane Florence has now made landfall in the Carolinas, and while effects of the major weather event are mainly due to impact the southeast, the Ocean Resort Casino in Atlantic City, New Jersey has made an offer of free accommodations to those displaced by the hurricane.
The announcement was made Wednesday, and by yesterday all of the available rooms were already taken reports NJ.com.
"We completely understand the concern for families and the community during times like this," said Bruce Delfik, chairman of Ocean Walk LLC. "We want to do our part by providing somewhere safe, warm and dry to those impacted by Hurricane Florence."
Guests seeking rooms were asked to provide a driver's license showing "residence in the areas adversely affected and directly impacted by Hurricane Florence."
The Ocean Resort Casino and its 1,399-room hotel opened in late June in the location of the closed Revel Casino.
New Jersey Casinos Revenue Up in August
Also opening in June on the famed Atlantic City Boardwalk was the Hard Rock Atlantic City, and the addition of the two new casinos helped contribute to a revenue increase for the month of August, according to the New Jersey Division of Gaming Enforcement.
According to the division's latest monthly report, New Jersey casinos collectively realized a total gaming win of just over $303.9 million in August, up 24.1 percent over the $244.8 million of August 2017.
The Hard Rock Atlantic City's $31.2 million and Ocean Resort's $20.5 million (both including online gaming revenue) were new additions helping add to the year-over-year increase, of course. After coming in last in revenue among Atlantic City casinos in July, Ocean Resort moved ahead of both Resorts and Bally's in August.
So, too, has online gaming revenue continued to add significantly to casinos' collective bottom line. Internet Gaming Win among the New Jersey properties totaled a little more than $24.8 million for the month, up 16.6 percent over the just under $21.3 million of a year ago though down from the almost $25.9 million of July.
The addition of sports wagering in New Jersey this summer added another $5.2 million of revenue from the six casinos now with operating sportsbooks — Bally's, Borgata, Golden Nugget, Harrah's, Resorts, and Ocean Resort.
"With the new casinos that opened in June and the addition of sports wagering options, including online alternatives, the gaming industry has experienced growth rates in July and August that have not been achieved in years," commented David Rebuck, director of the NJDGE, per The Press of Atlantic City.
With the start of the National Football League season last week, sports betting should enjoy another increase in September for those operators who offer it.
In related news, the Stars Group announced yesterday it had launched mobile sports betting in New Jersey. The Stars Group operates in the Garden State under the license of Resorts Casino. Read more about yesterday's launch at Legal Sports Report.
Fix of Six Maryland Casinos Up in August
While we're on the subject of monthly revenue reports, a look at the latest numbers from Maryland shows five of the state's six casinos enjoyed increases during August, with MGM National Harbor leading the way once again.
As WTOP reports, MGM National Harbor's gaming revenue for last month totaled $58.3 million, a 10.3 percent increase year-over-year and about 40 percent of the entire state's gaming revenue.
Live! Casino & Hotel was next in line with $47 million in revenue, up 5.1 percent from August 2017. Hollywood Casino Perryville, Ocean Downs Casino, and Rocky Gap Casino Resort were also up for the month, while only Horsehoe Casino Baltimore was down after decreasing 3.7 percent.
Caesars Applies for Trademark Protection in Macau
Caesars Entertainment Corporation currently has no casinos or other businesses operating in Macau. However, this week two subsidiaries of the company applied for trademark protection in Macau, reports Macau Business.
Caesars has not indicated any future intentions for Macau, although it has shown interest in getting involved over in Japan now that lawmakers there have enacted an integrated resorts casino bill permitting international operators.
One Caesars subsidiary, Flamingo Las Vegas Operating Company LLC, applied for protection for four different trademarks (as "Flamingo"). Another indirectly-owned subsidiary, Corner Investment Company LLC, applied for four more trademark registrations (under "The Cromwell").
The registrations "include the provision of entertainment facilities and casino management services, games of chance, interactive games, television entertainment services, as well as the organization and supply of games and competitions for entertainment purposes."
The Stars Group owns a majority shareholding in iBus Media.
Photo: "Ocean Resort Casino in Atlantic City, New Jersey" (adapted), Farragutful, CC BY-SA 4.0.