Inside Gaming: NFL Season Kicks Off Amid New Sports Betting Landscape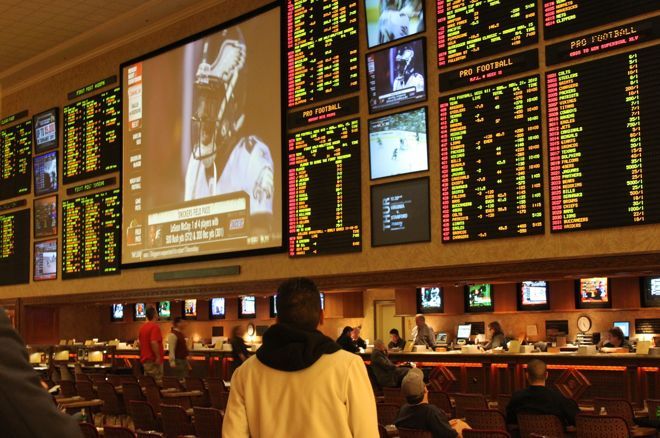 This week's installment of Inside Gaming begins with a look at the start of a new NFL season in the post-SCOTUS ruling era of sports betting in the U.S., reports on a new partnership that will bring sports betting to an Atlantic City casino, and notes the end of a major renovation project for a Las Vegas property.
Are You Ready for Some (Betting on) Football?
Last night the 2018 National Football League got underway with the defending Super Bowl champion Philadelphia Eagles denying the Atlanta Falcons end-of-game scoring drive to win 18-12.
Besides kicking off the NFL season, the game also marked the first major U.S. professional sports league to begin action amid a new era of sports betting following the U.S. Supreme Court's landmark ruling in May lifting the prohibition against individual states being able to offer sports betting.
This week Eric Raskin offered a handy rundown for USBets of "all the states, venues, and apps" where sports bettors can place wagers on NFL games.
As Raskin outlines, in addition to Nevada sports betting is now available at all three Delaware casinos, at eight locations in New Jersey (plus five more mobile options), at 20 casinos in Mississippi ("at least"), and at one site in West Virginia, Hollywood Casino and Charles Town Races, which just opened its sportsbook a week ago.
Meanwhile, both Rhode Island and Pennsylvania have legalized sports betting, though properties still await regulators' approval to begin taking bets. New York has also passed legislation to allow four casinos to apply for licenses to offer sports betting, although the timetable for when that might happen is uncertain.
At least one group of analysts believes New Jersey's sports betting revenues will soon overtake Nevada. Eilers & Krejcik Gaming forecasts that by 2021, New Jersey will earn over $440 million in revenue from sports betting, surpassing the $410 million they see Nevada earning that year, per NJ.com.
Meanwhile, the Dallas Cowboys yesterday became the first NFL team to strike a partnership with a casino, joining forces with the Oklahoma-based WinStar World Casino and Resort, Reuters reports. Sports betting has not been legalized in Oklahoma.
During the past offseason, the NFL "relaxed its rules against gambling associations and content," now permitting teams to accept advertising from casinos although forbidding any direct relationships with sportsbooks.
"The Dallas Cowboys take great pride in aligning themselves with the best brands in the world," said team owner Jerry Jones. "It is a privilege to stand shoulder to shoulder as partners with such a prominent entertainment brand like WinStar World Casino."
Tropicana Atlantic City to Join Sports Betting Game
Speaking of sports betting, yesterday the Tropicana Casino & Resort Atlantic City announced it had reached an agreement to partner with William Hill US in order to begin offering sports betting at the casino.
As CDC Gaming Reports explains, yesterday's announcement comes on the heels of another agreement between William Hill US and Eldorado Resorts and Gaming and Leisure Properties, the regional casino operator currently engaged in the process of acquiring Tropicana Entertainment for $1.85 billion. That acquisition is expected to be completed by beginning of October.
Eldorado is acquiring Tropicana Entertainment from its current majority owner, Icahn Enterprises. Tropicana Entertainment operates eight casinos, seven of which are part of the Eldorado deal.
According to the agreement, "William Hill US would oversee all the sports betting operations for Eldorado in exchange for a 20 percent ownership stake in the bookmaker."
The two entities will together develop sportsbooks and mobile and online wagering for several Eldorado properties, with an expectation "to focus initially on New Jersey, Iowa, Mississippi, and West Virginia."
Tropicana Atlantic City has already moved to create a sportsbook as well as to add sports betting kiosks throughout the casino.
The Tropicana will be Eldorado's first casino in the Garden State, adding to its nearly two dozen properties located in 11 other states.
Palace Station Casino "Reopens" to Great Fanfare
Last Saturday the Palace Station Casino in Las Vegas marked the end of a two-year, $192 million renovation and expansion project with a "grand reopening" event complete with fireworks and a free concert for guests.
Operated by Station Casinos, the property first opened in 1976 shortly after its purchase by the Fertitta family. Known initially as simply The Casino and then Bingo Palace, in 1983 it was expanded and renamed Palace Station according to its newly-adopted railroad theme. A 22-story hotel tower was added in 1991, then two years ago the latest renovations were begun.
As described by Station Casinos, four new restaurants have been added, the gaming space has been completely renovated with added slots and video poker machines, there is a new resort-style pool area, a new sportsbook, rooms and suites have been renovated, and 300 additional parking spaces have been added, among other improvements.
Palace Station remained open throughout the project which began in the fall of 2016. Also changed was the removal of the railroad theme, with the eight faux locomatives on the front of the building and the 126-foot Palace Station sign removed this year.
While last weekend's celebration marked the end of the renovation project, there are still more changes to come, including the opening of a new nine-screen movieplex in December.
Photo: "Las Vegas sportsbook," Baishampayan Ghose, CC BY-SA 2.0.