Winning $2.3 Million Online - Pim de Goede Interview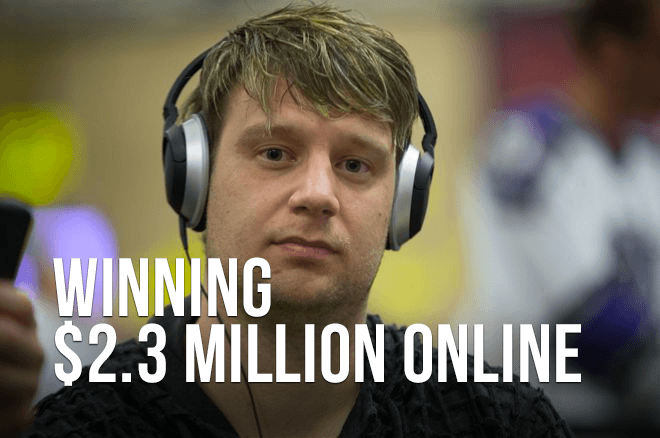 Last week, partypoker ran the biggest online poker tournament the poker world had ever seen. With a guaranteed prize pool of $20,000,000, the partypoker MILLIONS Online was like no other tournament that came before it. The $5,300 buy-in dictated partypoker to get thousands of entries to not overlay. With 4,367 entries resulting in a $21,385,000 prize pool, partypoker did just that. They had a ton of satellites to this major event on Sunday, often with overlay, but it remains an unprecedented feat to run a tournament that big, without any disturbance or connectivity issues.
After some hard fought battles and days of intense focus, Portuguese player Manuel "Sheparentao" Ruivo and Dutchman Pim "ForMatherRussia" de Goede were the only two left standing. They opted to discuss a deal, quickly agreed on the numbers, and walked away with over $2.3 million each. Ruivo, who had just a tiny fraction more chips when the deal was forged, saw $2,329,944 credited to his account. De Goede banked $2,309,995.
The tournament finished around 3 AM for De Goede, and he went straight to a bar to celebrate his massive score with some of his friends. After a couple of hours of sleep, Pim de Goede answered his Skype and talked to us about his run and the impact on his life.
Pim, right off the bat: congratulations! This was truly a sick night.
Thanks! Man, it was bizarre. Unreal!
Tournaments such as the partypoker MILLIONS Online Main Event don't happen on a daily basis, and then to chop it for $2.3M is unreal. How was it like to play for such stakes?
It was a surreal experience. Throughout the years — I've been playing poker about fifteen years — I've had quite a few deep runs in Sunday Millions and the like, and I've also been fortunate to close a few big online tournaments with a victory. But at the final ten [in the partypoker MILLIONS Online], a pay jump equalized a Sunday Million victory! The stakes were massive!
I simply have no words for it; it's too bizarre!
At a certain point, I got in a flow and started open-shipping eight five suited from under the gun for thirty big blinds, because they were never calling. It's insane when you're playing — to quote Doug Polk — with blinds of one house/two house. I always loved that quote. I simply have no words for it; it's too bizarre!
It was clear you weren't afraid, despite the money at stake.
I started third or fourth in chips at the final table, but everything was super close. I flopped a set from the big blind against "Maddonna," a Portuguese guy [Pedro Marques] living in Holland. You can't complain when that happens.
At a certain point, which often happens during big online poker tournaments, you can basically play any two cards.
Against "Scarmak3r" — the fan favorite who spun it up from a five dollar satellite — you want to open any two on his big blind. But then you're raising a bunch of hands you don't want to minraise-fold. On the other hand, you can't assume he's going to call correctly when I shove all in. It becomes some sort of chess play: do I want to min-raise fold my suited gappers or shove them all in for twenty big blinds because he shouldn't be calling? I min-raise folded king-ten of spades on his big blind while I was shipping my suited gappers against the others, for instance. It's hard to gauge his response when he picks up a hand like ace-king or ace-queen.
Maybe I'd play a few hands differently in retrospect.
I'll be honest Frank; at a certain point I had twice the number of chips as the second player, and then it's pedal to the metal. Obviously, I was fortunate as well that no-one found jacks plus in those twenty-five hands. If that would've happened, you'd have a different final table on your hands.
It needs to go right the first few times; that way you distance yourself and then you "get the victory" pretty often.
How many people did you know at the final table? Did you know who was who?
Yesterday [the day before the final table], when we were down to the final twenty-nine players, I looked up everyone at the start of the day. I checked all their stats in Hold'em Manager, made a file with reads and hands I've seen them play. You pay attention to the way they play certain standout hands, do I agree fully or not at all? After bringing in Sharkscope or The Hendon Mob for extra information, you get a clue of who's who. Some players, I had no info on at all, like "j2805667" from Malta who finished fifth.
I was happy he finished eleventh; very unfortunate for him, but great for me.
Christopher "Ad_Finem" Kruk finished eleventh [for $163,720], he's amazingly good. I was happy he finished eleventh; very unfortunate for him, but great for me. It's great to not have him at your final table or three-handed because he's going to crush me. He was on a different table the entire day, which helped.
The guy I chopped with, Manuel "Sheparentao" Ruivo, got moved to a different table with eleven players left, which left me with several nits/semi pro's that I was able to apply quite some pressure on. Everything just landed in my favor.
You need to be fortunate to get win a tournament like this.
Absolutely.
There was another interesting hand with five players left. "Sheparentao" open-shoved twenty big blinds from the cutoff and I called on the button with sevens. There was history involved before making that call: he minraised too much and was probably too loose in certain spots as well.
Given all that, I could discount a lot of his top range hands and gave him fours through tens and ace-king and ace-queen as a range. With that, it's already a call ICM wise. In every simulator I ran today, the call turned out to be correct, so I'm happy with that in retrospect.
When I woke up, somebody posted that you'd get a $500,000 passport promotion if you win it. Luckily, I looked that all up up front.
@partypokerlive @PimdeGoede Hey @partypokerlive. How does it feel when you have 50% chance of having to pay the 500… https://t.co/i0tq7E6EzZ

— Tomás Turbado (@pablotenisis)
You didn't qualify for this promotion?
Right. I ended up with seven tickets for this tournaments; those satellites ran three times a day with a gigantic overlay except in September when WCOOP was around. I didn't win a single ticket in the period that promotion ran. I didn't qualify then and was therefore not eligible for the passport.
Still, it gave me a little scare. That would've been the biggest -EV decision of all time, with just half a big blind less than the other guy I dealt with.
Can you tell me a little about that deal?
We didn't have to leave anything in the middle, which I found rather strange. I think it would be better if we would have had to play on.
I've watched Joey Ingram's stream, which was funny. And yes, it just looks really weird. We're in the middle of exciting action, and the fan favorite "Scarmak3r" just busted in third. We're heads-up, make a deal, and that's it. I don't think that's the way we should be doing it.

Joey Ingram's livestream of the event.
Still, you must've been pleased because it was a long night. Done, just like that!
On partypoker, this is how it works: as chipleader, he has to make the proposal, so you have to check if he did an honest chip-chop or added some extra money. Once you've confirmed it, it takes two seconds and you press ok. To be fair, you'd be pretty mental if you would play heads-up for $700,000 against such a good player instead of taking the deal.
Even when he wouldn't be as good, you're not that baller to play for $700,000, right?
No no no, I'm not a baller at all. You instantly press okay when you get offered that kind of deal. I went out for a couple of drinks with my friends afterward, but nothing too crazy.
I think I might buy another apartment.
You played under the nickname "ForMatherRussia." Why did you choose that particular nickname?
First of all, that spelling error is because the Mother-version was taken already. My girlfriend often gets teased about the country she's been born in, which is close to the Russian border. I just thought it was funny; there's nothing Russian involved.
What will this mean for your future? Will you play more, play more live and bigger tournaments?
I've just had a financially very turbulent year. I bought an apartment last week, so the timing of this prize is pretty good. I think I might buy another apartment, which would be nice.
Poker-wise, I won't change what I'm doing now. I don't have the ambition to play the $25,000 High Rollers and frankly, I don't feel I'm good enough for it.
I don't have anything to prove in my opinion, nor does it interest me. I've been playing poker professionally for twelve years, and I don't have that drive anymore to become the very best. I do like to keep improving, but I don't feel like running ten hours of sims daily, so to say.
I'll be in Vegas again for sure, like I've been many years. And I'll be playing the $25,000 PokerStars NLHE Player's Championship in the Bahama's in January. I qualified for that one back in January 2017 with a Platinum Pass.
I'll also be playing the Aussie Millions and some EPT's. And I like the partypoker stops these days. Last month, I was in the Bahama's with the partypoker Caribbean Poker Party. It was great fun with my friends, fun location; those things won't change.
I've been very involved in crypto the past year or two and was on the fence of fully transitioning into it, especially in the beginning of the year. However, I realized that with poker, I can still make good money; I had a very good year even not taking this tournament into account.
You said you had a rocky year, but poker wasn't the cause of it?
Well, there were some virtual coins that dropped massively in value this year. But that's not really a problem.
I have no idea what my plans are, but with poker, I'm still enjoying myself, so I'm willing to continue that for a bit. I'm a happy man.
Did you get many responses yet? People who congratulate you, media attention, people that somehow turn out to be relatives and need some money?
Yeah, I had some crazy messages from Russian that loved my nickname and asked for money on Skype. As far as media attention goes, I don't feel like being in the spotlights. With you, for PokerNews, I like doing this; we know each other and see each other quite a bit.
The attention was something I was more interested in five or six years ago when I was vying for a spot to play live poker with a patch from a website, but I don't feel like that anymore. Maybe if partypoker were to approach me, I would reconsider. But that's about it.
partypoker $5,300 MILLIONS Online Final Table Results
| Position | Player | Country | Prize |
| --- | --- | --- | --- |
| 1 | Manuel "Sheparentao" Ruivo | Netherlands | $2,329,944* |
| 2 | Pim "ForMatherRussia" de Goede | Malta | $2,309,995* |
| 3 | Scarmak3r | Slovenia | $1,364,688 |
| 4 | Pedro "Maddonaa" Marques | Netherlands | $1,091,750 |
| 5 | j2805667 | Malta | $818,813 |
| 6 | COL_Moutarde | Canada | $655,050 |
| 7 | wheatforsheep | Mexico | $491,288 |
| 8 | orginALUS | Lithuania | $327,525 |