Master of One | Part IV: A Devastating Divorce, Family Life & More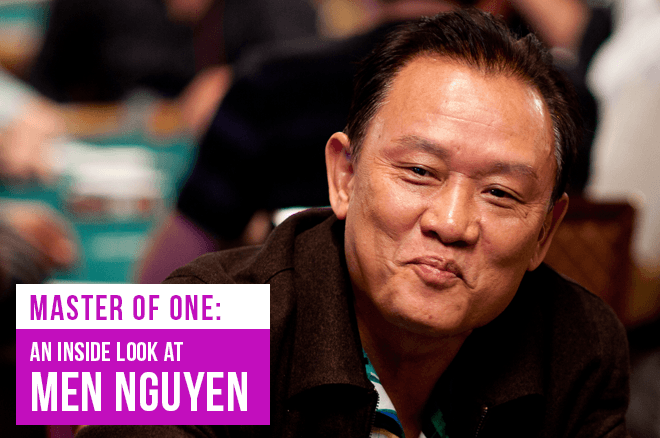 Table Of Contents
This is the fourth article in a five-part series in PokerNews' Master of One series on Men "The Master" Nguyen. In Part I, author Chad Holloway highlights his journey to Vietnam alongside Men Nguyen began, while in Part II he talks about how Nguyen's poker origin, charity work, and more. In Part III, Nguyen addressed many of the controversies surrounding his career.
Men "The Master" Nguyen claims to be a changed man. Whether or not you believe him is up to you, but there's no denying his circumstances have changed. In 2010, the last year he won a World Series of Poker bracelet, Nguyen's world changed dramatically when his wife of 20 years, Van Nguyen, filed for divorce.
It was a big blow for Nguyen, perhaps even a mark of shame given how divorce is perceived in Vietnamese culture. Nguyen is nothing if not traditional. Making matters worse was the fact the split turned out to be a long, drawn-out affair, one that turned ugly on many fronts.
Here's a look inside Nguyen's family and home back in 2010:
Men the Family Man
Men is a proud man, but when he talks about his loved ones he shows a vulnerability not seen at the poker tables. He's the head of his family, and it's clear the responsibilities that come with being the patriarchal figure weigh heavy on him.
According to Nguyen, he has ten children – seven daughters and three sons – all living in the United States. The oldest is married and going to be a doctor, while the youngest is 18 years old. While talking with him, I didn't get the sense that Nguyen wasn't overly close with his kids, but it was apparent he was proud of them.
"I tried to save my marriage, but it didn't work out."
One story he liked to tell was about three of his daughters, who were each born on December 22 four years apart (1991, 1995, and 1999).
"What are the odds?" he asked with a smile.
As for his ex-wife, Van Nguyen, it seems a sore subject for Nguyen, who admitted he was embarrassed to return to Vietnam after the divorce. He tells me three years before the split, she forced him to go through anger management in an effort to save their marriage.
"Gave me a lot of good things. Walk away when you're mad. Let it go, baby," Nguyen recalled. "I tried to save my marriage, but it didn't work out."
One of their biggest points of contention was a house they'd bought in 2007 for $600,000. Nguyen sought a buyer and eventually found one, though it'd have been for a loss. Van Nguyen refused to sign the papers until the deal fell through. Later on, after a long, exhausting process, Nguyen would sell the house for just $165,000.
As mentioned earlier in this series, Nguyen didn't do much on the felt from 2011-17. Part of the reason is he didn't take many shots, instead opting to grind for his paycheck. That's because he had $4,000 a month in alimony and child support to pay. Now that his youngest has turned 18, that pressure is alleviated.
Even so, Nguyen has grown accustomed to his more modest lifestyle. Outside of the WSOP, he prefers to return home to Vietnam where his $1,100 a month in social security goes a lot further. When he does play a big tournament, he'll often find a backer. It's a far cry from the days of the poker room when he was pulling in millions and doing the backing, but as he says, "It's less stressful."
Nothing Left to Lose
"I'm numb right now," Nguyen admitted. "Why? My wife, my kids, my ex take the house away. I've changed a lot after I got divorced from my wife. Big change. I sacrifice myself for my family. I get hurt from my family a lot. Nobody hurts you except the ones you love."
"I get hurt from my family a lot. Nobody hurts you except the ones you love."
It's clear the divorce, as well as some sour family financial matters, have had a devastating effect on Nguyen, but he seems to be emerging from the darkness, which is perhaps why he's seen an uptick on the felt. His recent poker success may be the result of a "nothing left to lose" mentality.
It's a thought Nguyen hadn't seemed to consider.
"It makes you stronger," he said. "When you fall one time, when you fall a second time, it happens. You start looking toward the future. I always remember, to know me is to love me, that's all I can say. Why? Because I'm honest."
Welcome to the Master's Lair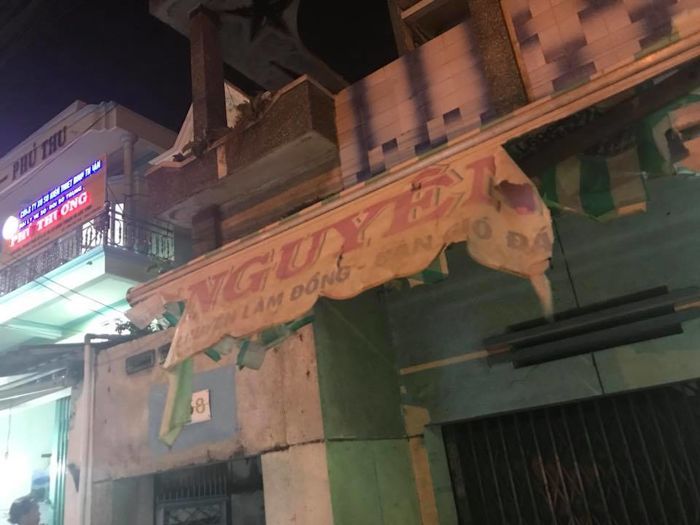 Back when he was flush with cash, Nguyen bought a $500,000 home in Phan Thiet, one that could house his extended family and serve as home when he was back in the country. At 13 meters wide and 50 meters long, it's big by Vietnamese standards, but not so much by the touchstones of American culture.
The backyards, half of which sits under a canopy, is the hub center of the Nguyen household. It's where the bathrooms are located, including Men's private stall where he's constructed a makeshift sauna that he's particularly proud of. It's also where the women cook in the kitchen, scooters are queued, and Nguyen's liquor cabinet straddles a door-less entryway.
In the interior, each room I saw was small but efficiently utilized. As for where the Master lays his head, I cannot say as, like the rest of the family, I was not permitted upstairs. What I can say is that the place was a palace compared to where Nguyen grew up, which I had the chance to visit. It wasn't much bigger than a closest, but still, it remains in the family as home to Nguyen's nephew and his wife and child.
Nguyen may have spent more than half his life in the United States, but his house in Vietnam is clearly home. Phan Thiet is where he was born, and if he has it his way, it's where he'll die. In the meantime, it's where he plans to spend time with friends and family.
As for a retirement plan, Nguyen says that when his playing days are behind him, he may sell his WSOP bracelet collection. According to him, he previously turned down a $1.2 million offer for it.
I don't know if he's bluffing, but I'd call.
Here are some shots of Nguyen's family and home in Phan Thiet:
Be sure to come back tomorrow for Part V of this five-part series on Men "The Master" Nguyen where you'll learn not only his thoughts on the Poker Hall of Fame but also what some current Hall of Famers have to say about him.