Master of One | Part V: Men "The Master" Nguyen and the Poker Hall of Fame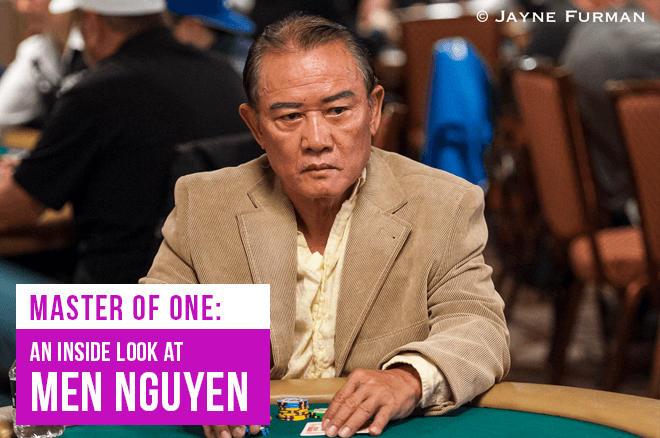 This is the fifth and final article in PokerNews' Master of One series on Men "The Master" Nguyen. Click here to read earlier parts that address Nguyen's past, present, and the controversies surrounding the seven-time WSOP bracelet winner.
Did you know Men "The Master" Nguyen has only been nominated for the Poker Hall of Fame once? It was back in 2009, the year Mike Sexton got in. Since then, his name hasn't been bantered around much despite having one of the most impressive résumés in the game.
"Most poker players want to be in the Hall of Fame, like football players and basketball players," Nguyen said. "I'm supposed to be in there a long time ago, but probably I won't. Who has the best record in the world? Four-time POY. Who win more tournaments than I do?"
A PHoF Worthy Resume?
If you go by the numbers, Men Nguyen has had a PHoF-worthy career. He has won nearly 100 tournaments, sits just under $11 million in lifetime earnings, has four Card Player Magazine POY titles, four WSOP Circuit rings, and of course seven gold bracelets (only six players have more than him, and they're all in the PHoF).
On paper, Nguyen's résumé is more comprehensive than recent inductees like Todd Brunson, David "Devilfish" Ulliott, and John Hennigan. That's not to say they don't deserve their place in the PHoF, because they do, but it does go to show you Nguyen being nominated only once in the past decade is a bit curious.
"Before I wonder why they don't vote me? They forget about old players," said Nguyen. "One year, I got selected [for the nominations]. I didn't get in. After that, I just give up. I don't have the network to tell people to vote for me. If you're asking me about the PHoF, that's how I feel. You can look at my record."
Nguyen World Series of Poker Bracelets
| Year | Tournament | Prize |
| --- | --- | --- |
| 1992 | $1,500 Seven-card stud | $120,600 |
| 1995 | $2,500 Seven-card stud hi-lo | $96,000 |
| 1995 | $2,500 Limit Texas hold 'em | $110,000 |
| 1996 | $2,500 Omaha hi-lo | $110,000 |
| 2003 | $5,000 Seven-card stud | $178,560 |
| 2003 | $1,500 Ace to Five Triple Draw Lowball | $43,520 |
| 2010 | $10,000 Seven-card stud | $394,807 |
A Harsh Realization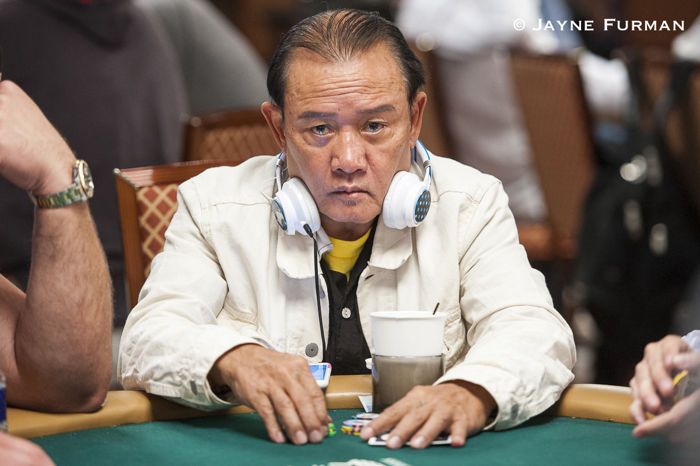 Nguyen once had high hopes of induction into the Poker Hall of Fame, but after his life got turned upside down, he's come to the harsh realization that it's probably not in the cards.
"After I waited so long, I don't care anymore. I did care before," he admitted. "I got broke in 2011 or something, after that I don't care. I don't have the following of Negreanu and Harman. They vote by internet. I'm too old for the internet. After I lost my wife, I lost my kids; I'm nothing. I'm not a crying baby, but me, I'm a very strong man. Why I'm strong? Nobody loves you but yourself."
"If I die, for sure they're going to put me in the Hall of Fame because I'm gone."
He also realizes that much of it is politics. To get nominated for the Poker Hall of Fame, first; one has to have their name submitted by fans online. Nguyen doesn't have as many of those as he used to. Even if he did, he would then need votes from both the media and living PHoF members to get in. His relationships in both categories are weak, unlike the first Vietnamese player to ever get in.
"Scotty Nguyen, he buys in big, $50K Poker Players' Championship," Men reflected. "He has a backer, I don't. Lifetime winnings, Scotty has more than I do. He has bigger scores. The Hall of Fame, that's the most important for a poker player. Scotty Nguyen has a lot of friends, people know him. He's the poker champ. Men doesn't have that. Before I dream, after I give up."
Men also attribute his slim chances to a contentious relationship with WSOP officials, most notably Jack Effel.
"He doesn't like me," said Nguyen. "When he became a tournament director I gave him a tough time."
If Men were to one day get into the PHoF, he imagines it'll be when he's dead and gone.
"You know Devilfish, his record isn't great, but when he died he got in the PHoF," he said. "If I die, for sure they're going to put me in the Hall of Fame because I'm gone, I cannot enjoy being in the Hall of Fame. But what can I do?"
Respect of His Peers?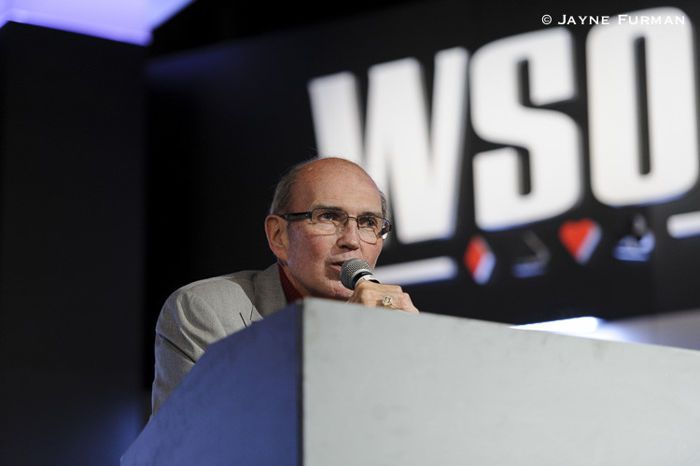 Nguyen's chances of getting into the PHoF may not be quite as low as he thinks. While his past behavior is certainly a big hurdle, his accomplishments do seem to resonate with many who matter including several members of the PHoF.
"I do think he should be nominated based on his resume," 2014 inductee Daniel Negreanu told me. "If we kept out all the members who have used questionable behavior then a lot of the PHOF would be wiped out. He has been caught doing some unethical things, I know personally he has done some unethical things. A lot of it was at a time when it was more common, not that it excuses him, but if he is allowed to play tournaments, and he is, then he should be eligible to be nominated for the PHoF."
Negreanu on Nguyen: "I do think he should be nominated based on his resume."
Legendary tournament director Jack McClelland, who was also inducted into the PHoF in 2014, echoed those sentiments.
'His resumé says he's absolutely worthy," he told me. "He's won seven bracelets, the leading all-time seven-card stud money winner. As far as I can see, the only thing that might keep him out is first, with today's social media no one remembers what happened two years ago let alone ten years ago. All the old guys are getting forgotten. Plus, during his career, his personal conduct was less than stellar. Some of the guys and people who worked had a lot of trouble with him, so they might have a hard time digesting a vote for him. Strictly on his playing accomplishments, he absolutely qualifies."
I asked McClelland if he had any examples of the behavior he was alluding to.
"I had to give him a penalty one time heads-up in a tournament," McClelland explained. "They were playing three handed in a Stud hi-lo tournament and Men took the cards and whizzed them past the dealer's ear. I told Men he couldn't do that again or I'd give him a penalty. About 10 minutes later he did it again, so I gave him a penalty. It was heads-up by the time the penalty was over with. He was behind and ended up in second place."
McClelland added: "I hope he gets in, but as far as people voting that's a different story. People from 10 years ago in today's world, which is moving so fast, are almost irrelevant."
Master of One
At the beginning of my adventure with Men Nguyen, I wondered what exactly he's the master of these days. He hadn't been winning, his stable of students was gone, and for years he was largely irrelevant.
Little did I know his family life had fallen down around him and as a result, his game suffered. Now, on the other side of many of his trials and tribulations, it seems Nguyen has come out a different, if not better, man. While he still makes his fair share of mistakes, it appears he's at least trying to learn from his past.
At one time he was the master of many, nowadays he's simply a master of one.
Executive Editor US, PokerNews Podcast co-host & 2013 WSOP Bracelet Winner.