The Pro Poker Dream: What Does it Take and Should You Even Try?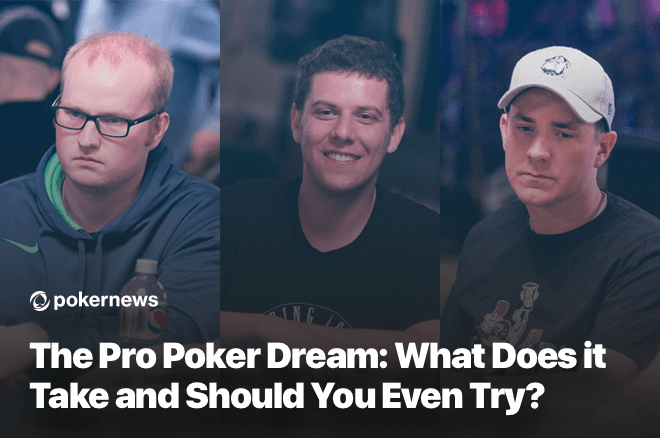 Table Of Contents
In the early 1990s, Gatorade ran one of the most famous ad campaigns ever: "Be Like Mike." The TV commercial featured clips of all-time great basketball player Michael Jordan, with kids and pickup hoops players trying their best to emulate his iconic moves.
Jordan was the best. Everyone who picked up a basketball wanted to be like him. If you wanted to emulate him, you had to not only copy his moves, but also his hydration habits. Purchase and consume this sugary beverage and you're on your way.
But, while everyone wanted to be like Mike, there was only one Michael Jordan. You could try to be like him but, really, you couldn't be him. Because some of what made Jordan so incredible was the innate athletic gifts that couldn't be copied. This man could seemingly jump over small lakes while showcasing the footwork of a ballet dancer and quickness that would make a jungle cat envious.
No matter how hard the 12-year-old kid at the park practiced, he or she wasn't rising up in a sea of defenders with the right hand, switching to the left and lofting a picture-perfect no-look finish while sailing behind the backboard.
Poker is an altogether different story. Just about anyone can think about their cards, evaluate the game situation and decide whether to bet, raise, call, or fold.
Sure, in a lot of cases, those decisions may not be terribly well informed. But at least in theory, reaching the top of the mountain in poker isn't as fantastical as the idea of one day teeing off in The Masters or beating Roger Federer at Wimbledon. Best of luck to James Obst, but only one percent of the one percent – at least – have any realistic shot at that.
So, what's stopping Home Game Joe from becoming Fedor Holz? He watches Holz, Justin Bonomo, and the rest of the greats torture the opposition every year on the live streams. What's stopping him from making the same bets, raises, and folds as his idols? How hard is it, really, to become a professional poker player? What qualities does it take and is it even something worth striving for?
In an attempt to answer these questions, PokerNews interviewed two professionals and one recreational player who has experienced success at a high level, for their views on the game as a profession and how it compares to life in a traditional vocation.
Ability...
When it comes to traveling tournament pros, Ari Engel might be the quintessential example and the very best case study on the profession. He's the answer to poker Twitter's sometime catchphrase "Who loves it more?"
Few, if any, players put in more hours at the tables and on the road than Engel. He can be found throughout the year grinding out everything from $400 World Series of Poker Circuit events to $10K and $25K high rollers. After winning the Aussie Millions Main Event for $1.1 million in 2017, Engel didn't stop to savor the defining moment of his career. He headed right back to his usual WSOPC stops, dutifully putting in $365 shells to compete for five-figure prize pools.
In short, Engel makes Arctic terns look sedentary.
He outlined the three biggest challenges to successfully making it as a pro:
Getting good enough to have a large theoretical edge.
Living a healthy life, mentally and physically.
Dealing with the constant losing inherent to grinding poker tournaments, where even winning players are generally underdogs to cash in a given contest.
The first one should be fairly self-explanatory. A professional must have an edge on the vast majority of players he or she faces, all of whom are trying to separate the professional from his or her chips. A pro must attain and maintain a high enough skill level to have a sizable positive expectation in all of the games in which he or she plays.
That's difficult to do in a game as deep and complex as poker, especially big-bet poker. As the skill level of the player pool creeps ever upward, this becomes even more of a challenge as time goes on.
Josh Reichard, an American pro who has been one of the most successful players on the "mid-major" tours over the past five-plus years, agreed with all of the challenges mentioned by Engel and said time and work are the only things that will help improve technical skill.
"When I first started playing, I was completely clueless."
"Some people instinctively know when people are full of shit," he said. "That helps in live poker but you have to put in work to become fundamentally good. When I first started playing, I was completely clueless. I put in hours and hours of studying, playing, and talking to friends until I somewhat had a clue.
"I had it pretty easy myself. Pops had a business that was making a lot of money. We had plenty of disposable income for the early stages when I was still learning."
On the one hand, the tools have never been more readily available. Budding poker players have access to an amazing set of resources. Cards-up live streams allow a glimpse into the minds of the world's best players. Poker coaching available at places like Upswing, Run It Once, and Chip Leader Coaching can accelerate development timelines for those willing to spend to learn. Computer solvers have optimized decisions into percentage distributions that outline theoretically flawless play.
On the other hand, all of the other players have access to this stuff too, and the established pros have been mastering it all with years of head start.
...And Stability
You have to get extremely good at the game. That may seem obvious, but the second and third factors mentioned by Engel can be just as daunting.
Reichard said he sees plenty of would-be pros who simply can't handle the mental stresses inflicted by a lifestyle heavily governed by variance.
"I know a lot of good players that just don't have the mental ability. A lot of people who could be successful aren't."
"I know a lot of good players that just don't have the mental ability," he said. "They're always on tilt or can't handle the upswings and downswings. A lot of people who could be successful aren't."
The sedentary nature of the game – players just sit around a table or stare at screen clicking buttons – means physical health often becomes an afterthought for pro poker players. Travel is tiring, and then playing long days – often ten hours or more – can be draining.
"It's so tough when you're on the road all the time," Reichard said. "It's like impossible to stay healthy. You can maybe get to the gym but most don't even do that."
At least the option is there, though. If a person is committed enough to grind out sessions in the gym on short sleep, he or she can probably eke out enough exercise time to stay physically fit on the road.
If a series of beats makes you melt quicker than a popsicle in the mid-summer Vegas heat, avenues for improvement are more limited.
"For those that are struggling with that, I have a hard time coming up with something that will help them," Reichard admitted.
That could be because it comes so naturally to the Wisconsin native. His own cheerful demeanor includes a seeming immunity to tilt. You're more likely to find David Peters talking during a hand than you are to find Reichard busting with anything but a quick smile and a "nice hand."
That sort of attitude may be more nature than nurture, though.
The Hybrid Approach
In recent years, the term "recreational player" has replaced amateur in the poker lexicon but the implication is clear: there are pros and there are recs, and the pros have positive expectation while the recs do not. However, probability dictates that some recs will experience success and win, sometimes even at a high level.
Eric Rodawig is living proof of that concept. He explored no-limit hold'em in high school during the boom and then moved onto mixed games in college. However, rather than pursue the life of a poker pro, he finished school and started a career as a corporate banker. He now works as director of finance for a fertilizer start-up in Omaha, Neb.
In 2011, Rodawig's love of mixed games paid off in a big way when he won a bracelet and $442,183 in the $10,000 Stud Hi-Lo Championship at the WSOP.
"I won my bracelet just after Black Friday, so I never really considered going pro as I'd pretty much have to move outside of the country," he said. "I've always loved finance though, and I've been really lucky to enjoy my jobs and the people I work with, and I've learned a ton. I've never had much of a reason to turn pro because I'm doing what I want to be doing."
That includes being able to play plenty of poker on the side. Rodawig is a consistent presence in the limit events at the WSOP, regularly playing in the $10K Championship events. In 2017, he had another huge result when he finished second in $10,000 H.O.R.S.E. Championship for $236,841.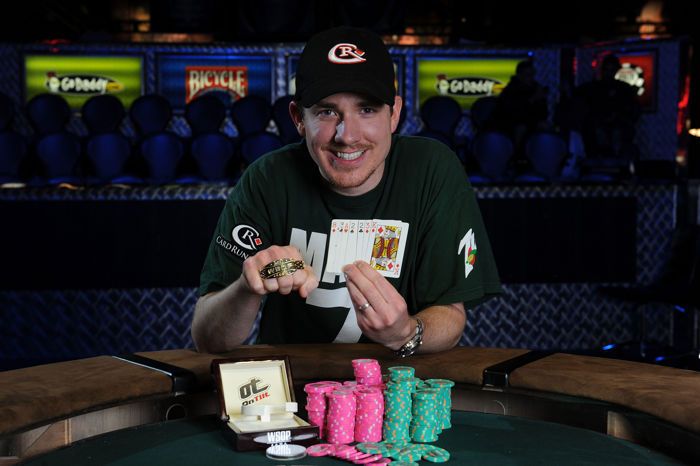 He also popped into Vegas in the spring for a shot in the $25K Mixed Game Championship at the U.S. Poker Open.
"I'm lucky to be involved in a wide variety of things, so I definitely appreciate the opportunity to go play a $25k tournament one day and then fly back and work on an acquisition the next," he said.
Having a solid career means Rodawig never has to worry about a downswing wrecking his bankroll. He doesn't have to worry about what happens with his bills if he isn't winning. There's no real pressure aside from any Rodawig puts on himself.
That enables him to ultimately think more clearly at the tables and play his best.
"Poker is fun, and being a semi-pro allows me the best chance to keep it that way," Rodawig said.
Working a normal job and winning at poker on the side certainly sounds like it could be the GTO way to approach the game. Engel admitted that despite his incredible success, he owes a lot to running "way better than expectation" in his career, and things could have easily gone differently.
"I think if you took 1,000 Aris, most of them would be better off in the job plus poker model than poker alone," he said.
Reichard isn't so sure he feels the same way.
"I don't think that's the case for me," he said. "I think more often than not I would have succeeded. I hold Ari even higher than myself because of what he's done. I do think that's the case for a great majority of the poker population."
So...Turn Pro or Play Recreationally?
Undoubtedly, poker as a profession has its upsides. For one thing, the high-value games and tournaments migrate around the world, and Rodawig envies the travel schedules of his professionally playing friends, traveling the globe while he's stuck grinding in the office.
Reichard most appreciates the freedom afforded by the ability to work where he wants, when he wants.
"Being a poker player, when you're successful, it's a pretty easy life," he said. "You still gotta put in work, but you can play Fortnite for 14 hours a day when you're not traveling. You can't do that in another profession.
"You're gonna live an easier, more laid-back lifestyle as a successful poker player compared to a successful lawyer, doctor, CEO. You're gonna have to commit yourself more to that profession and be more tied to your career. You would probably make more but it depends on what you're looking for."
Of course, nestled in Reichard's take is the key phrase "when you're successful." The dark side of that isn't hard to find. Many are the poker players struggling to keep their heads above water, grinding out just enough to keep the fridge stocked.
Worse, some depend entirely on selling action at a mark-up to sustain themselves. Reichard pointed out it's entirely possible to go to a WSOPC stop, win a tournament, and still come out in the red after expenses and max bullets in the Main. They come out with a pretty Hendon Mob cash to tout to the next round of investors but little else to show for their efforts.
"You need to be able to position yourself for success regardless of what happens with poker."
The end result isn't exactly the life on easy street that many envision when they think "pro poker player."
"How many people do we know that are stuck in heaps of makeup and miserable 24-7?" Engel pointed out.
Reichard estimates only the top five percent or so can sustain life as a professional.
"I don't think it's desirable," he said. "I would not recommend trying to turn it into a profession if you have other options. There's gonna be more people that fail than succeed."
With his background in finance combined with his understanding of the volatility of poker, Rodawig can examine the concept from a unique and highly learned perspective. He's made his choice but understands it's a dream many chase. For those people, he outlined a few key things to ponder.
Independence and sustainability are the name of the game, he said. Make sure you either have a large bankroll or low cost of living to give yourself room to maneuver.
And keep in mind that variance isn't the only thing you can't control. Black Friday, he pointed out, was more than just a dark day in the lives of poker players everywhere. It was also a stark reminder that factors such as the poker ecosystem, legislation, game availability, and other variables play a role in determining how lucrative and realistic life as a pro player will be going forward.
Ultimately, Rodawig echoed the advice of Mike McDermott in "Rounders": give yourself outs. Otherwise, you may just get to be like Mike. Except, it'll be the Mike who drove Knish's truck and not the Mike hanging in the air for seeming eternity before draining a jumper as Craig Ehlo flies by the wayside.
"You need to be able to position yourself for success regardless of what happens with poker, whether that's finishing a college degree, having a full-time job, a supportive partner, making investments outside of poker, or any combination of these," Rodawig said.
For the living embodiment of the pro poker dream, the choice isn't a tough one.
"Don't quit your job," Engel said. "Most of the good tournaments are on the weekend, anyway."