PokerStars' Eric Hollreiser About the PSPC, Competition, Twitch, And More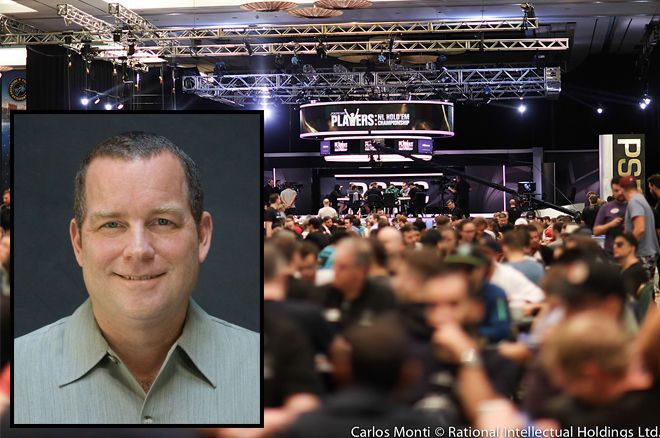 The PokerStars NL Holdem Players Championship, or PSPC for short, is over for two weeks now. Nearly 13 months of hype ended with Spain's Ramon Colillas taking down the event for a massive score of $5.1 million after winning his entry for free. Over that period of promotion, PokerStars gave away 320 Platinum Passes worth $30,000 each, one of which went to Colillas. On top of that, PokerStars didn't charge rake, just a two percent fee for the dealers, and added $1,000,000 to first in the event.
The tournament attracted a record-breaking field of 1,039 players. The promotion was undoubtedly a team effort — passes were given away both live and online and the entire company was involved in creating hype, it seemed. During the event, PokerNews spoke with Eric Hollreiser, Director of Poker Marketing for PokerStars, who was all smiles.
What was your first reaction when you saw the final number of 1,039 players in the PSPC?
It was immensely rewarding for all of us. The team worked really hard; lots of different teams in lots of different departments were involved. We announced the event 13 months ago and probably started working on it 18 months ago. It was not without risk, so to see it hit 1,039 was really gratifying!
"At a dinner three months ago, my number became 813. And I thought that was a stretch."
First and foremost, internally everyone breathed a sigh of relief. We said, 'Wow, it worked!' Quickly thereafter, it was 'We have 1,000 players in here, wow, there's tremendous value in here! There have already been so many great stories and there are gonna be more great stories coming out of this.'
What were the expectations going into this promotion? What was the number you were looking for?
It was all over the map. The sort of baseline goal was to break the record. 'If we're going to do this, we should look to break the record that was 639,' we said. 'If we hit 640: job done and that's great!'
For most of us, that was the goal. Throughout the year, the line would form and it would be people placing bets over precise numbers, or over-unders. It wasn't until more recently that 1,000 was in anyone's line other than the most absurd bets. At a dinner three months ago, my number became 813. And I thought that was a stretch. I wasn't going to tell anyone publicly what that number was. But I thought that was a stretch and if I lost an over on 813, that was money I was happy to part with.
It was really terrific. The reaction was overwhelming. And even a little surprisingly positive.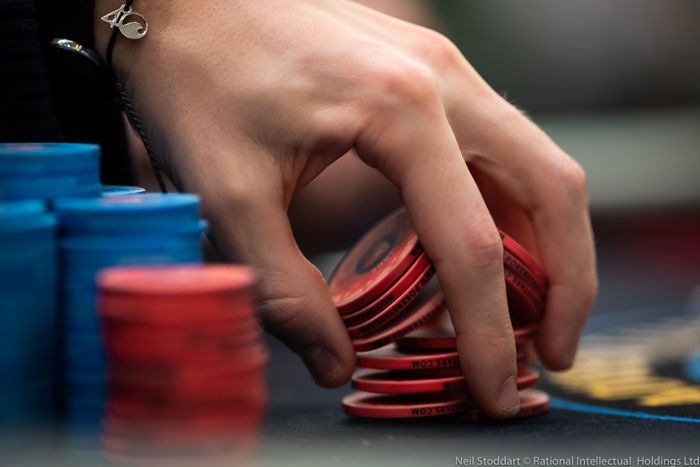 The level of excitement over this event seemed to be at an all-time high. Especially when you compare it to the atmosphere in recent years when people's opinion about this event seemed to more edge towards the negative.
I agree. To be able to bring it back in big force is tremendous.
With the Platinum Pass promotion, giving away $9.6 million outright and charging no rake and adding a million to first, you've set the bar pretty high for yourself. What are your ideas going forward when it comes to the PSPC or similar promotions?
It's too early to say what we'll do for a variety of reasons, not least for competitive reasons.
But we also want to be smart about what we do next. We need to take our time and look at what has worked.
At the end of 2017, we set upon this course with PSPC. We had some clear goals in mind. And I don't mean just in terms of numbers. Our goals were broader than that. We were trying to excite the community, and build that over the course of a year to keep the community excited. We were looking for a cohesive narrative so that we could tell stories throughout the year. All of that needed to lead towards something exciting. How exciting that would be would partly be based on how we were able to generate interest.
"So how do we continue to tell great stories, stories with poker at the center that drive interest in playing? We're looking for something that does that."
By the end of last year, it was clear that we were largely successful in all of the things that we could manage ourselves throughout 2018. That, more than being gratifying, told us a lot. So whatever we do next, we can say for sure that that worked.
So how do we continue to tell great stories, stories with poker at the center that drive interest in playing? We're looking for something that does that. Whether you're a grinder, whether you're a professional, or a recreational player, or someone who has never played poker before, the stories should resonate with you. Anything we do is based around that goal.
What are the metrics you're looking at to judge if something is successful? I, at times, felt a bit saturated with all the Platinum Passes news.
We had those conversations throughout the year. How much is too much? I think we need to reflect on it, we need to look at what really worked and what didn't work.
I mean, there were 320 stories there. Were all 320 stories interesting? No, we never expected all 320 stories to be interesting.
There's a little bit of, 'Throw the spaghetti against the wall and see what sticks.' We knew that going in.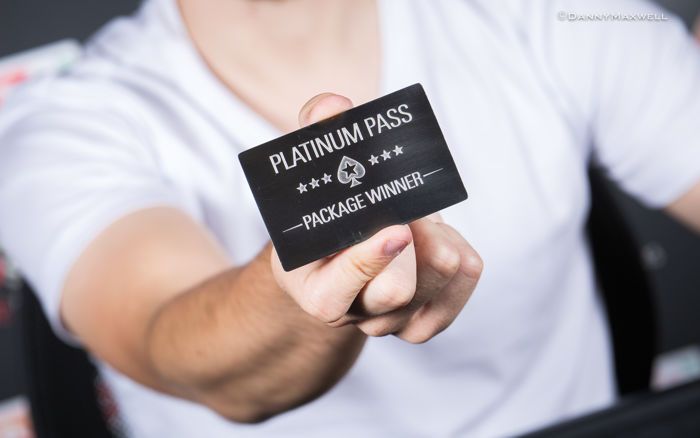 How did you come up with the number 320?
I don't really remember. It's sometimes a bit like licking your finger and sticking it in the air, trying to figure things out. But they were educated guesses. We did it based on many years of experience.
We wanted to break the record, so if we generated 320 entries at $25K each and we throw a million on to first place prize, well then that's a big pot. How many players do we think would come to a $25K regardless? And we asked ourselves, 'How many come if some of these stories really built excitement?' We thought those elements, the 320 Passes, the good stories resulting in players, and the players that would play regardless, would become a kind of network effect to make sure we at least broke the record.
"Even if we were to replicate this, it's going to be in a different time and different expectations."
We didn't think we'd get to the $25 million prize pool and $5 million on top, but we did. So the 320, I still can't sit here and say, 'Yeah, that was the right number to generate the prize pool or generate the right number of stories.' The fact is, there isn't a right. It's a kind of a fools errand to try and say, 'That's the perfect number.'
Even if we were to replicate this, it's going to be in a different time and different expectations.
You might not be able to share details on what's next, but do you see a promotion like this as an annual thing?
That's one of the questions we have been asking ourselves. We've got a number of scenarios and we have spent a lot of time here talking about it with many people. Everything from buy-in level to time of year and to geography.
The questions that I've been getting more than anything else this year wasn't even, 'Are you going to do it again?', it was more, 'When are you going to do it again?' That puts us a little bit on the spot, I have to admit.
I heard Daniel Negreanu say that PokerStars might do something similar but for some other place in the world, a different tournament.
We're looking at different scenarios. To be as successful as possible, I think we need to stick to the core things that excited the community.
The thing that worked were the aspirational stories. Everything from 'I won a trip to the Bahamas!' to 'I played in a $25K!' to 'I cashed a $25K!' to Ramon sitting there on top with $5 million. Those are all great stories. The wonderful thing from a poker perspective and from a PokerStars perspective is that this whole thing speaks to a broad range of people.
"It's our responsibility, both as a business and as the leader in the industry, to push the envelope."
So yeah, I'm not ready to talk about what's coming up next. But it's our responsibility, both as a business and as the leader in the industry, to push the envelope. To find those things that move the needle for us as a business. And because of our leadership position, that's not always enough. It's what moves the industry, what moves the game forward, what moves the community forward, and what grows the community. I think we delivered on all of those scores.
Our metrics for the story-telling aspect were mostly focused on the community. 'Are we generating those Moneymaker-like stories that will transcend the existing poker playing community and excite people who are not yet playing the game?' To judge that, that takes a little bit of time. Do people in Spain look at Ramon and feel like, 'Wow, I want to do that!'? I hope so, I expect so, but it takes time to know for sure.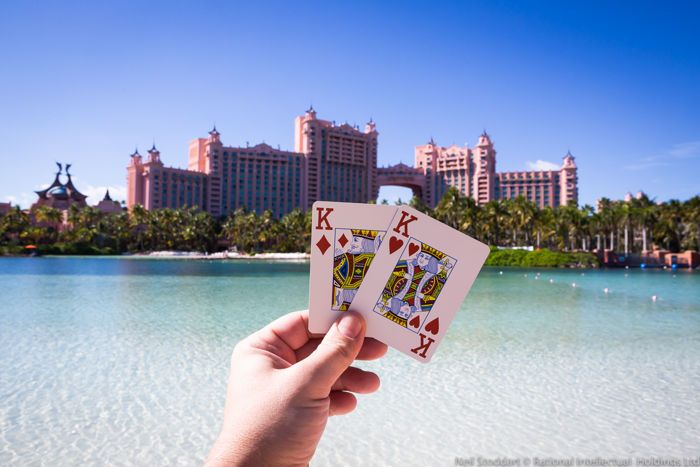 How happy were you when a Platinum Pass winner won the PSPC?
Over the moon! Honestly, we were following it from Day 1. We were looking at what the percentage of Platinum Passes still in the field was throughout.
The irony is, of course, the more entries we started getting towards the end there, the less likely it became a Platinum Pass winner would win. So that was terrific and I was ecstatic to have a Platinum Pass winner lifting the trophy.
On the one hand, my thought was, 'We couldn't have scripted it better!' On the other hand, that's exactly what we were scripting and hoping that would happen.
Outside of the PSPC, what are the plans for the PCA. For years now there have been rumors that the event might move away from this venue.
I hear that every year and every year I say, 'We'll announce our plans when they're ready.' What our 2020 schedule looks like will come in due course. And we'll take all of these things into consideration.
What about the rest of 2019? The schedule is still rather empty, not a lot has been announced yet.
A few things on that. I took over as head of poker marketing late last year and there were some plans that were more fully baked than others for 2019. I've been looking at the existing plans and in the coming weeks, we'll finalize more concrete plans on what we're going to do. I'm not ready to say anything on the live events front.
"We're always trying to find new and innovative ways to bring people to online poker because that's one of our core businesses."
But part of the thinking, and certainly the way I am thinking about things today, is that there's a lot more competition for live events. I honestly think that's a wonderful thing. Our competitors have stepped up their game in the past couple of years. I've said it when it first started, 'That's good for the game and that's good for us; it'll make us better.' And it has. I think players benefit from that.
The other reality to having more competitors is that there are more competitive events and the calendar fills up. Sometimes we hear there are not enough events, and sometimes you hear there are too many. So we're looking at that and trying to figure out what the right number is for PokerStars events in 2019. We're also looking at the way we change up events and the way we do things somewhat differently.
In what way?
In a way that I don't want to discuss now.
The things I'm looking at are how we bring new innovation while we continue to deliver the poker experience people want. How we make the live tournaments and festivals — just like we do with online — more accessible to more people. And that's a constant challenge.
There's a reason why an online poker company does live events, and that is to attract people to online poker. We're always trying to find new and innovative ways to bring people to online poker because that's one of our core businesses.
Besides partypoker stepping up their game, what more has changed? In years past, the schedule would've been out by now.
Some of that is competitive pressure on multiple fronts. People don't want to show their hands too early. I think some of it is the dynamic nature of what we're doing and wanting to both be flexible and responsive.
While I know there have been some complaints here and there, I think mostly we get it right in giving people enough time to coordinate their travels plans.
In years before, the big poker tours would collaborate to make sure their schedules wouldn't overlap too much. Do you feel that has changed? Do you feel if you would announce an event now, that some organizers might instead of work around it, schedule against it?
There's an interesting symbiosis and competitiveness and amplification. That's true for both online and live. There is collaboration and cooperation [between the organizers] and I think that's the right thing for the industry.
But there's also competitiveness and proprietary things that we want to keep to ourselves and not tip our hand to the competition about, and likewise for our competition. There is a good amount of coordination and we always want to keep that while we maintain the competitive edge that we have.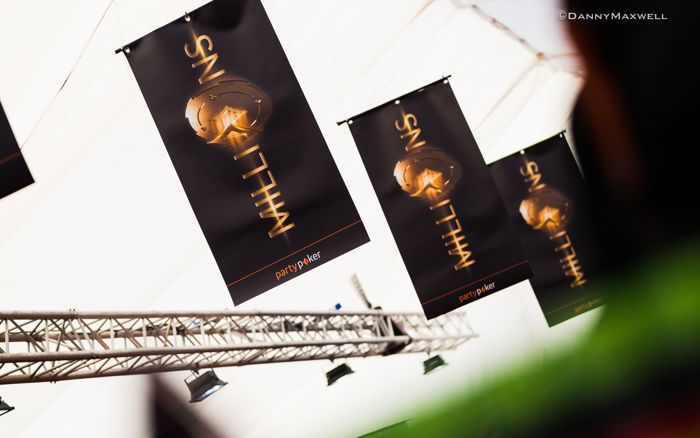 You said that PokerStars organizes live events to attract people to online poker because that is your core business. Some years ago, live events itself seemed to be a separate "business" and not solely there to feed into the online sphere. Is what you say a change of course?
Yes, is the short answer.
Companies change their viewing on things. We certainly looked at live events as a standalone business for a time. Hindsight is 20/20 but I can say that I was never a big fan of that. We need to always recognize that live events were there to bring the brand to life, to engage poker communities in who we are as a brand and speak to them in person, allthewhile focused on improving their connection to, or driving their attention towards, our online business. The role of live events for PokerStars is to bring excitement and attention to poker, and that needs to feed back to our online business.
"The role of live events for PokerStars is to bring excitement and attention to poker, and that needs to feed back to our online business."
Right now I'm looking at such things like, 'Are we doing our online satellites in the right way? Have we lost the plot? Have we saturated the market? Or have we not done enough?' That is the core aspect of both the poker aspiration and the traffic generating that we need on our site that pays for all of this. At the end of the day, live events need to serve a marketing purpose.
If we're penny-pinching and if we're organizing events solely in order to ensure we can pay for the events, we're going to produce different events and experiences. And yeah, I think we lost the plot on that a few years back. We're back on delivering the kind of experience that is befitting of a brand like PokerStars. We're back at a level of tour and tournaments that hopefully differentiates us against those that do have to guide more towards the profit that they need to make in order to put on the next event.
Was the PSPC the direct result of that change of mindset?
It's a little more than that, to be fair.
If we think about live events, holistically, live events going forward need to be more about delivering a great experience. They should be about representing the brand. We need to deliver the kind of events that are exciting for players and that allow us to tell stories. PSPC did that in a super way.
"We need to deliver the kind of events that are exciting for players and that allow us to tell stories. PSPC did that in a super way."
Now, it was such a project that I hate to put it in anybody's head that that's what we're going to do with every event going forward. But we are trying to find ways of delivering on these same key aspects that got people really excited about the PSPC. Can we find something similar for the EPT, something that generates excitement over time and includes all aspects of what was successful for the PSPC. I think so, but stay tuned!
How important is Twitch for PokerStars these days?
Very few people in the company are as passionate and dedicated to Twitch as I am. I've been managing our Twitch strategy and execution for a few years now, and I think it is super important to poker.
It still is, and some of the streamers might not like me saying this, an experiment, though. It's a fantastic experiment and I and the company are 100 percent committed to it, but it still needs to grow. It's terrific, and the streamers are great, and they're building an audience and building a community. At the same time, realistically speaking, it needs to be at a much larger scale to have a meaningful impact.
Twitch is powerful, but relatively speaking, it's still a small audience. We're building that audience and I believe in that audience. I believe in building Twitch poker so my constant push to the team is, 'How do we bring more eyeballs to it?' It's my belief and hope that it has the power to literally change the game.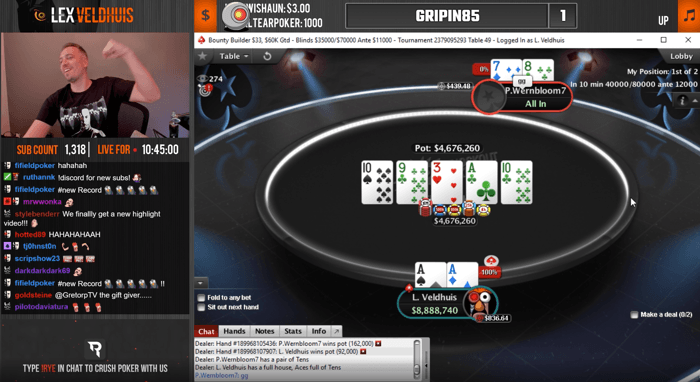 What do you mean by that?
For poker to continue to thrive, you need to bring in more people. We always need to think about the next generation of poker players. We have to be acting on that now.
We continue to believe in and invest in Twitch as it's the kind of experience we believe in. It's interactive, it builds a community, it's building relationships with the streamers.
Understanding how people are viewing poker is important. To me, the most exciting part about Twitch is that they're viewing online poker. To have been able to make online poker something exciting to watch is huge. Online poker itself has not always been the most interesting spectator sport, but Twitch is changing that.
"It's my belief and hope that [Twitch] has the power to literally change the game."
If you look at esports, you can look at it as both an opportunity and as competition. We have to learn from it and embrace it. If we don't evolve, we're going to lose that generation — they won't be playing online poker but something else. And where will poker be in five years from now, 10 years from now, 15 years from now when that happens?
We know that that means changing things. Sometimes, those changes upset the current generation. But that doesn't mean we shouldn't do them, and it doesn't mean we should do them. We need to try lots of things.
When it comes to such innovations to try to attract the next generation, is that again a case of throwing spaghetti against the wall to see what sticks? In the last year, a lot of new games have popped up in the client with all of them given a runtime between 50 and 60 days.($)
Yes, it is. It's a deliberate approach that we've been doing for a while now. We're even beginning to accelerate because we have to try new things. Some of them will work, some of them won't. There isn't a right ratio. But if you're not doing that, you aren't innovating.
We're trying to find those that stick and learn from that. Whether that means that's a game that we're going to introduce full time, or that we bring back from time to time, we'll see. We might tweak a new game and bring it back in a slightly different form.
And we're fusing that into our live event experience. We're looking at the Run It Up events that Jason [Somerville] is doing. Those are poker tournaments for sure, but there's something different and everybody who goes to one of them acknowledges that.
The Stars Group owns a majority shareholding in iBus Media.