Interview Ramon Colillas, Winner of the PSPC for $5.1 Million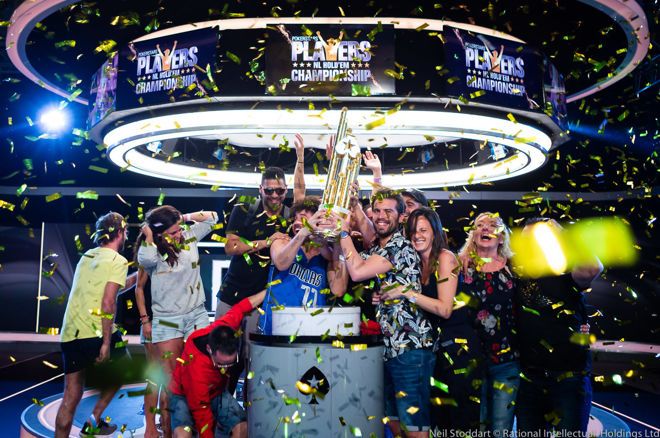 Ramon Colillas won $5.1 million two days ago. He scooped it playing a freeroll after having won a Platinum Pass ending up the leaderboard winner in a local Spanish tournament series with multiple stops, sponsored by PokerStars.
When the confetti had dwindled, and dozens of winner photos were taken, it was time for the poker media to ask him some questions. But, soon after the PokerStars tv crew and PokerNews video team had asked their questions, Colillas made it clear that he was tired and done for the day.
You can read our full recap of the final table here. You can watch our video interview with Colillas here.
Today we got the chance to sit down with him for a little bit of a redo. Now that everything had settled down a little bit and he had grasped the concept of being a millionaire, we asked him some follow-up questions. With a translator on his side - Colillas understands most English but doesn't speak it himself very well - we faced an ever-smiling Colillas.
How do you feel now, two nights of sleep after that final hand?
Good! I was, of course, very happy right away. But now I understand what's happening; all the pictures, all the news, all the interviews. Now I'm starting to enjoy everything that comes with it.
Hand #80: Huge Backdoor Double for Colillas
Hand #80: Julien Martini opened with
for 1.25 million and Ramon Colillas came along with
.
The
flop nailed Martini, and he bet 1 million. Colillas called, and the turn was a
. Martini slid in a big bet of 4.6 million this time, and Colillas called to see the
river.
Martini shoved all in after Colillas checked and the Spanish player called for his 17,050,000 with his backdoor boat.
| Player | Country | Chip Count | Trend |
| --- | --- | --- | --- |
| Ramon Colillas | Spain | 48,300,000 | +23,650,000 |
| Julien Martini | France | 13,150,000 | -23,650,000 |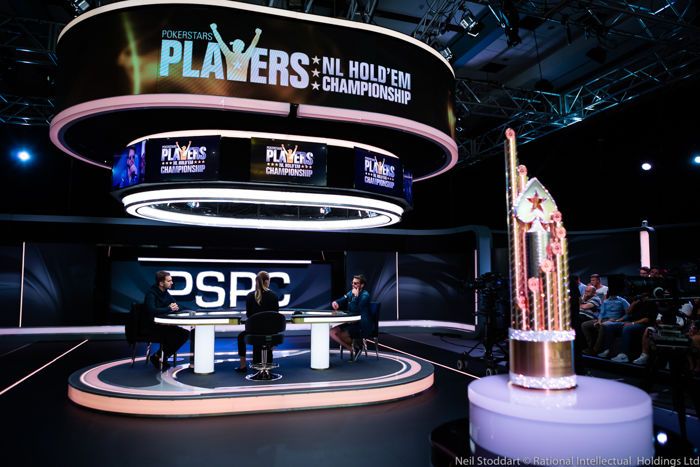 Tell us a little bit about the hand where you made a fullhouse against a flush. Probably the most important hand of your poker career.
The hand started as a classic hand with him opening and me defending. I didn't know Julien [Martini]; I didn't know how he played or what kind of strategy he would be playing heads-up.
"I knew I had a decent hand but on the turn I realized that I was in trouble."
I knew I had a decent hand, but on the turn I realized that I was in trouble. I even contemplated folding as Julien bet almost the size of the pot. So it was tough, and I thought about it for some time. I decided to pay and see if a five would hit. Otherwise, I was probably going to fold if the bet was another sizable one.
The five came, and I knew I had him! So I just checked and what happened that happened. It was definitely a key moment.
Heads-up there was a massive difference between finishing first and second, $2,126,000, in large part because PokerStars had added $1,000,000 to first. Still, there didn't seem to be talks of a deal. How come?
Between the two of us, there was never a deal discussed.
When we were three-handed, [eventual third-place finisher Marc] Rivera proposed a deal and Julien said no instantly. He was very firm on that because he had a lot of chips at the time. He was so convinced; I didn't even propose it when we were heads-up.
"When we were three-handed, Rivera proposed a deal and Julien said no instantly."
If Julien had proposed it, I would've definitely taken a look at the numbers.
On the other hand, I've played heads up all my life. It's my habitat; it's what I do for a living every day, especially with shallow stacks. So I was very confident in my game; confident I could turn things around. In the end, I was lucky enough to win.
You won your Platinum Pass in a local tour, but payouts of those tournaments don't appear on your Hendonmob profile. Do you think that gave you an advantage, with your competition maybe underestimating you?
Yes, that's fair to say. It was a bit of strategy on my part as well. I know that Spanish tournaments don't show up on the Hendonmob.
Obviously, when you run deep in a tournament, and I do this as well, you look up other players their Hendonmob profiles. You check out their winnings and everything. And I knew that other players were going to look for me online and they were going to find mixed messages.
Also, I play on PokerStars.ES and my nickname there is not public. So I knew I had a bit of an advantage from that perspective with the others being in the dark when it comes to my skill and experience level.
What was your regular game exactly before this event? And what are your plans now you have this $5.1 million bankroll boost?
Online my game is Spin & Go's, mainly the $100 buy-in. In live events, I've been playing up to €2,000 events. I'm probably going to play the €5,000 events now, probably all of them. That's going to be the big jump; from €2K maximum to playing the EPTs and other €5Ks around Europe.
"When I see the $25K events, the fields are really hard with a lot of very good players. I don't think I'm on that level yet."
So no high rollers?
No, not at this moment. I'm just coming from playing €2K events. I'm going to make the jump to €5Ks, but when I see the $25K events, the fields are really hard with a lot of very good players. I don't think I'm on that level yet. I believe in progression, and I believe that I'll get to that level. But right now, I don't think I'm on that level yet. So for now, I'm going to stay on the €5,000 range.
You won a ticket for the WSOP Main Event finishing atop in a different Spanish local tour. What are your plans for the WSOP?
My plan is to win it! I have already won two tournaments in Spain, I won this one, and I'm going into the WSOP with the goal of winning it! That's how I play; I go into the tournament focussed on winning it, that's the only thing I think about.
On a more serious note; I obviously know that doesn't always happen. But the mindset is always to go for it.
I'm thinking about going two or three weeks before the [WSOP] Main Event starts. I'm going to play as much as I can while I'm there. Including the Main Event, I'll be a full month in Vegas or so.
PSPC Final Table Results
| Place | Player | Country | Prize (USD) |
| --- | --- | --- | --- |
| 1 | Ramon Colillas | Spain | $5,100,000 |
| 2 | Julien Martini | France | $2,974,000 |
| 3 | Marc Rivera | Philipines | $2,168,000 |
| 4 | Scott Baumstein | United States | $1,657,000 |
| 5 | Jason Koonce | United States | $1,304,000 |
| 6 | Marc Perrault | Canada | $1,012,000 |
| 7 | Farid Jattin | Colombia | $746,000 |
| 8 | Talal Shakerchi | United Kingdom | $509,000 |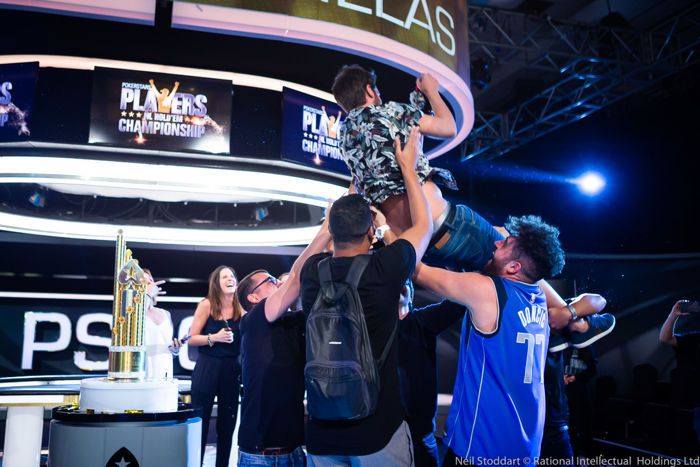 The Stars Group owns a majority shareholding in iBus Media.