Joris Ruijs Wins Patrik Antonius Poker Challenge Main Event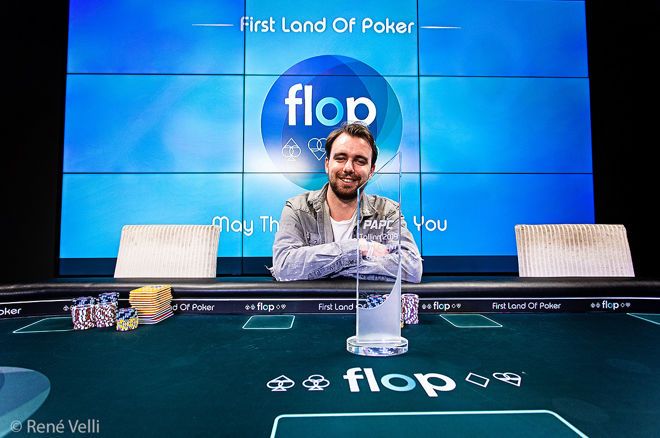 Joris Ruijs held the overwhelming chip lead ever since Day 2 and finished off the tournament in style becoming the first-ever champion of the €1,500 Patrik Antonius Poker Challenge Main Event for €57,200. The talented 27-year old Dutchman defeated Ville Jantunen heads-up to win his sixth live tournament and push past $1.7 million in lifetime winnings on The Hendon Mob.
Ruijs was one of the 160 entrants in the inaugural Patrik Antonius Poker Challenge Main Event, a festival that celebrated the launch of the First Land of Poker (FLOP) app. Ruijs was excited of the prospect of playing against the Finnish star and namesake of the tournament.
"Antonius is a legend of the high stakes," Ruijs said to PokerNews after his victory. "It's somebody I've watched for hundreds of hours back in the days. Him, Dwan, and Ivey. So to battle with him in his own event, that was pretty great."
€1,500 Patrik Antonius Poker Challenge Main Event Official Results
| Place | Player | Country | Prize (EUR) | Prize (USD) |
| --- | --- | --- | --- | --- |
| 1 | Joris Ruijs | Netherlands | €57,200 | $64,237 |
| 2 | Ville Jantunen | Finland | €39,100 | $43,910 |
| 3 | Kasper Mellanen | Finland | €23,800 | $26,729 |
| 4 | Matias Arosuo | Finland | €17,900 | $20,103 |
| 5 | Andrejs Punka | Latvia | €13,800 | $15,498 |
| 6 | Marvin Hannemann | Germany | €9,700 | $10,894 |
| 7 | Markku Koplimaa | Estonia | €7,810 | $8,771 |
| 8 | Sebastian Wahl | Finland | €5,950 | $6,682 |
Ruijs not only won the Main Event, but also finished in third place (€38,800) in the PAPC €10,200 Championship eventwon by Antonius himself, and finished just outside the money in the PAPC €25,000 High Roller where he also spent hours duking it out with the Finnish legend.
"The experience was really fun," Ruijs said, smiling. "At a certain point, you're not intimidated by the big names anymore, and then it becomes super fun to play against these kinds of players. I'm pretty sure that four years ago, I'd have peed my pants," he added with a laugh.
The tournament was as perfect as they'd come for Ruijs, who held a monster lead after Day 2 and 3 and finished it off in style, only shortly surrendering the lead heads-up on an otherwise one-sided final table.
"It's pretty clear I ran super hot," was the first thing Ruijs said while reflecting on his amazing run. "But besides that, the field was also great, and it was a buy-in where the strongest opposition isn't ultra strong, so to say."
Despite the large difference in buy-ins Ruijs played during the week, he didn't have any issues in the €1,500 Main Event, as opposed to battling it out in the five-figure events.
"I actually think this is my strong suit," the Dutchman acknowledged. "I totally don't have issues with it. I only register a tournament when I actually want to play it. I like playing the live events, have a ton of fun in them and therefore, don't have any issues to focus myself after playing a much bigger buy-in event beforehand."
Ruijs Reflects on PAPC Main Event Final Table
Ruijs started the final table off with 47 percent of the chips in play, holding a 3.5-1 lead over his nearest challenger Marvin Hannemann. As far as upfront plans in regards to the final table, Ruijs said the following:
"I often see that a chip leader in this kind of situations just starts opening everything, but I find that a poor strategy. The final table is pretty deep, there are decent players there; if you start opening with junk everywhere they can simply call with good hands and you're starting to bleed chips.
"If you turn it down just a notch, but still understand that the ICM pressure on the others is so large, you can size larger on flops and turns and put a ton of pressure on them that way That's something that works great in this spot so that's why I did it."
For three days, Ruijs clinched on to the chip lead, but after losing pocket eights against the pocket aces of Jantunen, followed up by a brutal cooler with a turned straight of straight, he was trailing for the first time in three days. The Dutchman was unfazed by it.
"By now, it's happened a couple of times to me, and simply put: you don't have to let it get it to you," Ruijs said. "I felt I have such an edge on him heads-up. He wasn't a bad player by any means, but he clearly wasn't as experienced and we were very deep as well.
"After losing that pot, it briefly goes through your head that if you get coolered again, it's over, but you simply don't have to allow to get those thoughts to get to you."
Ruijs quickly turned it back around, reclaiming the lead after a hand where Jantunen bet-folded the river. In the final hand, Jantunen flopped bottom two pair and Ruijs top pair. Ruijs rivered a higher two pair, shoved all in over a bet from Jantunen, and the Finn called it off with the inferior hand to make Ruijs the tour's first-ever champion.
That wraps up the first-ever Patrik Antonius Poker Challenge festival, one that turned the eyes of the poker world to Tallinn, especially with the crazy high stakes PLO action going on. The PAPC will certainly be back for a second edition later this year at a yet to be announced location.