Off the Felt: Baby Girl for Natalie Hof and Felipe Mojave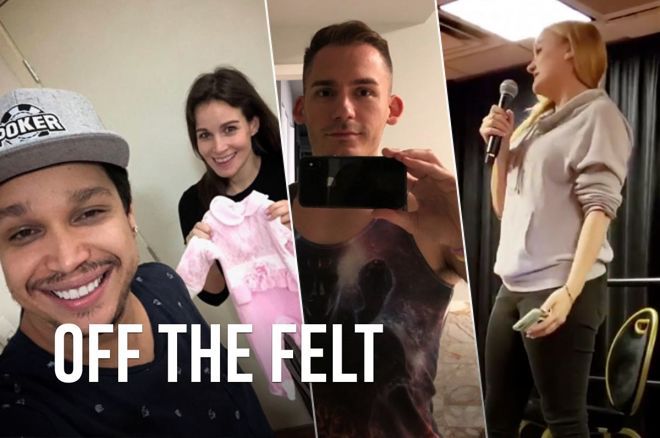 Table Of Contents
In the previous edition of Off the Felt, we had a throwback by Barry Greenstein, a pretty sick tattoo and some other fun gems.
This week, we have a baby girl for Natalie Hof and Felipe Ramos, reporters on the run and some thoughts about buying and selling action in poker.
Twitter Updates
Big news from Natalie Hof and Felipe "Mojave":
I am so lucky that I got the best birthday present a man could ever get: a baby girl #‍#‍#❤️ Beyond happy! Love you… https://t.co/5JE3d9gbkJ

— Felipe Mojave Ramos (@FelipeMojave)
We can't wait to meet this little #### babygirl # #parentstobe #speechless #blessed https://t.co/6vnP4BBcPa

— Natalie Hof (@HofNatalie)
Thoughts from Jason Koon on a poker player union:
Would it be possible to create a poker players union or other model that would allow people who file as professiona… https://t.co/2gKgsWMiFH

— Jason Koon (@JasonKoon)
Who gets No. 16 first?
Mathijs Jonkers wants to discuss payout-structures:
Sharing my thoughts on payout structures in tournaments. I am wondering what other persons out of the industry thi… https://t.co/GbySAzqqDP

— Mathijs Jonkers (@mathijsjonkers)
Reminder to look out for one another at the poker table:
There was a guy at my table harassing the dealer but dem southern gentlemen @Cord_Garcia_ and @SoonerCT22 stepped u… https://t.co/R5CqNLAD4v

— Maria Ho (@MariaHo)
Some help from Allen Kessler:
Mixed game players. Here is a comprehensive day by day schedule of every mixed event in Vegas from May 25th thru mi… https://t.co/T2ovRZQSyd

— Allen Kessler (@AllenKessler)
Ryan Laplante shared his thoughts about selling and buying action in poker:
Jamie Kerstetter took the mic at Run It Up Reno:
This was fun and terrifying. Ty @Stapes and vodka for making me finally try and @runitupreno for being the most pos… https://t.co/k87yeSdoVx

— Jamie Kerstetter (@JamieKerstetter)
Instagram Updates
Risky move by Matas Cimbolas:
Bathroom selfie with Justin Bonomo:
When you lose a bet...
Aaron Massey in the gym:
Charlie Carrel boxing:
Our reporters Yori Epskamp and Milko van Winden competed in the Hilversum City Run and their results were impressive: