The Coolbet Open Returns to Tallinn on May 7-12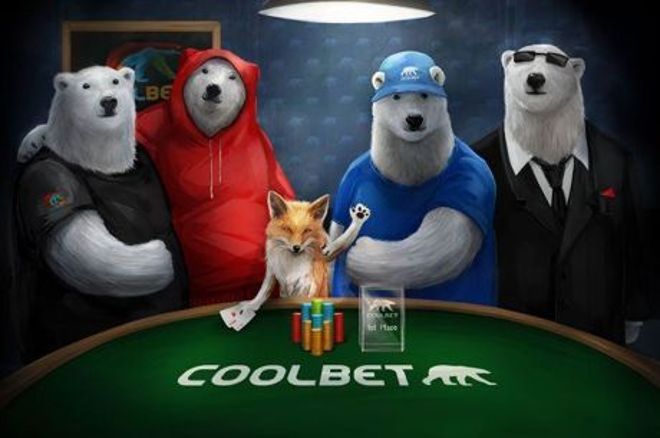 The Coolbet Open is about to return for its third edition at the Olympic Park Casino and the Hilton Tallinn Park in the Estonian capital of Tallinn on May 7-12.
The festival began in May 2018 and was an immediate hit with poker fans. It featured 27 exciting tournaments and a fun vibe, in no small part facilitated by the Coolbear trotting around the venue.
Finland's Sebastian Wahl will forever be known as the first Coolbet Open Main Event champion after he outlasted a field of 425 entrants to win the tournament for €50,100.
The Coolbet Open built upon the success of its inaugural event with an even bigger schedule of 31 tournaments when it returned to Tallinn in October. A new record was set for a €550 buy-in event when 589 entrants battled it out in the Main Event. Norway's Mats Albertsen went home as the festival's biggest winner after shipping the Main Event for €60,510.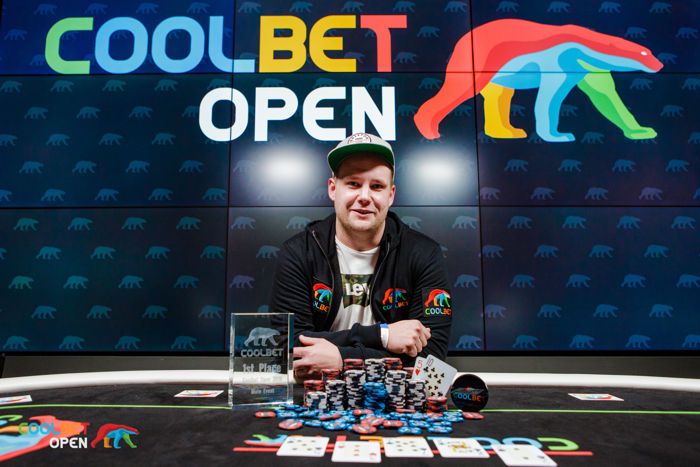 The upcoming Coolbet Open will feature the biggest schedule to date with 33 action-packed tournaments. Buy-ins once again are affordable to all; ranging from freebuys with a €0 entry fee to €1,100 for the €1k Coolbet Open. Two new events on the schedule are the €220 Drawmaha Championships hosted in cooperation with Poker Event Sweden on May 9, and the €60 Short Deck Hold'em on May 11.
As was the case during the first two Coolbet Opens, PokerNews will be on hand to live report the Coolbet Open €550 Main Event from beginning to end.
The Main Event is a deep-stacked affair with players starting with 30,000 in chips and 45-minute blind levels during its two opening flights on May 8 and 9.
Players will have plenty of chances to build a stack not only because of the great structure but thanks to the tournament allowing unlimited reentries until the end of the first blind level on Day 2 on May 10 when blind levels increase to one hour in length.
Those bagging chips on the penultimate day will compete on a live stream until the third Coolbet Open Main Event champion is crowned.
Coolbet Open Schedule
| Date | Time (EEST) | Event # | Event | Buy-in |
| --- | --- | --- | --- | --- |
| May 7 | 5 p.m. | 1 | Freebuy Satellite to Coolbet Opening Event (seven seats gtd.) | €0 + €20 rebuys |
| | 6:30 p.m. | 2 | One Hand Flip to Coolbet Opening Event | €20 |
| | 7 p.m. | 3 | Coolbet WarmUp Event (Main Event 1a Seat Added for Winner & Runner-Up) | €220 |
| | 9 p.m. | 4 | Freebuy Satellite to Main Event Day 1a (ten seats gtd.) | €0 + €20 rebuys |
| May 8 | 12 p.m. | 5 | Freebuy Satellite to Main Event Day 1b (five seats gtd.) | €0 + €20 rebuys |
| | 1 p.m. | 6 | Coolbet Open Main Event Day 1a | €550 |
| | 5 p.m. | 7 | Freebuy Satellite to Any €330 Event (seven seats gtd.) | €0 + €20 rebuys |
| | 9 p.m. | 8 | Coolbet NLHE Deepstack Championship Day 1 | €330 |
| | 11 p.m. | 9 | Coolbet Open Wednesday Turbo | €60 |
| May 9 | 12 p.m. | 10 | Hyper Turbo Satellite to Main Event Day 1b (five seats gtd.) | €30 |
| | 1 p.m. | 6 | Coolbet Open Main Event Day 1b | €550 |
| | 1:30 | 11 | The Drawmaha Championship | €220 |
| | 4 p.m. | 12 | One Hand Flip to Afternoon Turbo | €10 |
| | 5 p.m. | 13 | Coolbet Open Afternoon Turbo | €110 |
| | 9 p.m. | 8 | Coolbet NLHE Deepstack Final Day | |
| | 9 p.m. | 15 | Pot Limit Omaha | €220 |
| | 10 p.m. | 16 | One Hand Flip to Thursday Turbo | €10 |
| | 11 p.m. | 17 | Coolbet Open Thursday Turbo | €110 |
| May 10 | 12 p.m. | 6 | Coolbet Open Main Event Day 2 | €550 |
| | 1 p.m. | 18 | Satellite to Any €330 Event (five seats gtd.) | €30 |
| | 4 p.m. | 19 | One Hand Flip to Vimenn Open | €30 |
| | 5 p.m. | 20 | Vimenn Open Day 1 | €330 |
| | 7 p.m. | 21 | PL Omaha 4 & 5 Cards Round of Each | €110 |
| | 9 p.m. | 22 | Coolbet Open Deep Special | €110 |
| | 11 p.m. | 23 | 5 Card Pot Limit Omaha Freezeout | €220 |
| | 12 a.m. | 24 | Midnight Bounty Turbo Freezeout | €110 |
| May 11 | 12 p.m. | 6 | Coolbet Open Main Event Final Day | |
| | 12 p.m. | 20 | Vimenn Open Final Day | |
| | 12 p.m. | 25 | Freebuy Satellite to the Coolbet 1k (two seats gtd.) | €0 + €50 rebuys |
| | 1 p.m. | 22 | Coolbet Open Deep Special Final Day | |
| | 2 p.m. | 25 | €1k Coolbet Six-Max | €1,100 |
| | 3 p.m. | 27 | Coolbet Ladies Event | €110 |
| | 3 p.m. | 28 | Open Face Chinese Pineapple | €220 |
| | 5 p.m. | 29 | Coolbet Open Bounty FreezeOut | €110 |
| | 7 p.m. | 30 | Pot Limit Omaha | €110 |
| | 9 p.m. | 31 | Coolbet Saturday Turbo | €220 |
| | 11 p.m. | 32 | Short Deck Hold'em | €60 |
| May 12 | 12 p.m. | 33 | Turbo Deep Stack Version of Coolbet Main Event | €110 |