Scott Wellenbach Gives Away All of His Poker Winnings 'Because He Can'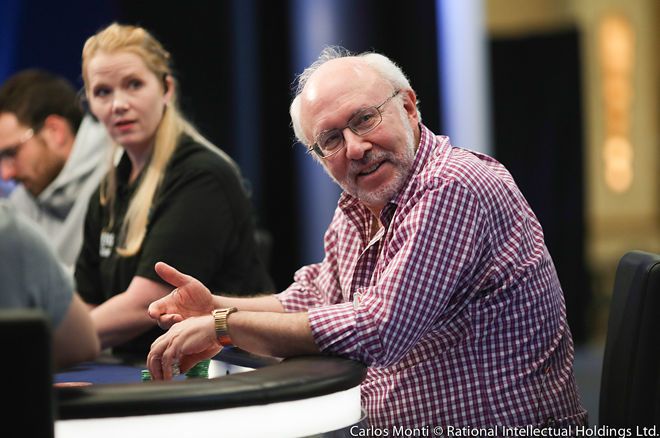 Table Of Contents
It came to our attention during the PokerStars Caribbean Adventure $10,300 Main Event in January that one of the final tablists had vowed to give away all his poker winnings to charity, so we found out more. Sure enough, Scott Wellenbach intended to donate whatever money he won from the event, which was ultimately $671,000 for finishing third out of 865 entries.
The Buddhist texts translator from Halifax, Canada was back in action this week at the 2019 PokerStars and Monte-Carlo®Casino European Poker Tour playing in the €5,300 Main Event. We wondered what he's been up to, and who were the lucky recipients of the big January cash, so we caught up with him during a break of the tournament.
To Charity Go the Spoils
As it was only three months ago Wellenbach won his big prize, he's still in the process of pledging the winnings after taking some time to get the money traveling a good deal for his work. So far he has around $100K of it pledged to an array of charitable organizations.
Among them are some REG charities like Against Malaria Foundation and Humane Slaughter Association, some traditional charities like Oxfam and Doctors Without Borders, a couple nunneries in Nepal, as well as several local charities in Halifax. Others will be added to that list and Wellenbach figures he'll have it all distributed within the next few months.
There have been a wide range of reactions to the fact that Scott Wellenbach gives away all of his poker winnings to charity, but to him, the reason is quite simple: "Because I can."
"I'm either going to donate it now or it'll be in my will. Why not now?"
As he explains, Wellenbach has what he needs to live comfortably — food, shelter, a car. Besides some nieces and nephews to whom he will leave something, he doesn't have family to provide for being a widower with no children. So to charity go the spoils.
"My needs are taken care of and I've done really well investing over the last number of decades, so I can afford to do it," he says.
With his work keeping him busy, recently taking him to China, Nepal and Colorado, Wellenbach doesn't get out to play too many tournaments. Still, he's had his fair share of success over the years and plays when he can.
Finding the Game
You don't hear of many Buddhist poker players, so we were curious about the relation.
"I was a poker player long before I was a Buddhist."
As a young boy in Halifax, Wellenbach recalls going on vacations with his extended family to the coast, where the lifeguards would play poker in the beach hut when the rains came. Too young to participate himself, Wellenbach was enamored watching the big kids play cards. It wouldn't be too long before he would ante up.
He would later play poker in high school and during university, even supporting himself with it for a few months during his mid-20s. He has been playing off and on ever, doing so more regularly over the last 8-10 years.
"I was a poker player long before I was a Buddhist."
He may be playing for charity, but Wellenbach takes the game seriously and pushes himself to do his best. Even after his impressive third-place finish for six figures in the Bahamas, he wasn't satisfied.
"Actually I had a poor finish," Wellenbach reflects. "I came into the final table second and finished third.
"It was a great run at the PCA except I didn't feel I played the final table very well. I definitely could have played better. And I got a little unlucky — a little bit — but I can't blame it on luck."
As most tournament players will agree, anything but first place can feel like a disappointment, especially when you feel you didn't play your best. But alas, winning over $600K for charity is a big win for the world.
Can't Take It With You
While some people may not be able to wrap their minds around the idea of grinding out tournaments only to donate all of the winnings, Wellenbach has a different perspective. Reaching the twilight of his life at 68, he doesn't see much of a point in keeping any big poker score.
"I'm either going to donate it now or it'll be in my will. Why not now?"
Wellenbach unfortunately busted out of the Main Event on Day 1b, but you can continue to follow all the action of the EPT Monte Carlo right here at PokerNews as our live reporting team brings all the action through the completion of the festival.