The Summer Showdown in Tallinn Features 36 Events on July 23-28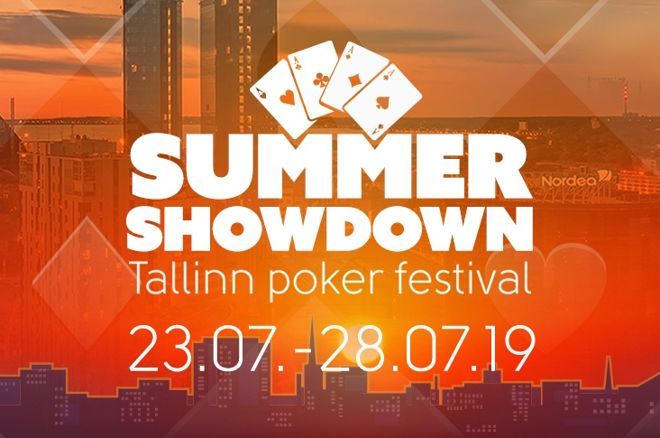 Poker players around Europe are about to head to the Estonian capital of Tallinn for the biggest poker festival this summer in Northern Europe in the 2019 Summer Showdown at Olympic Park Casino and the Hilton Tallinn Park on July 23-28.
The schedule features 36 action-packed events with something for everyone. The slate of events is designed by the experienced Teresa Nousiainen featuring tons of game variety and buy-ins ranging from €0 to €2,150. Of course, there will be plenty of cash games running at stakes big and small for 24 hours a day throughout the six-day festival.
"We are a truly player-friendly good value poker festival."
"We are a truly player-friendly good value poker festival," Nousiainen told PokerNews. "We truly do our best to make sure every player has a great time with us. We run events with buy-ins ranging from €0 to €2,150 and the cash games range from blinds at just €2 up to high stakes games with blinds at €50/€100. The cash game action is always fantastic so we wanna make sure players know that even if they're not into tournaments, the cash games are fantastic."
Action-Packed Opening Day
The festival kicks off with a big bang with the one-day Summer Showdown €220 Opening Event on July 23 at 8 p.m. EEST. Not only will the winner walk away with a huge top prize but also be awarded a free seat to the Summer Showdown €1,100 Main Event with the festival organizers adding this to the prize pool.
Players can qualify into this event for free with a Freebuy Satellite at 5 p.m. EEST that guarantees at least seven seats! Players feeling a little lucky can also potentially qualify for €20 through a One Chip Flip just before the event begins at 7:30 p.m. EEST. The flips will be ten-max meaning there is extra value here with the festival covering the rake for the Opening Event for the winner.
PokerNews Covering the Main Event
While PokerNews has been on hand to cover most of the significant events in Tallinn over the past couple of years, this will be the first time we will be on-site to cover the Summer Showdown. We'll be there for the €1,100 Main Event on July 25-28. We will not only provide updates on the most significant action and bad beats, but also interviews with the players live on Facebook and more.
The Main Event provides plenty of action. The opening day on July 25 features eight blind levels of an hour each with players starting with 30,000 in chips. Players can not only reenter an unlimited amount of times on the opening day but also until the end of Level 9 (first blind level of Day 2) when late registration closes.
The action will continue with hour-long blind levels throughout the event until a winner is crowned on Day 4 on July 28. Among the players confirmed to play are Aki Pyssing, who just cashed in the WSOP Main Event, and Matias Knaapinen, who won two side events in last year's festival and has seven trophies from events in Tallinn alone.
Estonia's Jargo Alavali won this event last year for €33,077 after agreeing to a three-way final table deal with Tuomas Nurmi (second - €27,518) and Rauno "Estonian Jesus" Tahvonen (third - €29,905).
Other Highlights and Team Competition
The festival features many other fantastic events, both big and small for players to enjoy. One of the bigger events will be the Summer Showdown €550 Championship Event on July 24-25 with former European Middleweight Champion Boxer Amin Asikainen among the players confirmed.
Another big event on the schedule is the €2,150 High Roller on July 27-28. Last year this event was won by Estonia's Igor Pihela for €18,200.
Other multi-day events include the €110 Olybet Special and the €330 Bounty with both taking place on July 27-28.
Of course, there is plenty of other no-limit hold'em events and satellites on the schedule including the €55 Ladies Championship on July 27.
Fans of other games will have plenty to choose from as well. Among the mixed game events are the €330 Sviten Special 6-Max (July 25), the €550 PLO 5 Card Hi/Lo 6 Max (July 25), the €330 Open Face Chinese Pineapple (July 26), the €110 Pot-Limit Sökö - Five Card Stud (July 26), the €110 PLO/PLO 5 Card 8 Max (July 26), and the €110 PLO 5 Card Hyper Turbo (July 26).
To add to the fun of the Summer Showdown, the festival allows players to join in groups of four for a team competition. The competition has proven to be popular in previous years with teammates rooting each other on hoping to earn points.
A total of two percent is deducted from prize pools from each qualifying tournament and players can earn points in all events that aren't satellites or flips. The first event that will count towards the contest is the €220 Opening Event on July 23 with the final tournament players can earn leaderboard points in is the €110 Hyper-Turbo on July 28.
Prizes will not only be awarded to all members of the winning team but also to the team that finishes runner-up.
Don't Miss the Final Online Satellite at OlyBet on July 21
The final online satellite, guaranteeing eight Main Event seats, takes place on Sunday, July 21 at 9:30 p.m. on OlyBet Poker.
Sign-up to OlyBet Poker to grab an amazing welcome package which includes a €2,000 no deposit bonus up and for your final chance online to secure your Main Event seat!
Summer Showdown Schedule
| Date | Time (EEST) | Event # | Buy-in | Event |
| --- | --- | --- | --- | --- |
| July 23 | 5 p.m. | 1 | € 0 | NLHE Freebuy Satellite to Event #3 (7 Seats Gtd.) |
| | 7:30 p.m. | 2 | € 20 | One Chip Flip to Event #3 |
| | 8 p.m. | 3 | € 220 | NLHE Summer Showdown Opening |
| | 10 p.m. | 4 | € 35 | NLHE Satellite to Event #6 |
| July 24 | 4 p.m. | 5 | € 0 | NLHE Freebuy Satellite to Event #6 (5 Seats Gtd.) |
| | 5 p.m. | 6 | € 550 | NLHE Summer Showdown Championship Day 1 |
| | 6:30 p.m. | 7 | € 10 | One Chip Flip to Event #8 |
| | 7 p.m. | 8 | € 60 | NLHE Satellite to Main Event |
| | 9 p.m. | 9 | € 330 | NLHE €100 Bounty Day 1 |
| | 11 p.m. | 10 | € 110 | Hit & Run Tubo Satellite to Main Event |
| July 25 | 11 a.m. | 11 | € 0 | NLHE Freebuy Satellite to Main Event (2 Seats Gtd.) |
| | 12 p.m. | 12 | € 1,100 | Summer Showdown Main Event Day 1 |
| | 5 p.m. | 13 | € 35 | Hit & Run Tubo Satellite to any €330 event (5 Seats Gtd.) |
| | 5 p.m. | 14 | € 330 | Sviten Special 6-Max |
| | 6:30 p.m. | 15 | € 20 | One Chip Flip to Event #16 |
| | 7 p.m. | 16 | € 220 | NLHE Turbo 8-Max |
| | 9 p.m. | 6 | | NLHE Summer Showdown Championship Final Day |
| | 9 p.m. | 9 | | NLHE €100 Bounty Final Day |
| | 9 p.m. | 17 | € 550 | PLO - 5 Card Hi/Lo 6 Max |
| | 11 p.m. | 18 | € 110 | NLHE Hyper Turbo |
| July 26 | 12 p.m. | 12 | € 1,100 | Summer Showdown Main Event Day 2 |
| | 3 p.m. | 19 | € 0 | NLHE Freebuy Satellite to High Roller (2 Seats Gtd.) |
| | 3 p.m. | 20 | € 330 | Open Face Chinese Pineapple |
| | 5 p.m. | 21 | € 110 | Pot Limit Sökö - Five Card Stud |
| | 7 p.m. | 22 | € 110 | NLHE Deep Stack |
| | 9 p.m. | 23 | € 110 | PLO/PLO 5 Card 8 Max |
| | 11 p.m. | 24 | € 330 | NLHE Hyper Turbo |
| | 12 a.m. | 25 | € 110 | PLO 5 Card Hyper Turbo |
| July 27 | 11:30 a.m. | 26 | € 20 | One Chip Flip to Event #27 |
| | 12 p.m. | 27 | € 110 | NLHE Hyper Turbo Satellite to Event #27 (2 Seats Gtd.) |
| | 12 p.m. | 12 | | Summer Showdown Main Event Day 3 |
| | 12 p.m. | 28 | € 55 | Ladies European Championship |
| | 1 p.m. | 29 | € 110 | Pot Limit Omaha 4 Card |
| | 3 p.m. | 30 | € 2,150 | NLHE High Roller 6-Max Day 1 |
| | 5 p.m. | 31 | € 110 | NLHE Olybet Special Day 1 |
| | 7 p.m. | 32 | € 330 | PLO/PLO 5 Deep Stack Turbo 8 Max |
| | 9 p.m. | 33 | € 330 | NLHE €100 Bounty Day 1 |
| | 11 p.m. | 34 | € 110 | NLHE Turbo €25 Bounty |
| July 28 | 12 p.m. | 35 | € 110 | NLHE Hyper Turbo |
| | 12 p.m. | 12 | | Summer Showdown Main Event Final Day |
| | 12:30 p.m. | 30 | | NLHE High Roller 6-Max Final Day |
| | 12:30 p.m. | 31 | | NLHE Olybet Special Final Day |
| | 12:30 p.m. | 33 | | NLHE €100 Bounty Final Day |
| | 2 p.m. | 25 | € 0 | NLHE Freebuy Satellite to Battle of Malta |