WSOP Moments of the Week: Two DQ's, Indecent Exposure, Record Field & Earthquake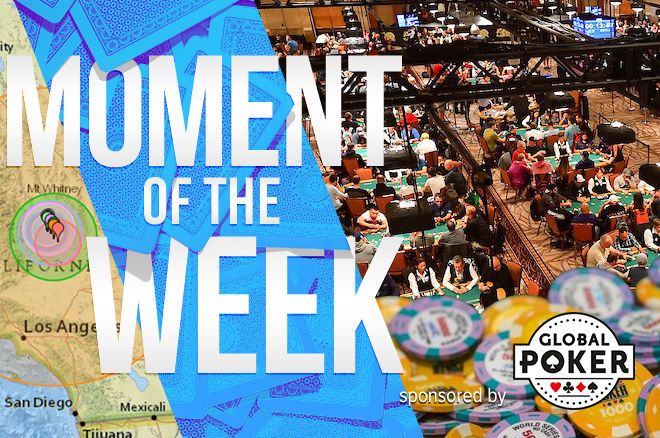 It's been an exciting World Series of Poker Main Event already, and we're only on Day 3. There were too many big moments in the penultimate week of the WSOP to choose just one, so for this week's Global Poker-sponsored Moment of the Week, we highlight all the major events from a final Main Event starting flight to remember.
Day 1c on Friday, July 5 saw not one, but two disqualifications, one involving a player swiping an opponent's stack and the other indecent exposure. You can read about both of those situations here. The excitement didn't stop there though, as the entries continued to pour in with the 4,877 players making 1c the biggest ever starting flight in Main Event history.
As if that wasn't enough, play was halted for an early dinner break when the second Southern California earthquake of the week struck, sending shockwaves through Las Vegas including the Rio convention center where Main Event hands were in progress.
So many people playing the Main Event, the ground is shaking. Players in Flight C are on their dinner break now, c… https://t.co/slP2cP5DPy

— WSOP (@WSOP)
Shaking Things Up
The 7.1 magnitude quake outside of Ridgecrest, California was even bigger than Thursday's 6.4 earthquake that occurred in the same area on the morning of July 4. Several players battling at the felt in the Rio took the rare opportunity to film the earth's quaking in progress, including Kevin Martin and Mason Hinkle aka "Uncle Ron".
Survived a #earthquake and Day 1 of the #WSOP Main with Nephew Brother Barber Blair! @blur5f6 https://t.co/CGMsySpAmR

— Uncle Ron (@UncleRonAA)
Kevin Iacofono had a good point, regarding the WSOP Main Event DQ'ed "mooner" who later struck the Luxor craps table over on the strip. Warning: adult content containing nudity follows.
Poker's social media guru Kevin Mathers summed up the key moments from a very exciting fifth of July at the WSOP.
You can follow all the exciting events going down at the WSOP right here at PokerNews, as the Main Event rolls on at the Rio in Las Vegas. Join Global Poker now and play for real cash prizes!