Planting Flags: Danny McDonagh Builds 9-Stop WPT Asia-Pacific Swing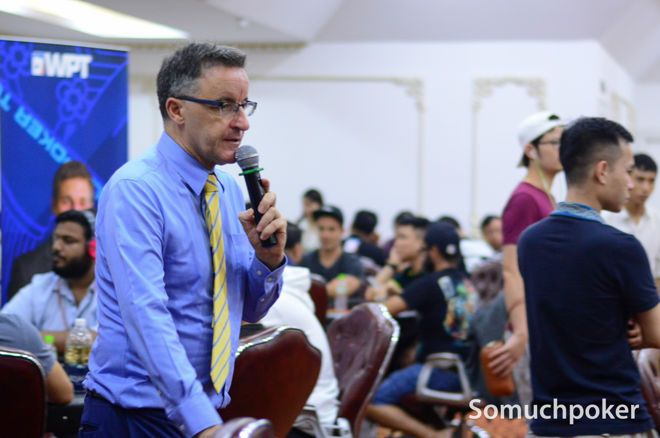 In one sense, Danny McDonagh is still plugging away, trying to do the same thing for which he was hired more than two years ago by the World Poker Tour. In another sense, he's taken a brand that was "world" in name but not necessarily fact and turned it into a true descriptor.
Backpedal a bit.
In April 2017, Angelica Hael, the company's vice president of global tour management, spoke of efforts toward global expansion.
As Season 18 of the venerable tour gets rolling with the recently completed WPT Gardens Poker Festival and the upcoming WPT Legends of Poker, a perusal of the schedule reveals 17 events. Just four of those are outside of the tour's U.S. roots, and hosting live poker tournaments in Canada, the U.K., Germany and Russia isn't exactly breaking new ground.
So, why is the WPT so thrilled with the work of McDonagh, hired in early 2017 as "live events specialist"?
For the answer, look to the Asia-Pacific region. Where the WPT once stumbled to the tune of millions of dollars in losses — the words of CEO Adam Pliska in that same 2017 media forum — it has now established a nine-stop swing and become a dominating presence at a time when other tours are scaling back or dreaming of just getting a foothold.
And the situation can be traced back to McDonagh, whose long history in the region uniquely prepared him for the work of making the WPT a truly global presence.
At Home in the Asia-Pacific
"Expert in the region" of the Asia-Pacific might seem an odd descriptor in poker, considering the relative lack of poker history there compared with the rest of the world. However, it's quite apt.
See, McDonagh got his start in the industry working at his hometown casino Crown Melbourne, long-time host of the world-renowned Aussie Millions poker festival, back in 1997. McDonagh worked there from day one of the poker room's existence through 2007. Those 10 years set the foundation for a long and fruitful career, as McDonagh watched the industry explode in growth, once with the Moneymaker boom and WPT going mainstream on TV, and more locally with the victory of Joe Hachem in the 2005 WSOP Main Event.
McDonagh himself became more and more familiar with the region, which made him a prime candidate when PokerStars was looking for a director of live events in Asia-Pacific to get APPT and later the Australia New Zealand Poker Tour (ANZPT) off the ground. In that role, McDonagh's regional knowledge expanded further as he supervised events in Manila, Seoul, Macau, Sydney and other regional casino destinations.
He's still doing some of the same work for the red spade to this day as executive director of PokerStars Live.
Macau in particular became a poker hotspot, an area with a frequently used permanent poker room under the Stars brand. Little did McDonagh know it would later prove his most elusive target.
Starting the Build for WPT
In January 2017, after some time away from poker, McDonagh was lured back in. He hooked up with the WPT after a conversation with Hael, a fellow Aussie who also got her career started at Crown Melbourne.
McDonagh's task was to expand the tour's presence in the Asia-Pacific region, and his years of work in the area plus the inroads WPT had already made with a handful of events set him up for success. His first mission was to establish a foothold in Macau, but he ran into a rut there and quickly pivoted, helping launch the inaugural WPT India later that year.
WPT Japan followed, then WPT New Zealand in 2018.
McDonagh does a combination of plotting expansion, planning events themselves and then helping run the actual poker in some spots. Sometimes, he reaches out to new venues about partnering with the WPT. Other times, potential new host sites reach out to him.
"My time in the area's been a real help," he says. "You come across a lot of people. My background's running tournaments. That gives me a big advantage."
Peaking With Nine Stops in 2019-20
If McDonagh started with a foundation in the form of some foothold relationships the WPT had established, he's added layer after layer of construction until he's damn near built a palace. The 2019-20 schedule has the WPT traversing the Asia-Pacific, with stops ranging from regional poker hotbeds to countries more known for hosting poker ex-pats than hosting poker tournaments.
In all, there are nine stops on WPT Asia-Pacific, and the company isn't skimping when it comes to encouraging players in the region to follow the tour. It has put together $15,000 worth of prize packages for the top three players accumulating points for a leaderboard at the following events:
WPT Asia-Pacific Player of the Year Events
| Dates | Event | Venue |
| --- | --- | --- |
| Sept. 6-11, 2019 | WPT Vietnam | Pro Poker Club (Ho Chi Minh City) |
| Sept. 14-16, 2019 | WPT Japan | Hotel Gajoen (Tokyo) |
| Sept. 20-23, 2019 | WPT Korea | Paradise City Hotel & Resort (Incheon) |
| Oct. 4-7, 2019 | WPT Australia | The Star Gold Coast (Broadbeach) |
| Oct. 18-21, 2019 | WPT India | Deltin Royale Casino (Goa) |
| Nov. 21-25, 2019 | WPT Cambodia | Nagaworld (Samdech) |
| Feb. 14-17, 2020 | WPT Philippines | Okada (Manila) |
| March 17-21, 2020 | WPT Vietnam | Pro Poker Club (Ho Chi Minh City) |
| April 1-5, 2020 | WPT Taiwan | Chinese Texas Hold'em Poker Association (Taipei) |
The top points earner will bank a $10,000 WPT Passport for the next season, plus complimentary accommodation and ground transport to select Asia events. The next two runners-up receive a $3,500 package and a $1,500 package, respectively.
"My background's running tournaments. That gives me a big advantage."
Some of the above destinations, like Australia, Philippines and Korea, have hosted various poker tours for years and make perfect sense as part of the WPT's strategy. Others are more surprising. Take Cambodia, for example, which has a per capita gross domestic product that's a fraction of a typical WPT Main Tour buy-in.
Asked to explain the appeal of a stop in Cambodia, McDonagh's knowledge of the region shines as he quickly rattles off reasons the nation of about 15 million can be a perfect fit.
"I spent three months in [capital city] Phnom Penh the year I had a break," he says. "Table games-wise, it's very well established in the region. Huge numbers of Chinese, as it's very easy for them to get visas. I must admit I'm very excited about it because of the large China poker base and the increase in the number of cities flying into Phnom Penh.
"Good time of year, too, the dry season. The temples, to see them, it's mind blowing. Beaches, islands. I think it's got great prospects. I'm quite positive how that event will go."
Circling Back to the First Mission
The WPT's strategy of expansion in Asia becomes particularly interesting when one contrasts it with recent moves by some other live poker operators.
Take PokerStars, for example. Where just two years ago there was clear emphasis on spreading the brand's footprint to places like Panama, the online giant's major live operations have now been condensed down to a few core stops at longtime strongholds like Barcelona and Prague.
Sure, the WSOP Circuit has added a couple of stops here and there. But, it's also doubled or even tripled up on its most fruitful stops like Cherokee and Choctaw.
"You've suddenly got the second tier – Korea, Vietnam, Taiwan and Philippines – have become the first tier."
Ironically, McDonagh's failure to secure that initial stop in Macau, he believes, bore long-term fruit. PokerStars held its last major event there in April 2018 and tournament action has all but died at this point. Hence, that action, once concentrated in the special administrative region of China, spread out and took off in other locales.
"It's almost been an opportunity for other destinations to really bloom," McDonagh says. "You've suddenly got the second tier – Korea, Vietnam, Taiwan and Philippines – have become the first tier."
Flags have been planted in all of those destinations and more, and McDonagh says further expansion is in the works. Asked about his current projects, he drops a surprising reveal: Sri Lanka, a country so bereft of poker tradition that it doesn't even have a national money won ranking on The Hendon Mob.
McDonagh describes talks there as "preliminary."
"I guess [Macau] is the final aim, which was my first aim when I started with the WPT."
"That's a huge market for India," he says. "The Indian players are traveling more and more. That's definitely another growth market."
Still, McDonagh's biggest goal remains his first, still uncompleted task. What he likely expected to be a layup has turned into a grueling, fruitless chase as McDonagh seeks to bring Macau back into the poker fold.
"We'd love to have an event [there]," he admits. "Unfortunately, at the moment, there's nothing going on. That would be a natural main tour stop because of the history of poker tournaments they've had and easy accessibility for Chinese players.
"That's kind of my last major stop that I'd love to get. I guess that's the final aim, which was my first aim when I started with the WPT."
Lead photo and Vietnam trophy photo courtesy of WPT/Somuchpoker