Bryant Miller Wins 2019 WSOP Circuit Thunder Valley $3,250 High Roller for $44,413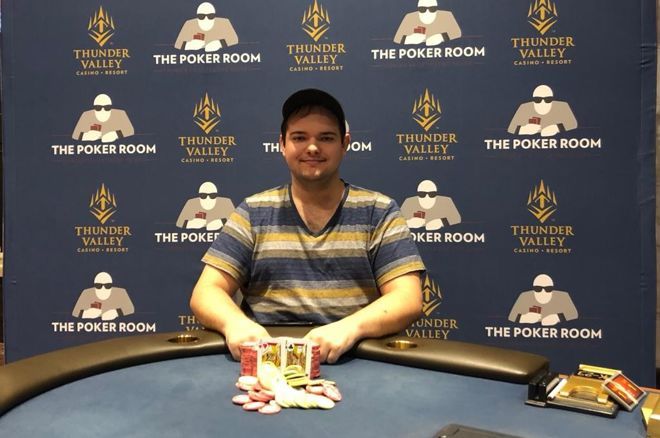 The 2019 World Series of Poker Circuit Thunder Valley $3,250 High Roller saw 35 entries across Thursday's Day 1 play for eight hours. Of those 35 entries, 15 players advanced to Day 2. However, late registration remained open until play began on Day 2, and six more entries found their way into the contest during that time to bring the total to 41.
Seven hours later, one of those six players found themselves the newest winner of a WSOP Circuit ring and an accompanying first-place prize of $44,413. Bryant Miller was that player, earning his third career Circuit ring and first career High Roller victory.
When asked about the final table, Miller said that it was "a really tough one." He gave credit to the field as a whole, stating there were a lot of good players when only one table remained. Over the course of the final table, Miller said he felt he only had four or five truly playable hands. Much to his fortune, he was able to make each hand count, making winning hands and building his stack as the final table progressed.
High Roller Final Results
| Place | Player | Hometown | Prize |
| --- | --- | --- | --- |
| 1 | Bryant Miller | West Unity, Ohio | $44,413 |
| 2 | Kelly Minkin | Tucson, Arizona | $27,450 |
| 3 | Niv Decalo | Oakland, California | $18,107 |
| 4 | Ian Steinman | Mountain View, California | $12,417 |
| 5 | Mike Heshmati | Morgan Hill, California | $8,867 |
| 6 | Noel Rodriguez | N/A | $6,605 |
| 7 | Russell Garrett | Redding, California | $5,141 |
Day 2 Action
It didn't take long for the 21 players entering Day 2 to be whittled back down to two full tables of eight players each, as the third table in play was broken after the conclusion of the first 40-minute level of the day. Action got started right away as Kelly Minkin, who was the last player to enter, got all in preflop with pocket jacks versus Niv Decalo's pocket kings. She barely covered and found herself left with crumbs, only to catch a few doubles including one with pocket aces to be back at starting stack 10 minutes later.
Meanwhile, Ian Steinman had entered the day second in chips and continued to build from there. Behind him was Noel Rodriguez, who also found himself atop the chip counts after flopping a full house and getting a full double against JC Tran when Tran hit a backdoor flush.
Tran was then short, busting soon after. Others to fall before the field reached nine included Lee Markholt and Brett Murray. When that number hit nine and all remaining players found themselves at the unofficial final table, two eliminations were still needed to make the money. At that time, Steinman had a commanding chip lead, but his momentum would prove to go Minkin's way.
Steinman was opening nearly every hand at the time and Minkin, who was in the middle of the pack, shoved all in from the big blind over the top. Steinman quickly called with pocket tens and was ahead of Minkin's ace-ten. An ace came on the flop, however, and she found herself with life. Short-stacked Ryan Awwad became the ninth-place finisher and Minkin began her ascent shortly thereafter, knocking out Mrityunjay Jha on the bubble when her ace-seven held against his jack-nine suited.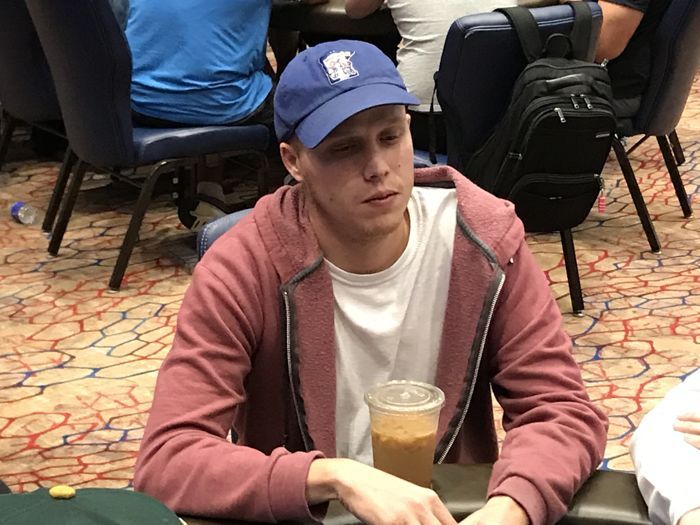 There were a few short stacks once play got into the money and it only took one level for Russell Garrett, Rodriguez, and Mike Heshmati to all make their way to the rail, with two of the knockouts coming from Minkin. All of a sudden, she entered four-handed play as the chip leader with nearly half the chips in play.
Steinman was the next to fall. He doubled Niv Decalo up with ace-ten to pocket kings to leave him as the shortest stack. Fifteen minutes later, he found himself shoving ace-ten into another big pair when Minkin woke up with pocket queens to send him to the payout desk.
Three-handed play then went on for about 20 minutes with no major hands: then the fireworks went off. All three players found themselves in a raised pot on the river with Miller going all in for more than a pot-sized bet. He was quickly called by Decalo and Minkin let the two have at it. Decalo had hit a straight on the river but found it second-best to Miller's turned full house. Decalo was down to just over one big blind and was eliminated on the next hand.
The tournament was then heads up, though not for long. Minkin and Miller got stacks all in preflop on either the first or second hand of play, with Minkin holding ace-queen suited and Miller holding pocket jacks. The runout came clean for Miller and he found himself claiming victory.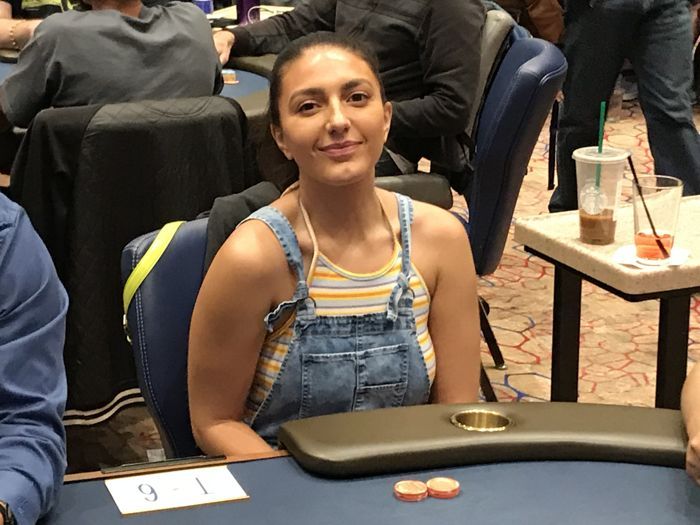 Miller felt like he was never out of contention even though Steinman and Minkin both had their turns looking as if they would run away with the tournament. At a minimum, he felt confident about locking up a top-three finish.
"I feel good. It was fun," Miller said after the win. "I bought in today, was kind of short, (and) got a few doubles early. (There were) not a lot of tough spots, (I) made a couple of good hands, (and) it was pretty much smooth sailing."
As for where the ship will sail next, Miller plans to fire the Main Event right away, which is currently in late registration. He said he isn't able to play tomorrow, so he hopes to keep the hot streak going and find a bag to advance to another Day 2.
Noel Rodriguez Bags Big in Main Event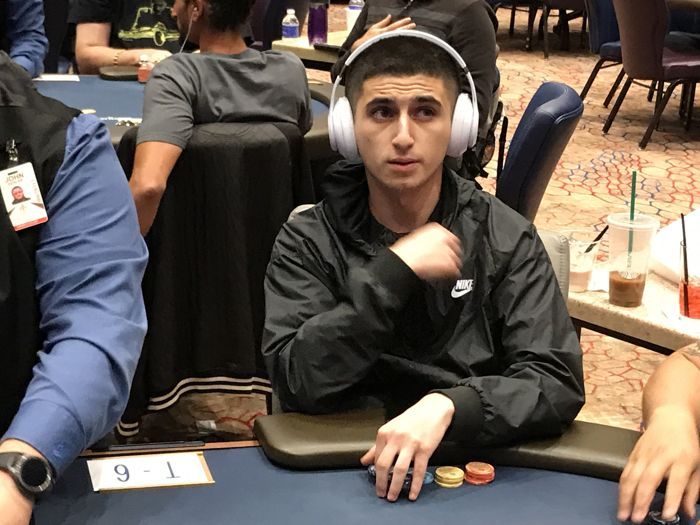 The opening flight of the WSOP Circuit Thunder Valley $1,700 is complete. A total of 141 entries registered for the first of two Day 1 flights, with 31 players making it through to Day 2. Day 1a saw the field play through 15 40-minute levels, and at the end of the night, it was Noel Rodriguez bagging the chip lead with 315,500 chips.
Rodriguez entered the Main Event immediately after a sixth-place finish in the $3,250 High Roller event, and the well-accomplished tournament grinder will be looking to add a deep Main Event run to his list of accomplishments.
Closely following behind on the chip leaderboard are Travis Fujisaka (287,500), Alex Condon (285,500), Warren Kashiwagi (255,000), and Landen Lucas (229,500)
Plenty of big name players came through for the Day 1a flight, and some of the notable players advancing to Day 2 include Adam Demersseman (213,500), Eli Ross (205,500), Daniel Hendriks (171,000), Allen Kessler (160,000), Jasthi Kumar (72,500) and Lee Markholt (53,000).
Some of the notables that appeared in the Day 1a field, but didn't make it through, include Ian Steinman, Kelly Minkin, Brett Murray,JC Tran,Amir Lehavot, Jarod Minghini, Craig Varnell and Josh Prager.
That group of players could take another shot at the Main Event Saturday, as all players are eligible for up to two entries per each of the Day 1 flights. Day 1b registration is expected to exceed the Day 1a numbers, and with a $500,000 guaranteed prize pool up for grabs, the Thunder Valley Poker Room is certain to be busy.
Top 10 Day 1a Main Event Chip Counts
| Place | Player | Count |
| --- | --- | --- |
| 1 | Noel Rodriguez | 315,500 |
| 2 | Travis Fujisaka | 287,500 |
| 3 | Alex Condon | 285,500 |
| 4 | Warren Kashiwagi | 255,000 |
| 5 | Landen Lucas | 229,500 |
| 6 | Adam Demersseman | 213,500 |
| 7 | Eli Ross | 205,500 |
| 8 | Michael Lin | 177,000 |
| 9 | Daniel Hendriks | 171,000 |
| 10 | Paul Richardson | 167,000 |
Check Out Oddschecker US today!