Battle Of Malta Under Fire for Topless Male Dealers in Ladies Event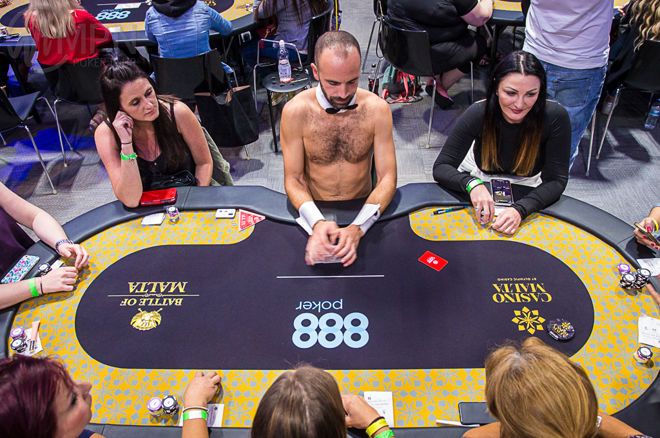 Table Of Contents
As the €550 Battle of Malta Main Event continued to play out with Day 2 on Sunday, Oct. 20, it was another event in the room that caught the attention of players and observers on social media. Apparently, BOM organizers decided to spice up the €110 Ladies Event by removing some layers from the male dealers who were set to pitch the cards for the women playing in the event.
Daiva Byrne, a poker player, advocate for women in poker and representative for betsson poker was present for the charade, and took to Twitter to share her thoughts. Irish poker pro Dara O'Kearney followed with a second-hand account of one dealer who declined the request to strip down.
@baltic_blonde @CM_Poker @BattleOfMalta Very well said. One of dealers in High Roller told us he refused point blan… https://t.co/jnKFZe9dUq

— Dara O'Kearney (@daraokearney)
Byrne later reported on Twitter that the matter was "resolved" at the first break, with dealers returning the shirts to their backs and some female dealers joining in to deal the event — all fully clothed. From the perspective of many, though, the damage had been done.
Bonus on the Line
According to some accounts on the tournament floor, shortly before the event in question, male dealers who were scheduled to deal the tournament were offered an additional €50 to do so shirtless. The professional dealers getting paid a set hourly wage while dealing tournaments found themselves in a predicament given the cash incentive.
One particular male dealer, who wished to remain anonymous, shared his distaste for the way he and his colleagues were positioned by tournament organizers.
BOM Dealer:"We are professional poker dealers not dancers or strippers; protection for us freelance dealers needs to start now because this industry needs us."
"I think it's disgusting how with one hour's notice they want us male dealers to deal the ladies event with no tops on!" he said. "It's degrading for men! In an era of social media and live streaming via mobile phones, it's borderline prostitution as dealers who would be enticed would earn €50 more than everyone else."
Apparently, the shirt removal wasn't the first peculiar act asked of the Battle of Malta dealers during the festival, which runs Oct. 15-22. For Main Event Day 1 starting flights, the BOM replaced the traditional "Shuffle Up and Deal" with "Shuffle Up and Dance" during which time dealers were strongly encouraged to stand up and dance prior to getting cards in the air.
"Dancing at the start of all Day 1s wasn't enough for them and they tried to make everyone who didn't dance feel bad by publicly announcing the dealer who danced on center stage would get €100 more than everyone else," the anonymous dealer said. "We are professional poker dealers not dancers or strippers; protection for us freelance dealers needs to start now because this industry needs us."
Poker World Chimes In
Many poker industry insiders have contributed their thoughts on the matter, including many ladies who are considered advocates for women in poker. Among them, the recently named International Affairs Director for the Women's Poker Association (WPA) and founder of The Malta Poker Festival, Ivonne Montealegre.
Ivonne Montealegre: "The situation during this Ladies Event was a very poor judgment decision from the organizers to create a marketing gimmick."
"As a voice for WPA I want to make sure our point is served," she told PokerNews. "The situation during this Ladies Event was a very poor judgment decision from the organizers to create a marketing gimmick. It tarnishes all the hard work they put into the event. We are working to create an equal ratio in the poker industry, to be taken seriously as women in poker and sexualized dress codes (for men or women) are a topic that needs to be addressed."
Montealegre also spoke to the WPA's positioning on such matters, explaining the implications and repercussions that stem from discriminatory dress code requirements for dealers.
"WPA will not support or promote events that endorse this kind of behavior in either genders. Our focus on this issue is a 'call to action' to the industry to remove this kind of discriminatory requirements for dealers as it impacts the perception, involvement and participation in the game we love and endorse.
"While focusing on dress codes might seem a narrow issue, these are rooted in much larger issues such as sexism and discrimination in a society where women traditionally have been often sexually objectified."
For more on the WPA-led movement to promote growth in the game by elevating the culture to be more inclusive, you can visit their Raise It Up campaign site.
Florence Mazet: "I don't feel dealers were comfortable with it and neither was I. I'm here to play, not for a Chippendale show."
Poker journalist and blogger Florence Mazet played in the BOM Ladies Event and shared her thoughts. While Mazet isn't a big proponent of specialized events that exclude some members of the population, she enjoys playing ladies events because of the smaller buy-ins and usually fun, laid-back environment.
"Even if most all women are playing it just for fun it doesn't mean that the organization can't be serious," she said. "There is still money involved and women are not just people that we need to entertain. They also play to improve.
"I thought this Chippendale entrance ridiculous, totally misogynistic. Imagine if women dealers enter like that in a normal tournament? People will scream about sexual harassment and they will be right. It's the same here, I don't feel dealers were comfortable with it and neither was I. I'm here to play, not for a Chippendale show."
Dana Immanuel, a blogger for the Microgaming Poker Network, shared similar sentiments in a blog post about the event: "In an interesting throwback interpretation of feminist theory, the €100 + €10 Ladies Night event is being dealt by a team of all-male, topless-but-for-a-bow-tie Chippen-fails. We're not sure which level of management approved this, but we suspect that they definitely wear boxers rather than briefs, and in any case could do with a stern lecture from their mothers. Bring back the free cupcakes, eh?"
Another staunch advocate for women in poker, Maureen Bloechlinger, shared her disapproval on Twitter, retweeting Joey Ingram's comical presentation of the matter.
As a champion for Women for Poker, I thought Ladies wanted more chips, longer levels, satties to have the opportuni… https://t.co/fLQjqSanTn

— Maureen (@mjbloech)
With most women in poker advocates calling out absurdity in this case, a well-respected poker player and mind sports proponent Jennifer Shahade played a little devil's advocate, perhaps trying to bring some levity to the situation.
Speaking for myself I'd much rather have more Chippendales than more chips. https://t.co/NouQRXXSmZ

— Jennifer Shahade (@JenShahade)
She later followed up with: "I was busy today so didn't have time to explain. Sounds like the stunt was poorly executed but I liked aspects of it: funny, seasonal and could provoke thought and conversation on the far more widespread objectification of women."
Apology Follows
Battle of Malta organizers followed up on Monday with a statement apologizing for any offense taken for their poorly-received attempt at inserting more fun into the ladies tournament, and promised to donate all registration fees from the event to the "Pink October Malta" charity. They also declared that the BOM 2020 Ladies Event will carry a guarantee of €25,000 - up from the €10,000 guarantee this year. Their full statement from the BOM website is posted here:
After careful reflection, we would like to apologise wholeheartedly for any offence caused during this year's Ladies Event.
Our intention at the Battle of Malta is to create a fun and welcoming atmosphere for everyone at all times during the festival.
We respect all our players and staff and certainly had no intention of upsetting anyone, or making anyone feel uncomfortable. We sincerely apologise if this was the case at any time.
We take great pride in our events and are fully committed to our inclusivity policy.
As a gesture of appreciation for everyone who took part in the event, we are donating all registration fees from the Ladies Event to our nominated charity – Pink October Malta.
We are very determined to grow the Ladies Event at Battle of Malta, and we are happy to announce that next year's Ladies event will have a guaranteed prize pool of €25,000.
We really look forward to seeing you all at the Battle of Malta 2020.
Uphill Battle
BOM's misstep has already gotten the community discussing some serious issues in poker that are often overlooked, including the protections needed for dealers. It will also likely prompt operators to think more seriously about the promotion and execution of ladies events and about ways to make poker tournaments more attractive for women — without relying on disrobing of men.
Reporting by Yori Epskamp contributed to this article.
Lead image courtesy of MPN.