Women of the WSOP: What's So Fun about the Ladies Event?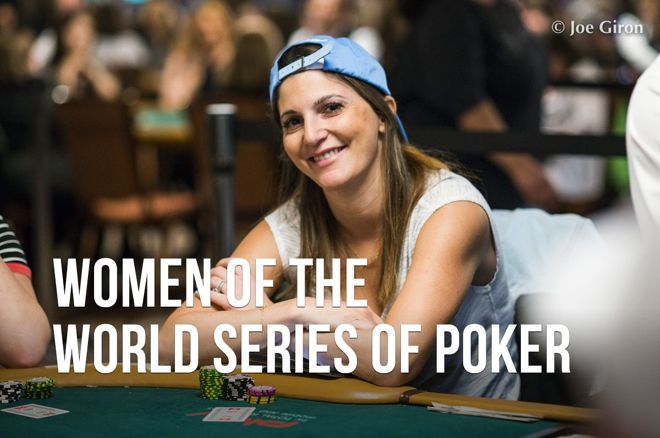 Women generally represent between 5 and 10 percent of poker tournament fields — and it's an even smaller percentage in high roller events. This article series means to encourage greater female participation by highlighting some exceptional women who are braving — and excelling in — today's "man's world" of poker.
---
If you walk through the tournament areas of the Rio during the World Series of Poker and you hear a section full of players joking, laughing and – having a good time? – it'd be a pretty good bet that you are witnessing the Ladies Event.
Ladies events are a unique twist on the traditional poker tournament where, instead of women making up a mere five percent of the field, they make up somewhere around 100 percent. In addition to a better smelling tournament room, the environment is generally more friendly, welcoming and forgiving, consequently making it a safer zone for amateurs to get some live experience without fear of embarrassment or the like.
During the dinner break of Day 1 of the 2018 WSOP $1,000 buy-in Ladies Event, PokerNews caught up with a few players to ask about what they love and don't love about playing all-women tournaments, as well as messages they would give for ladies who may not feel comfortable ponying up the cash and hopping into live games.
Natasha Mercier
Natasha Mercier was all smiles on break, heading back to her table in the Ladies Event.
"I get to the table and everyone is so friendly, like this one girl is giving candy away, the other one is giving me a shirt, the other one's giving me a patch," Mercier recounts.
For Mercier though, these enjoyable events come at a cost to her game.
"People are just so nice that I don't feel like I play my best game."
"I mean people are just so nice that I don't feel like I play my best game. Because I feel almost bad hurting somebody or maybe ruining somebody's dream, or bad beating somebody or even bluffing somebody. So I don't feel like I play my best game, so that's what I don't like about it. I wish it was like an online event where we couldn't talk to anyone or see anyone," Mercier laughs at her suggestion that would clearly take away from the experience, but would allow her to play better.
For those women players who don't have a whole lot of experience playing poker hands in the live arena though, Mercier thinks ladies events can be beneficial.
"I'd say the ladies event is a great place to start because everyone is so friendly and within thirty minutes, you should feel good at the table. So I'd say give it a shot for sure."
Kristy Arnett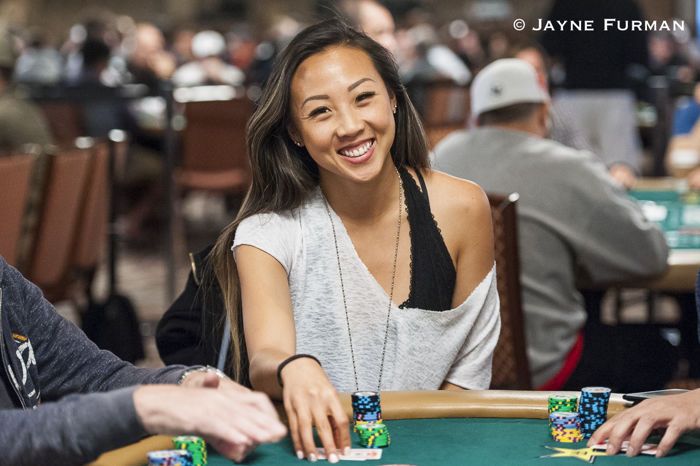 Kristy Arnett is grinding out the series on a bracelet hunt, and is happy with the change of pace that comes with the Ladies Event.
"What I like is that there's so many people just having fun," said Arnett. "I think, so often, I'm sitting at a poker table where it feels like it's so serious – and it is, and we're still trying to take each other's money, but this event is so fun. Honestly, I can't think of much I don't like about it."
"What I like is that there's so many people just having fun."
About those ladies who may be hesitant to play live, Arnett says, "What I would say is first, 'I hear you, and I get it,'" but she encourages those individuals to step out of their comfort zones.
"It's okay that they feel that way, but then ask yourself, 'What is it that you really want to do in poker?' If at some point, you do want to play at any table, you're going to have to face feeling uncomfortable, so do it anyway."
Aleeyah Jadavji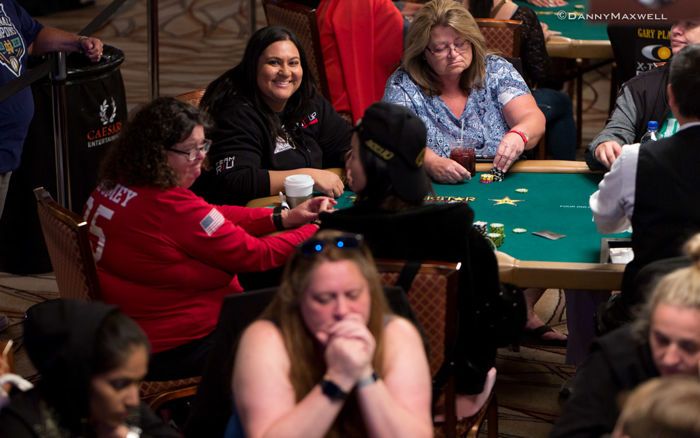 A poker regular who has plenty of experience with the game from a player- and media-perspective, Aleeyah Jadavji gets a kick out of ladies events.
"I love that everyone compliments each other's purses. It's fantastic... The hugs when you bust, and the 'sorry 'bout that,' when they bust you," Jadavji laughed.
"I love that everyone compliments each other's purses. It's fantastic."
For ladies who may be intimidated, Jadavji would say, "Give it a shot. People at the table are usually more friendly than you might think."
Like the other two, Jadavji thinks these types of "fun" events can be a helpful jumping-off point for beginners.
"Ladies events are a great place to start. It's super friendly. Everyone's just laughing and all day I've been at tables where everyone is just joking around. So I think that starting with ladies events is a really good spot, and then once you get more comfortable with playing hands and you get more experience, then you can branch out."
Danielle Anderson
Before the event started, Danielle "dmoongirl" Anderson offered up some helpful tips for her peers via Twitter.
Advice for the beautiful ladies firing @wsop today: 1. If you're nervous, take deep breathes & try to settle in b4… https://t.co/YuvofOLJG1

— Danielle Andersen (@dmoongirl)
And while some may think ladies events would play at a more slow and leisurely pace, the experience is generally quite the opposite, as Anderson points out.
Literally the best part of the @wsop ladies event is how quickly they play. No fake tanking. Quick calls. Snap fold… https://t.co/LmhVP2LfCW

— Danielle Andersen (@dmoongirl)
In this time where many are looking to inject more fun into the game and bring more people in, perhaps we need look no further than ladies events for some fresh and fun ideas.
You can follow all the Ladies Event action at the World Series of Poker right here at the PokerNews live updates as the event continues until a new Ladies champion is crowned.