Women of the WSOP: Linda Johnson is the 'First Lady of Poker'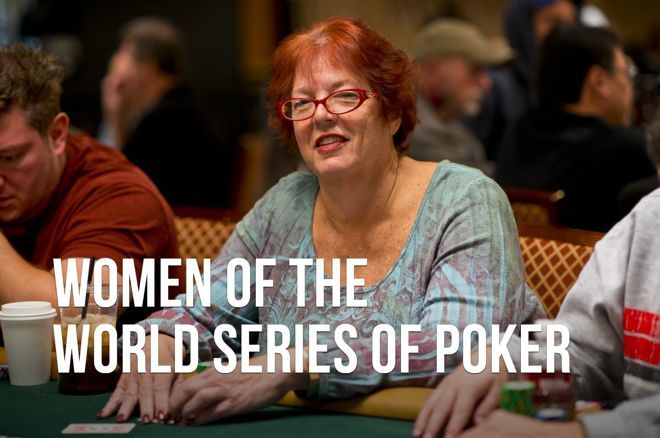 Women generally represent between 5 and 10 percent of poker tournament fields — and it's an even smaller percentage in high roller events. This article series means to encourage greater female participation by highlighting some exceptional women who are braving — and excelling in — today's "man's world" of poker.
---
She's known as the "First Lady of Poker," paving the way for women to compete in the male-dominated world of poker from the time when there were far fewer females doing it. Linda Johnson has always had a great love for poker, a connection which she still harbors to this day.
"I have a real passion for poker and it's still my favorite hobby," Johnson told PokerNews during a break of the $2,500 Mixed Omaha Hi-Lo 8 or Better / Seven Card Stud Hi-Lo 8 or Better event. "I still always look forward to my next hand. I'm not a degenerate by any means because I have lots of outside interests, but I love the thrill of competing and of course winning money is always fun."
"I still always look forward to my next hand."
Johnson's list of poker accomplishments both on and off the felt goes on for miles, and one need look no further than her Hall of Fame and Honors inductions to see the respect she commands in the industry.
Johnson was a member of the inaugural 2008 class for the Women in Poker Hall of Fame, along with Barbara Enright, Marsha Waggoner and Susie Isaacs. Three years later in 2011, she was honored as a member of the mainstream Poker Hall of Fame, inducted alongside Barry Greenstein.
In addition to winning the coveted WSOP gold bracelet in $1,500 Seven-Card Razz in 1997 and racking up more than $400,000 in career tournament cashes, Johnson has many other poker achievements that she cherishes.
"I've been really fortunate. Being the first inductee into WPT Honors was a thrill, getting voted into the Hall of Fame was a thrill."
At the tables, Johnson's favorite poker varieties include H.O.R.S.E. and razz. But outside of the game, Johnson has been able to keep up her passion for poker by balancing her time with other interests like dancing, movies, theater and travel. She has found a way to bridge two of her greatest interests through cruising, and has been aboard somewhere around 350 Card Player cruises in her day.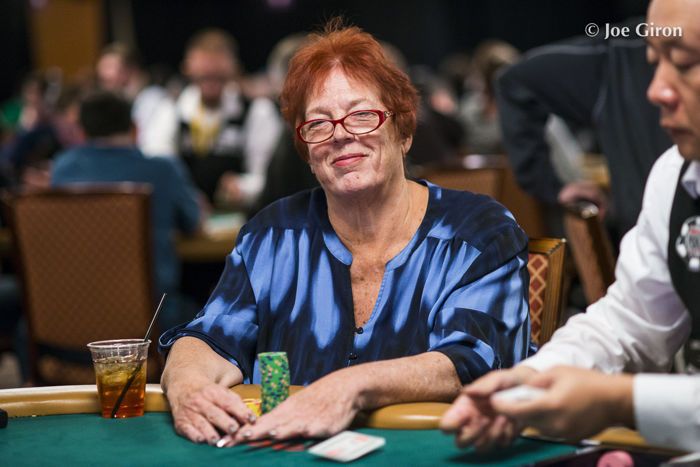 Changing Poker Scene, Getting More Women Involved
The First Lady of Poker has seen over three decades of evolution of the World Series of Poker – her first WSOP result on Hendon Mob listed in 1982 when there apparently was a $500 Women's 7-Card Stud event, which she final tabled. Reflecting on the changes over the years, Johnson sees one key difference that sticks out when playing these days.
"I think it used to be a lot more sociable," said Johnson. "Today, everybody wants to be on their phones and not talking. That's the big change."
"I think the best way to get more women involved is for people to be more sociable."
When asked about how to get more ladies involved in the game, her answer drew on her observations of the current tournament poker landscape.
"I think the best way to get more women involved is for people to be more sociable," says Johnson. "I mean, a lot of women play for entertainment value, and when people don't talk to them, it's kind of, you know, why would they come back?"
For those women who do pursue their poker passion and brave the male-dominated poker tables, Johnson has a bit of advice.
"Find a mentor. Find somebody you can talk poker with and pick their brain."
The Women in Poker Hall of Fame class of 2018 induction luncheon will take place on Tuesday, June 26 at the Orleans Casino from 11 a.m. to 2 p.m., where Maria Ho and Lupe Soto will take their place in history with Linda Johnson and the 18 other WiP HoF members. PokerNews will be on hand to provide feature coverage from the event.