Women of the WSOP: Teresita Gutierrez Going for Gold in Event #41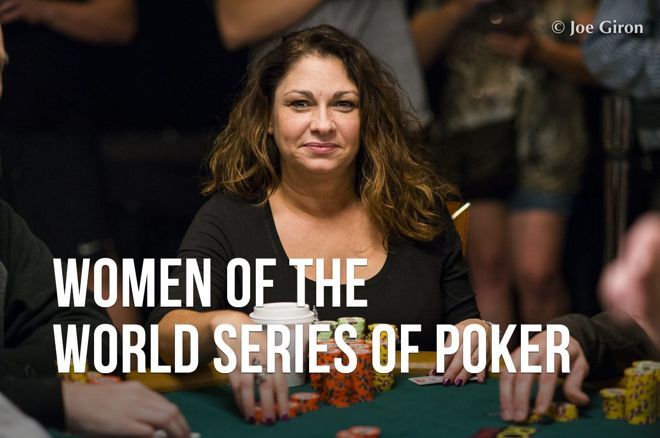 Women generally represent between 5 and 10 percent of poker tournament fields — and it's an even smaller percentage in high roller events. This article series means to encourage greater female participation by highlighting some exceptional women who are braving — and excelling in — today's "man's world" of poker.
---
Teresita Gutierrez may not be a familar face around the Rio, but she's no stranger to poker in Las Vegas. The high-stakes limit hold'em grinder has been making a living in the games in this town for two decades, and finds herself today making the WSOP run of her life.
"I've run really good, and I've tried to play good," Gutierrez told PokerNews just before the official final table got underway on the Twitch stage.
Gutierrez started out Event #41: $1,500 Limit Hold'em at a slow but steady pace, increasing her 5,000-chip starting stack to 22,400 by the end of the first ten levels of play. She caught fire on Day 2, finishing near the top spot of the remaining 19 players.
Here on Day 3, she hasn't slowed down her accelerated pace of accumulating chips, playing an active style, making a lot of hands, and staying in the lead the entire day. She started the official final table with the chip lead, and proceeded to keep the pressure on and run good, eliminating Matt Woodward in ninth place with ace-king versus king-queen on a king-high board, then sending home Oleg Chebotarev when her ace-king bested his ace-queen.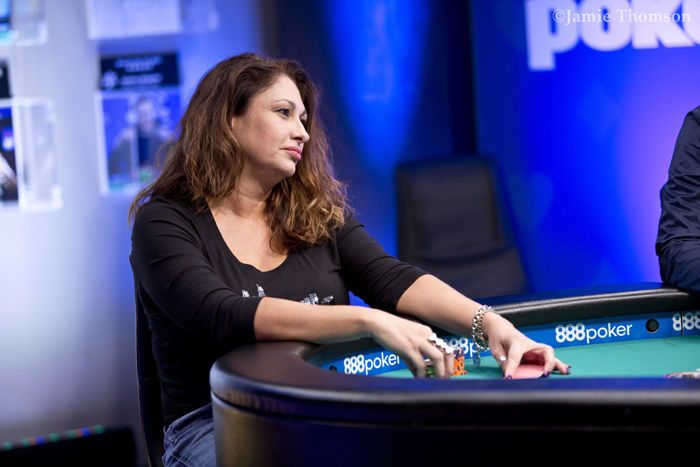 On dinner break with four players remaining, Gutierrez held nearly half the chips in play, right after taking most of Kevin Song's remaining stack when she turned jacks full with pocket jacks and got max value. At the time of writing, still four remain, all guaranteed at least $51,733.
Even though the final couple tables haven't provided the most chatty of lineups, Gutierrez prefers limit over the more popular no-limit variety for the pace and the environment.
"It's just really comfortable, casual, people usually talk - except for not too much today," Gutierrez laughed. "And socialize more than in no-limit."
Gutierrez's Path to Poker
Not the most traditional path to poker, Gutierrez started out playing blackjack. She was an advantage player after learning to count cards, but as with many who embark on blackjack full-time, it couldn't last.
When the casinos started cracking down on card counters in her first game of choice, Gutierrez had to figure out a new gig.
"I had to really make the transition to poker, so here I am."
She didn't do it all on her own. Just as she had found a mentor in blackjack to teach her the trade of card-counting, Gutierrez had met poker players through the casino industry who took her under their wing and helped her learn the game along the way. Among her teachers, she named some familiar old school folks in David Sklansky, Ed Hill, Ben Roberts and David Lim.
"It's a dangerous game. Either you learn how to play, or you become a degenerate."
She learned from some of the best, and traded in blackjack for another casino game that she could make money in to eventually support her and her son: limit hold'em.
As for her grown son, she decided to encourage a different life for him, making it a point to not teach him the game she has made a living in for the past two decades.
"It's a dangerous game. Either you learn how to play, or you become a degenerate."
Not willing to allow the latter option for her offspring, Gutierrez kept poker away from him, but continues to thrive in the game herself.
Now playing at a feature table in the most prestigious Poker series there is, Gutierrez has her sights set on a nice bankroll boost of $173,568 that would provide some more fuel for high-stakes limit games at Bellagio, as well as a place in WSOP history in the town where cards continue to be a central part of life for Teresita Gutierrez.