Women of the World Series of Poker: Fuchs, Fleck Run Deep in $10K HORSE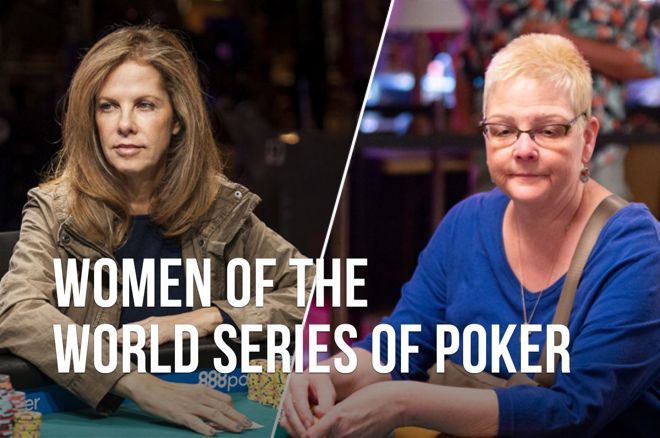 Women generally represent between 5 and 10 percent of poker tournament fields — and it's an even smaller percentage in high roller events. This article series means to encourage greater female participation by highlighting some exceptional women who are braving — and excelling in — today's "man's world" of poker.
---
As play moved deep into Day 3 in the $10,000 H.O.R.S.E. tournament, two players stood out among the field – Carol Fuchs and Katherine Fleck. Women usually make up a small percentage in any tournament, but especially so in high buy-in mixed games tournaments.
The field may have been mostly men, but Fuchs and Fleck brought plenty of skills to the tables. Fleck finished 16th for $17,677 in the event that featured 166 entries and a $1.6 million prize pool. Fuchs took 11th place for $25,498.
Carol Fuchs
No stranger to poker success, Carol Fuchs is a part-time player who now has almost $413,000 in lifetime tournament winnings. In January, she won the $570 Omaha 8-or-Better at the L.A. Poker Classic for $14,205. She jumps in about 20-25 tournaments a year, and is planning on as many as 10 at the WSOP.
Fuchs lives in Los Angeles and works in the film industry as a producer and screenwriter after leaving a previous career as an entertainment lawyer. It was James McManus's popular book Positively Fifth Street that got her to the poker table. She played in a tournament and was hooked – on mixed games especially.
"The thing that I love about mixed games is that there's always something new and different to think about," she says. "Just when you get tired or bored of a game, it changes. The bigger the mix the better. It's always exciting and interesting, time flies by."
"It's more congenial at the table. People talk and laugh and tell stories."
Along with the changes in games, Fuchs enjoys the atmosphere that mixed game tournaments seem to bring about.
"It's more congenial at the table," she says. "People talk and laugh and tell stories. Here we were playing for some real money and people were laughing and joking around. It's like a home game feel, and it's just more entertaining and fun."
While she may enjoy the congeniality at the table, Fuchs has some some skins on the wall. That includes winning a WSOP bracelet in 2015 in $1,500 Dealer's Choice for $127,735, and several other nice scores as well.
Back in L.A., she's a regular on the Commerce Casino tournament scene. From lawyer to screenwriter to producer to poker player, Fuchs is a bit of a renaissance woman and has a few scripts she's working on now.
"I have one television project that I'm working on and just so excited about."
"I have one television project that I'm working on and just so excited about," she says. "The movie business has changed drastically and it's now all these big tentpole movies franchises. I don't write that kind of movie."
Another interesting note, this screenwriter did some modeling while in college and her face was featured on billboards for a furniture store all over the south of France.
"I was living in France at the time. I'd gone to school in Europe for two years," she says. "The thing that was unusual wasn't that I did this ad, it was that it was plastered all over the south of France – everywhere."
That modeling career was brief, but as she plays more tournaments at the WSOP, she's hoping for a brief foray back into it – a photo shoot that involves her showing off a second bracelet.
Katherine Fleck
Not unlike Fuchs, an aversion to the monotony of Texas Hold'em is what attracted Fleck to mixed games. She just likes the variety that mixed tournaments offer and plays as much as she can.
"I just get kind of got tired of No Limit Hold'em," she says. "It's just two cards. It gets kind of boring. And I like the strategy with the mixed games. I like the stud games – I just enjoy the variety."
In 2016, Fleck finished fourth in the $1,500 Seven-Card Stud event for $31,899. The big finish on Thursday moves her career live tournament winnings to more than $82,000. Originally from New Jersey, but now dividing her time between Las Vegas and Fort Myers, Fla., Fleck has been playing poker 20 years.
"The poker table helps you with life in general in terms of dealing with circumstances and strategy and analysis and things like that."
Back home in Florida, she and her husband played on the weekend in small-stakes cash games. At the time, Florida only allowed card rooms to run games that capped the action at a $10 total pot. The stakes were low, but she learned the game and improved.
"I cut my teeth on that," she says. "And it was more like a home game feeling. You'd see the same people and you'd sit there and play."
When the state allowed high-stakes action she began getting more into the game. Now retired for 13 years, she and her husband ran a family business in land development and building condominiums. She worked in sales and helped run the business. Do any of those skills help at the tables?
"Actually I think it's the other way around," she says. "The poker table helps you with life in general in terms of dealing with circumstances and strategy and analysis and things like that."
Fleck plans to use her winnings for more tournaments buy-ins, and was already jumping right in the $1,500 Seven Card Stud. She plans to play as many events as she can including the $10,000 Razz.
"I'm going to be 60 in November, so I'm feeling the effects of age a little bit in terms of stamina," she says. "I think like last night I donkeyed off some chips because honestly it was 2:30 in the morning before we got out and I was so tired. And the night before I didn't sleep very well because I was keyed up."
"I could probably die happy if I get one bracelet."
Late on Day 2, Fleck was having quite a bit of fun with her tablemates with plenty of joking and laughing. She said the tournament has been a lot of fun and she loves the camaraderie in events like this. She even had a drink during the dinner break and was mixing it up with Jean-Robert Bellande a bit.
"I had a little bit of wine with dinner, so I was a little loose and had a little diarrhea of the mouth," she says laughing. "In fact, sometimes if I drink, the cards start coming because I'm loose and just stay calm."
Don't let her drinking at the table fool you, however, as she's looking for big success and to keep improving – and has goals to add some hardware.
"I just want to get better at poker," she says. "And I want to get a bracelet. I could probably die happy if I get one bracelet."
Sean Chaffin is a freelance writer in Crandall, Texas. His work appears in numerous websites and publications. Follow him on Twitter @PokerTraditions. He is also the host of the True Gambling Stories podcast, available on iTunes, Google Play, TuneIn Radio, Spotify, Stitcher, PokerNews.com, HoldemRadio.com, and TrueGamblingStories.com.