Valdir Cordeiro dos Santos Latest Platinum Pass Winner in Moneymaker's Road to PSPC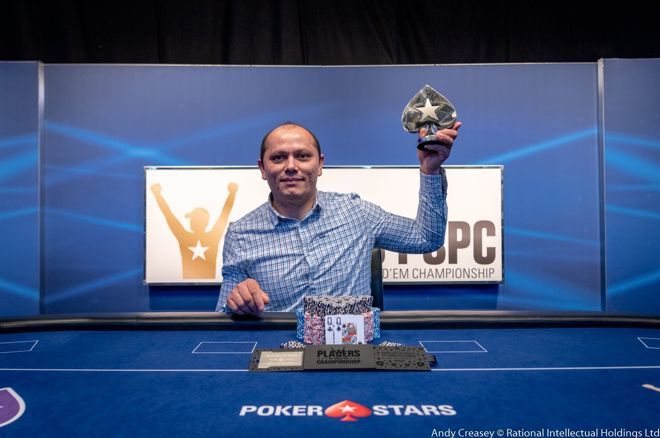 Table Of Contents
There were some big personalities at the final table of Moneymaker's Road to PSPC Aspers London and Valdir Cordeiro dos Santos seemed quiet in comparison. He remained cool and calm throughout the four and a half hours of play at Aspers Casino Stratford, which likely had a lot to do with his victory over his fellow competitors. The Brazilian took home the title, the trophy, £11,200 in prize money, plus a coveted Platinum Pass worth appr. $30,000, including an entry to the €22,500 PokerStars Players Championship next year, handed over to him by none other than Chris Moneymaker himself.
After his victory, Cordeiro dos Santo told PokerNews that he had felt confident throughout.
"I'm very happy. With three people left, I called my nephew and said, 'I am going to win," he explained.
"I was happy to play him heads up because he is aggressive. I wait for his big bets. When I doubled heads up I'm 100 percent I will win."
When asked about the PSPC 2020 in Barcelona in August, he had only one thing to say: "I will try to win again."
Moneymaker's Road to PSPC 2020 - Aspers London Final Table Results
| Place | Player | Country | Prize (GBP) | Prize (USD) |
| --- | --- | --- | --- | --- |
| 1 | Valdir Cordeiro dos Santos | Brazil | £11,200 and a Platinum Pass | $14,335 |
| 2 | [Removed:148] | United Kingdom | £11,200 | $14,335 |
| 3 | Rungarun Thongnonsung | Thailand | £7,240 | $9,267 |
| 4 | Gary Miller | United Kingdom | £4,800 | $6,144 |
| 5 | Justin Bateson | United Kingdom | £3,700 | $4,735 |
| 6 | Sinead Priestley | United Kingdom | £3,000 | $3,839 |
| 7 | Duncan Mackie | United Kingdom | £2,400 | $3,071 |
| 8 | Robert Buky | United Kingdom | £1,900 | $2,431 |
| 9 | Dan Spataru | United Kingdom | £1,500 | $1,920 |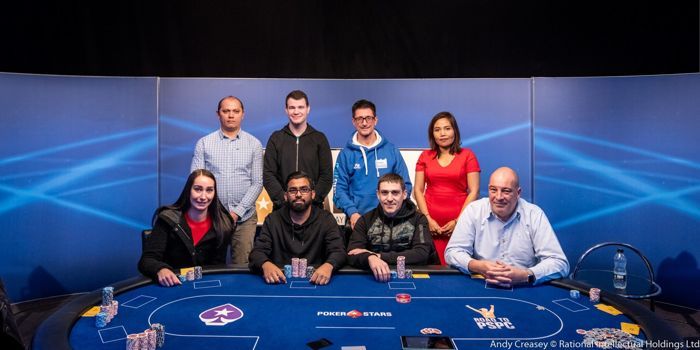 No Shortage of Excitement
Rewinding back to the start and in keeping with how much of the tournament played out this week, there was no shortage of excitement, with double-ups and eliminations aplenty. Dan Spataru was the first player to fall. Spataru wasn't the shortest player at the table at the start but a few losses (most notably the one in which he folded pocket-kings preflop) saw his hopes dashed and he exited in 9th place for £1,500.
Next out was Robert Buky, just a few hands later. Buky put the last of his chips in the middle with king-nine in late position but failed to get there after Justin Bateson called behind with ace-ten. He won £1,900 for 8th place.
Bateson was responsible for the next elimination too, taking out Duncan Mackie in 7th for £2,400. Bateson had flopped top two pair and checked it back, giving Mackie the chance to catch up. Mackie improved to second pair and a gutshot on the turn and moved all in, which Bateson snap-called and held through to the river.
Next out was Sinead Priestley, who had played a steady game that enabled her to ladder to 6th place for £3,000. She shipped from under the gun with ten-nine suited but failed to win the flip against Rungarun Thongnonsung's pocket-sixes.
Bateson hit the rail just minutes later, leaving him short once again in his campaign to take home a Platinum Pass. Bateson memorably finished runner-up in the previous London leg of the tour and will have to console himself with another deep run result, worth £3,700.
Then there were four, and Gary Miller was the next casualty. Despite a strong start (he began close second in chips), the cards didn't go Miller's way in the middle part of the day. In the end, he was toppled after he three-bet all in with ace-nine and ran into Cordeiro dos Santos' pocket-jacks behind. He netted £4,800 for his efforts.
The aggression increased when there three left and this led to Thongnonsung's departure. She made a huge all-in bet on the flop with a gutshot and ten-high and, incredibly, Ahmed found the correct call with an open-ended straight draw and king-high.
That left two and the huge clash in the previous hand left Cordeiro dos Santos with 5:1 chip deficit. He didn't let that get to him, finding a double in the first hand and then chipping away to take the lead away from Ahmed. The last hand involved both players hitting a flush on the river, with Cordeiro dos Santos holding a queen-high spade against Ahmed's ten-high one and netting the Brazilian the win. It was a great run for Ahmed that sees him go home £11,200 better off, but the Platinum Pass will remain elusive to him.
The Stars Group owns a majority shareholding in iBus Media, PokerNews' parent company.