Michigan Could Legalize Online Poker Within a Week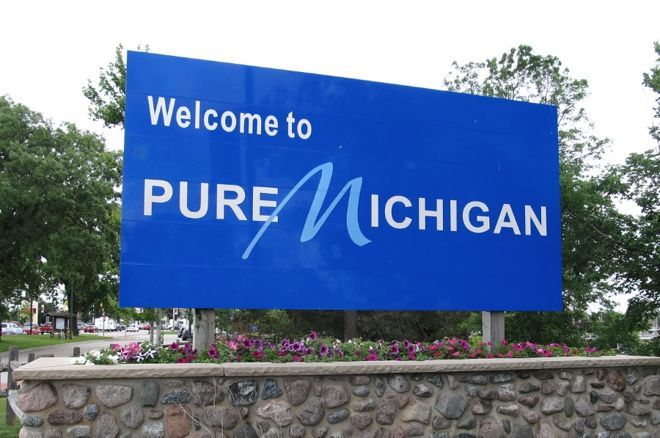 It could be an early Christmas for online poker players in Michigan as industry experts predict that the Great Lakes State is likely to pass a comprehensive online gaming bill within the next week that will legalize regulated online poker, casino games, and sports wagering.
Michigan would become the sixth state to legalize online poker if the bill does indeed become law. Currently regulated online poker is allowed in Nevada, Delaware, New Jersey, and Pennsylvania, with West Virginia having also passed a law earlier this year.
One might think it's déjà vu all over again in Michigan as last year the state appeared on the cusp of passing a bill into law after a similar bill made it through both the state's House of Representative and Senate. However, former Governor Rick Snyder chose to veto the bill as one of his last acts to end his term to end last year before the current Governor Gretchen Whitmer took office.
The Michigan State House of Representatives had passed a bill in October, but action stalled in the Senate for more than a month in the Senate as key issues including tax rates were debated by key parties involved in the bill.
The Senate is now expected to pass a bill this week. According to Online Poker Report, both houses, Governor Whitmer, Michigan's 23 tribal casinos, and the state's three commercial casinos are all on board with the bill.
Senator Curtis Hertel Jr. who was involved in negotiations concerning the bill stated he had been pleased with the progress he and his fellow lawmakers were able to make.
"This was a very difficult process," Hertel said according to Online Poker Report, "so I'm really happy to be able to get it this far and excited for the voting the next two days."
Once the bill is passed by both houses, it will be presented to Governor Whitmer for her signature. While it is possible the online gaming bill could meet the same fate as last year, interested parties appear to be much more optimistic that the bill will pass this time around.
"The governor is pleased with the progress made on gaming over the course of this year, particularly once Sen. Hertel and Rep. Warren were able to engage and resolve key issues to get this package across the finish line," said Governor Whitmer's spokesperson Tiffany Brown. "This is a good, bipartisan solution made possible by working together on a complex issue, and the governor looks forward to closely reviewing this package once it hits her desk."
Taxes and Licensing
The bill will call for each casino to foot a $50,000 payment up front when applying for a license. If approved the license will cost $100,000 for the first year and $50,000 for each additional year. Suppliers will be subject to a $5,000 initial licensing fee with a $2,500 bill every subsequent year.
This is just the beginning as the bill calls for a tiered tax structure with rates ranging from 20-28% of revenue for online poker and casino games.
20% on revenue less than $4 million
22% on revenue from $4-8 million
24% on revenue from $8-10 million
26% on revenue from $10-12 million
28% on revenue of $12 million+
While these rates are higher than what the bill introduced in October originally called for, they are about half of the 54% tax-rate Pennsylvania levies.
The tax rate is much lower at 8.4% for online sports wagering and daily fantasy sports. The three commercial casinos would also have an additional 1.25% municipal tax.
While online operators will not be able to deduct free-play and promotions in their entirety, they will be able to deduct some with a 10% deduction allowed during the first three years and a 6% deduction allowed in the fourth year. After this period, no further deductions will be permitted.
Time will tell whether Michigan will end the year as the sixth state to approved regulated online poker. Stay tuned to PokerNews for further updates.
Photo: "Welcome to Michigan, Menominee, Michigan," (adapted), Ken Lund, CC BY-SA 2.0.