PokerNews to Live Report This Weekend's FPN King Slayer National Championship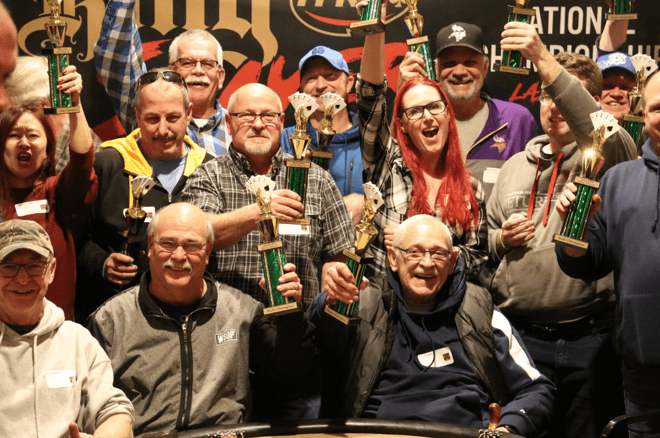 Table Of Contents
The Free Poker Network (FPN), which dates back to 2005, is a free-to-play bar poker league hosted at venues in a dozen states across the county. More than 7,000 active players participate at approximately 200 locations, and this weekend many of them will descend on Las Vegas for the FPN King Slayer National Championship at Golden Nugget.
Anywhere from 250-350 players are expected to travel in for the league, which was created by Boock Lyter, who back in 2006 finished runner-up to Steve Paul-Ambrose in the World Poker Tour PCA in the Bahamas for $681,500.
Championship Details
This weekend, six months of league play will culminate in the "Cash King 2 – King Slayer" event.
On the evening of Friday, January 10 at 5 p.m. PST, an invite-only League Champ Championship will take place. It's only open to league champs and Tournament of Champions winners who'll compete for a $10,000 first-place prize with the top 15 percent advancing to Sunday's King Slayer Championship Main Event.
That tournament, which will kick off at 1 p.m. PST, will offer an estimated prize pool of $50,000 with the top 27 spots getting paid. There will be $10,000 in mystery bounties awarded with the eventual winner taking home $25,000. The tournament is open to state tournament qualifiers, League Champ Championship qualifiers, satellite qualifiers, and others.
Not only will both events be live reported here on PokerNews, but the final tables will also be live-streamed on twitch.tv/freepokernetwork.
In between, there will be a series of satellites and last-chance qualifiers open to all players on Saturday, January 11. On Sunday, January 12 at 6 p.m., there will be a Tag Team Championship event that is open to the public.
How it Works
Players have pre-qualified for one (or both) of these tournaments and have incentives to play additional cash qualifiers in order to achieve chip bonuses.
Most players earn their seats in the King Slayer Championship Main Event by first competing in their local state championship. The number of qualifiers is based on total participation. The state with the highest participation in the league is Minnesota, with 30 direct qualifiers to the King Slayer Championship Main Event.
"The Free Poker Network offers a fun and safe atmosphere for players to learn how to play tournament poker and grind out wins."
To qualify for the state championship, players compete for points throughout the season (on a monthly basis) to qualify. Each quarter, the overall points leaders are crowned "League Champ" and automatically qualify for the League Champ Championship, which is a freeroll with a top prize of $10,000 cash, in addition, the top 15% qualify for a King Slayer seat. Each location also holds an end-of-season Tournament of Champions. Those players also earn a seat in the League Champ Championship.
Alternates are allowed, so if a League Champ does not claim their seat, second and third place players would have an opportunity to represent their bar.
As organizers and players like to say, "The Free Poker Network offers a fun and safe atmosphere for players to learn how to play tournament poker and grind out wins, earn achievements, and most importantly, make a lot of poker friends."
Images courtesy of FPN.
Check Out Oddschecker US today!