Golden Nugget Grand Poker Series 2018 Schedule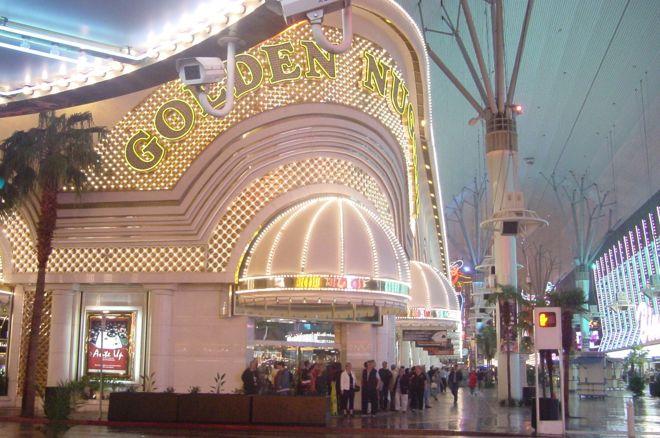 One of the under-the-radar summer poker gems released its schedule.
The Golden Nugget Grand Poker Series is set to run May 29 through July 3 this year. It will feature the usual assortment of daily and nightly events that typically populate the GPS schedule, as well as the ever-popular $570 Main Event which will once again carry a $500K guarantee and feature three starting days — June 29-30 this year, with the finale on July 1.
The past couple of years, the Grand Poker Series Main Event has drawn over 1,500 players (2016) and 2,000 players (2017), awarding over $100,000 to the winner each year despite deals being made in both cases. Five players banked north of $60,000 last year.
The recreational-heavy fields and low buy-ins make the Golden Nugget's tournaments a popular attraction for players with shorter bankrolls looking for softer events. The location on Fremont Street also provides a chance to get away from the main strip and experience a different part of Las Vegas.
If you want to check out the Grand Poker Series this year, here's a look at what to expect:
Golden Nugget Grand Poker Series 2018 Schedule
| Date | Time | Event |
| --- | --- | --- |
| May 29 | 11 a.m. | 1 - $250 Omaha Hi-Lo |
| May 29 | 1 p.m. | 2 - $150 NLHE $10K Gtd. |
| May 29 | 7 p.m. | 3 - $110 NLHE |
| May 30 | 11 a.m. | 4 - $250 HORSE |
| May 30 | 1 p.m. | 5 - $150 NLHE $10K Gtd. |
| May 30 | 7 p.m. | 6 - $110 NLHE |
| May 31 | 10 a.m. | 7 - $250 NL 2-7 Single Draw |
| May 31 | 11 a.m. | 8a - $150 NLHE $150K Gtd. |
| May 31 | 3 p.m. | 8b - $150 NLHE $150K Gtd. |
| May 31 | 7 pm. | 8c - $150 NLHE $150K Gtd. |
| June 1 | 11 a.m. | 8d - $150 NLHE $150K Gtd. |
| June 1 | 3 p.m. | 8e - $150 NLHE $150K Gtd. |
| June 1 | 7 p.m. | 8f - $150 NLHE $150K Gtd. |
| June 2 | 11 a.m. | 8g - $150 NLHE $150K Gtd. |
| June 2 | 3 p.m. | 8h - $150 NLHE $150K Gtd. |
| June 2 | 7 p.m. | 8i - $150 NLHE $150K Gtd. |
| June 3 | 11 a.m. | 9 - $250 O8/Stud8 Mix |
| June 3 | 12 p.m. | 8 - $150 NLHE $150K Gtd. Day 2 |
| June 3 | 3 p.m. | 10 - $150 NLHE $20K Gtd. |
| June 3 | 7 p.m. | 11 - $110 NLHE $5K Gtd. |
| June 4 | 11 a.m. | 12 - $250 PLO8/O8/Big O Mix |
| June 4 | 1 p.m. | 13 - $150 NLHE $20K Gtd. |
| June 4 | 7 p.m. | 14 - $110 NLHE $5K Gtd. |
| June 5 | 11 a.m. | 15 - $250 Big O |
| June 5 | 1 p.m. | 16 - $150 NLHE $20K Gtd. |
| June 5 | 7 p.m. | 17 - $110 NLHE $5K Gtd. |
| June 6 | 11 a.m. | 18 - $250 A-5/2-7/Badugi mix |
| June 6 | 1 p.m. | 19 - $150 NLHE $20K Gtd. |
| June 6 | 7 p.m. | 20 - $110 NLHE $5K Gtd. |
| June 7 | 10 a.m. | 21 - $250 Stud |
| June 7 | 11 a.m. | 22a - $200 NLHE $250K Gtd. |
| June 7 | 3 p.m. | 22b - $200 NLHE $250K Gtd. |
| June 7 | 7 p.m. | 22c - $200 NLHE $250K Gtd. |
| June 8 | 11 a.m. | 22d - $200 NLHE $250K Gtd. |
| June 8 | 3 p.m. | 22e - $200 NLHE $250K Gtd. |
| June 8 | 7 p.m. | 22f - $200 NLHE $250K Gtd. |
| June 9 | 11 a.m. | 22g - $200 NLHE $250K Gtd. |
| June 9 | 3 p.m. | 22h - $200 NLHE $250K Gtd. |
| June 9 | 7 p.m. | 2i - $200 NLHE $250K Gtd. |
| June 10 | 11 a.m. | 23 - $250 Stud Hi-Lo |
| June 10 | 12 p.m. | 22 - $200 NLHE $250K Gtd. Day 2 |
| June 10 | 1 p.m. | 24 - $150 NLHE $20K Gtd. |
| June 10 | 7 p.m. | 25 - $110 Cheap and Deep NLHE |
| June 11 | 11 a.m. | 26a - Bar Poker Open Championship (Invitational) |
| June 11 | 1 p.m. | 27 - $150 NLHE $20K Gtd. |
| June 11 | 7 p.m. | 28 - $200 Tag Team |
| June 12 | 11 a.m. | 26b - Bar Poker Open Championship (Invitational) |
| June 12 | 1 p.m. | 29 - $150 NLHE $20K Gtd. |
| June 12 | 7 p.m. | 30 - $110 Green Chip Bounty NLHE |
| June 13 | 11 a.m. | 26c - Bar Poker Open Championship (Invitational) |
| June 13 | 1 p.m. | 31 - $150 NLHE $20K Gtd. |
| June 13 | 7 p.m. | 32 - $110 NLHE $5K Gtd. |
| June 14 | 10 a.m. | 33 - $360 Seniors Championship (50+) |
| June 14 | 11 a.m. | 26 - Bar Poker Open Championship Day 2 |
| June 14 | 1 p.m. | 34 - $150 NLHE $20K Gtd. |
| June 14 | 7 p.m. | 35 - $110 NLHE $5K Gtd. |
| June 15 | 11 a.m. | 36 - $250 8-Game |
| June 15 | 1 p.m. | 37 - $150 NLHE $20K Gtd. |
| June 15 | 7 p.m. | 38 - $110 NLHE $5K Gtd. |
| June 16 | 10 a.m. | 39 - $250 Seniors NLHE (50+) $100K Gtd. |
| June 16 | 1 p.m. | 40 - $150 NLHE $20K Gtd. |
| June 16 | 3 p.m. | 41 - $1,000 Seniors Super High Roller |
| June 16 | 7 p.m. | 42 - $110 NLHE |
| June 17 | 11 a.m. | 43 - $360 Omaha Hi-Lo |
| June 17 | 12 p.m. | 41 - $1,000 Seniors Super High Roller Day 2 |
| June 17 | 1 p.m. | 44 - $150 NLHE $20K Gtd. |
| June 17 | 7 p.m. | 45 - $110 NLHE $5K Gtd. |
| June 18 | 11 a.m. | 46 - $250 Super Seniors (60+ or played Seniors) |
| June 18 | 1 p.m. | 47 - $150 NLHE $20K Gtd. |
| June 18 | 7 p.m. | 48 - $110 NLHE $5K Gtd. |
| June 19 | 11 a.m. | 49 - $250 PLO Hi-Lo |
| June 19 | 1 p.m. | 50 - $150 NLHE $20K Gtd. |
| June 19 | 7 p.m. | 51 - $110 NLHE $5K Gtd. |
| June 20 | 11 a.m. | 52 - $570 PLO Championship |
| June 20 | 1 p.m. | 53 - $150 NLHE $20K Gtd. |
| June 20 | 7 p.m. | 54 - $110 NLHE $5K Gtd. |
| June 21 | 10 a.m. | 55 - $570 O8/Stud8 Championship |
| June 21 | 11 a.m. | 56a - $200 NLHE $250K Gtd. |
| June 21 | 3 p.m. | 56b - $200 NLHE $250K Gtd. |
| June 21 | 7 p.m. | 56c - $200 NLHE $250K Gtd. |
| June 22 | 11 a.m. | 56d - $200 NLHE $250K Gtd. |
| June 22 | 3 p.m. | 56e - $200 NLHE $250K Gtd. |
| June 22 | 7 p.m. | 56f - $200 NLHE $250K Gtd. |
| June 23 | 11 a.m. | 56g - $200 NLHE $250K Gtd. |
| June 23 | 3 p.m. | 56h - $200 NLHE $250K Gtd. |
| June 23 | 7 p.m. | 56i - $200 NLHE $250K Gtd. |
| June 24 | 11 a.m. | 57 - $360 Big O |
| June 24 | 12 p.m. | 56 - $200 NLHE $250K Gtd. Day 2 |
| June 24 | 1 p.m. | 58 - $150 NLHE $20K Gtd. |
| June 24 | 7 p.m. | 59 - $110 NLHE $5K Gtd. |
| June 25 | 11 a.m. | 60 - $150 Ladies NLHE |
| June 25 | 1 p.m. | 61 - $150 NLHE $20K Gtd. |
| June 25 | 7 p.m. | 62 - $110 NLHE $10K Gtd. |
| June 26 | 11 a.m. | 63 - $250 Triple Stud |
| June 26 | 1 p.m. | 64 - $150 NLHE $20K Gtd. |
| June 26 | 7 p.m. | 65 - $110 NLHE $5K Gtd. |
| June 27 | 11 a.m. | 66 - $570 PLO8/O8/Big O Championship |
| June 27 | 1 p.m. | 67 - $150 NLHE $20K Gtd. |
| June 27 | 7 p.m. | 68 - $110 NLHE $5K Gtd. |
| June 28 | 11 a.m. | 69a - $570 Main Event $500K Gtd. |
| June 28 | 1 p.m. | 70 - $150 NLHE $20K Gtd. |
| June 28 | 7 p.m. | 71 - $110 NLHE $5K Gtd. |
| June 29 | 11 a.m. | 69b - $570 Main Event $500K Gtd. |
| June 29 | 1 p.m. | 72 - $150 NLHE $20K Gtd. |
| June 29 | 7 p.m. | 73 - $110 NLHE $5K Gtd. |
| June 30 | 11 a.m. | 69c - $570 Main Event $500K Gtd. |
| June 30 | 7 p.m. | 75 - $110 NLHE $5K Gtd. |
| July 1 | 11 a.m. | 76 - $360 HORSE |
| July 1 | 12 p.m. | 69 - $570 Main Event $500K Gtd. Day 2 |
| July 1 | 1 p.m. | 77 - $150 NLHE $20K Gtd. |
| July 1 | 7 p.m. | 78 - $110 NLHE |
| July 2 | 11 a.m. | 79 - $360 Black Chip Bounty NLHE |
| July 2 | 1 p.m. | 80 - $150 NLHE $10K Gtd. |
| July 2 | 7 p.m. | 81 - $110 NLHE |
| July 3 | 11 a.m. | 82 - $150 Super Deep Stack Turbo NLHE |
| July 3 | 1 p.m. | 83 - $150 NLHE $10K Gtd. |
| July 3 | 7 p.m. | 84 - $110 NLHE |
Photo courtesy of Christina Vargason/freeimages.com