2018 Wynn Summer Classic Schedule Released - $1.5M Gtd Main Event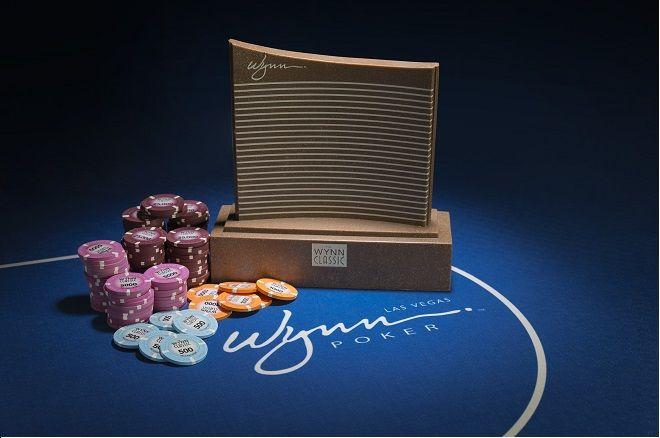 There's a lot of poker to be played in Las Vegas over the summer, and one of the fan-favorites is the Wynn Summer Classic. Starting daily at noon, a plethora of tournaments are on offer in the ultra-modern Wynn Poker Room.
The Championship Event boasts a $1,500,000 guaranteed prize pool, running July 9-13 with a buy-in of $1,600. Levels on Day 1 will be 45 minutes long, with an hour-long levels on Day 2, and 75-minute levels on the final day.
Besides the $1.5 million guaranteed Main Event, there are two $1,100 events with a guaranteed prize pool of $1,000,000 each. These two events feature a 40-minute clock and will have two days. All the events with 30-minute levels, the majority, are single-day events.
The schedule features two Senior events, accessible to any patron 50 years of age or older. These events, one on June 11 and one on July 8, start at 11 am and have a buy-in of $550.
All events will utilize the Big Blind Ante except for the Pot-Limit Omaha tournament on June 13th, and the three Super Satellites.
2018 Wynn Summer Classic
| Date | Time | Event | Guarantee | Buy-in | Start stack | Levels (minutes) |
| --- | --- | --- | --- | --- | --- | --- |
| June 1 | 12 pm | Nlh $5K Survivor | $50,000 | $500 + $50 | 18,000 | 30 |
| June 2 | 12 pm | No Limit Hold'em | $100,000 | $500 + $50 | 18,000 | 30 |
| June 3 | 12 pm | No Limit Hold'em | $200,000 | $1025 + $75 | 20,000 | 30 |
| June 4-7 | 12 pm | No Limit Hold'em | $100,000 | $500 + $50 | 18,000 | 30 |
| June 8 | 12 pm | Nlh $5K Survivor | $50,000 | $500 + $50 | 18,000 | 30 |
| June 9 | 12 pm | No Limit Hold'em | $200,000 | $1,025 + $75 | 20,000 | 30 |
| June 10 | 12 pm | No Limit Hold'em | $100,000 | $500 + $50 | 18,000 | 30 |
| June 11 | 11 am | Nlh Seniors (50+) | $100,000 | $500 + $50 | 18,000 | 30 |
| June 12 | 12 pm | No Limit Hold'em | $50,000 | $360 + $40 | 15,000 | 30 |
| June 13 | 12 pm | Pot Limit Omaha | $100,000 | $500 + $50 | 18,000 | 30 |
| | 7 pm | Super Satellite | | $175 + $25 | 10,000 | 30 |
| June 14 | Thu | No Limit Hold'em Day 1A | $1,000,000 | $1020 + $80 | 20,000 | 40 |
| June 15 | Fri | No Limit Hold'em Day 1B | | $1,020 + $80 | 20,000 | 40 |
| June 16 | Sat | No Limit Hold'em Day 1C | | $1,020 + $80 | 20,000 | 40 |
| June 18 | Mon | No Limit Hold'em | $50,000 | $360 + $40 | 15,000 | 30 |
| June 19–21 | 12 pm | No Limit Hold'em | $100,000 | $500 + $50 | 18,000 | 30 |
| June 22 | 12 pm | Nlh $5K Survivor | $50,000 | $500 + $50 | 18,000 | 30 |
| June 23–24 | 12 pm | No Limit Hold'em | $200,000 | $1,025 + $75 | 20,000 | 30 |
| June25 | 12 pm | No Limit Hold'em | $100,000 | $500 + $50 | 18,000 | 30 |
| | 7 pm | Super Satellite | | $175 + $25 | 10,000 | 30 |
| June 26 | 12 pm | No Limit Hold'em Day 1A | $1,000,000 | $1020 + $80 | 20,000 | 40 |
| June 27 | 12 pm | No Limit Hold'em Day 1B | | $,1020 + $80 | 20,000 | 40 |
| June 28 | 12 pm | No Limit Hold'em Day 1C | | $1,020 + $80 | 20,000 | 40 |
| June 30 | 12 pm | No Limit Hold'em | $200,000 | $1,025 + $75 | 20,000 | 30 |
| | | | | | | |
| July 1 | 12 pm | No Limit Hold'em | $100,000 | $500 + $50 | 18,000 | 30 |
| July 2 | 12 pm | No Limit Hold'em | $200,000 | $1,025 + $75 | 20,000 | 30 |
| July 3–6 | 12 pm | No Limit Hold'em | $100,000 | $500 + $50 | 18,000 | 30 |
| July 7 | 12 pm | No Limit Hold'em | $200,000 | $1,025 + $75 | 20,000 | 30 |
| July 8 | 11 am | Nlh Seniors (50+) | $100,000 | $500 + $50 | 18,000 | 30 |
| | 7 pm | Super Satellite | | $265 + $35 | 10,000 | 30 |
| July 9 | 12 pm | Championship Day 1A | $1,500,000 | $1500 + $100 | 25,000 | 45/60/75 |
| July 10 | 12 pm | Championship Day 1B | | $1,500 + $100 | 25,000 | 45/60/75 |
| July 11 | 12 pm | Championship Day 1C | | $1,500 + $100 | 25,000 | 45/60/75 |
| July 13–14 | 12 pm | No Limit Hold'em | $200,000 | $1,025 + $75 | 20,000 | 30 |
| July 15 | 12 pm | No Limit Hold'em | $100,000 | $500 + $50 | 18,000 | 30 |
| July 16 | 12 pm | No Limit Hold'em | $40,000 | $360 + $40 | 15,000 | 30 |