Sandra 'MommyGingery' Lefler to Represent Global Poker at Wynn Classic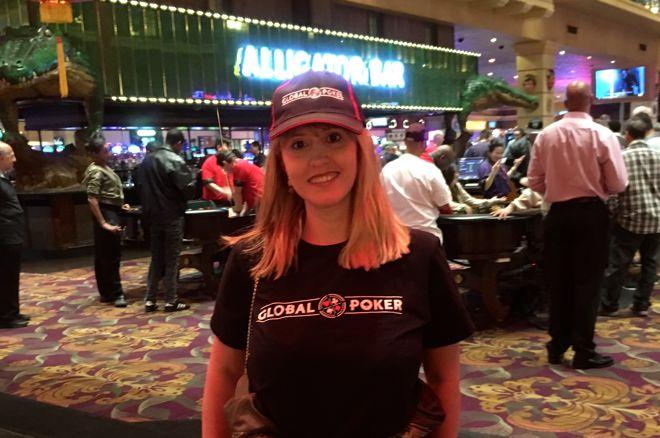 Sandra "MommyGingery" Lefler was crowned Grizzly Games Leaderboard champion during Global Poker's last big tournament series. While Lefler actually tied for first in points, her two tournament wins during the series earned her the title to go with the $5,000 package to play in a live event of her choice.
A Las Vegas local, Lefler needn't travel far to find a juicy live poker series, and she has decided to use her leaderboard prize to play in the upcoming Wynn Classic next week as just the second player in history to represent Global Poker at a live event.
About "MommyGingery"
Primarily a Limit and $2/5 No-Limit Hold'em cash game player in Vegas, Lefler is part of a network of live players who also enjoy playing online at Global Poker.
"I love playing on Global Poker!" Lefler commented. "I live in Las Vegas and we actually have a large group of Global Poker players that live here and all play together in the live casinos. It is great to be able to represent Global Poker here in my home town."
Lefler mostly plays tournaments on Global Poker and her persistence during the Global Poker Championships seems to be paying off.
"I really enjoy the Sit & Gos and the MTTs. I also love the big series that Global Poker does. I played every tournament during the Eagle Cup and all but two in the Grizzly Games. I actually wanted to play all of them but we went on a holiday to the Grand Canyon. We had really bad internet down there so I ended up missing two of them!"
Despite missing two tournaments, Lefler was able to make enough deep runs during the series to stay atop the leaderboard, capturing two Global Poker trophies in the process.
Nothing Beats Playing at Home
With a young son at home, Global Poker is the perfect way for Lefler to get her poker fix and grind some fun online tournaments without having to spend hours away from her son.
"The best thing about Global Poker is that it gives me the ability to play online from home. I have a young son and it is great to be able to be at home with him instead of always having to go out to a live venue to play," Sandra concluded.
You can cheer "MommyGingery" on at the Wynn or get updates on her progress by heading to the Global Poker Facebook page.
If you don't have an account on Global Poker yet, sign up today and get grinding — who knows, maybe you could be the next player to represent Global Poker on the live felt.