PNIA Introduces Poker Night LIVE: A Celebrity Poker & Talk Show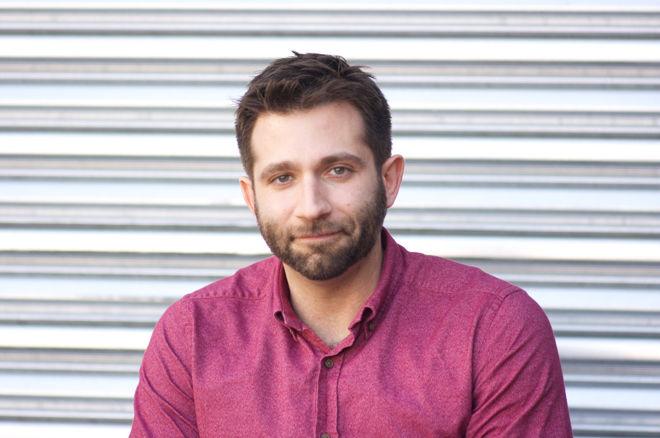 Poker Night in America (PNIA) is launching a live televised poker show featuring a low-stakes cash game centered around different Hollywood celebrity guests each week. "Poker Night LIVE" will air on CBS Sports Network at 10 p.m. EST on Tuesday, March 20, with 13 episodes on the books for its first run.
The classic Poker Night in America cash game series has had plenty of success, broadcasted on Twitch for viewers to watch the action live, with a post-production version that has aired on CBS Sports Network since June 2014. The $25/$50 no-limit Hold'em PNIA games are known for lineups consisting of a mix of big name pros and local grinders, but their audience has mostly stayed within the poker community.
Now, PNIA producer Rush Street Productions and its president, Todd Anderson, are looking to push the envelope and reach for an audience that may not typically turn the channel to poker — and have probably never heard of Twitch.
What Can Viewers Expect?
The short answer, according to Anderson, is "fun."
"This show is going to be different from any show that's ever been done," he said. "It's really not as much a poker show as a late night comedy talk show. It's more Johnny Carson than WPT."
The plan for the show is to have a lineup of six players including one very well-known poker player (think Phil Hellmuth, Daniel Negreanu and the like), plus popular poker host and comedian Joe Stapleton, which leaves four spots for celebrity guests to fill. These are to include Hollywood personalities from the realms of film, sports, business and music — familiar faces not necessarily usually associated with poker.
"It's really not as much a poker show as a late night comedy talk show.
Poker Night will even offer prospective celebrity guests poker lessons in their homes to help prepare them. Clearly, though, the quality of the game in terms of high-level play and strategy is not of principal importance. Unlike other poker shows, the main focus will be on entertainment, and the target audience lies mostly outside of the poker world.
In that vein, the show will begin with a comedic cold open that Anderson likened to "Saturday Night Live." There will also be interview segments with guests and plenty of table talk facilitated by a poker personality adept at keeping the conversation going in a light-hearted manner — Joe Stapleton.
Going Live
While Anderson's original conception for the PNIA show five years ago involved producing a live televised poker show, Anderson had to settle for a post-production show with a Twitch stream attached, as the task of taking it to live TV proved unmanageable at the time.
Now, with a willing casino partner in L.A. (Gardens Casino), a TV network happy to give PNIA a time slot (CBS Sports), and the technological possibilities all lining up, Anderson says he thinks they're finally ready to do what they originally set out to do.
"I think live television is exciting because you just don't know what's going to happen," he said. "In some respects, poker can be dull, but in other respects, it can be exciting. So we want to bring that element of excitement to the show and attract viewers who think, 'I wonder what's going to happen tonight.'"
Some poker fans might argue that competitive poker isn't the most conducive for live TV. Anderson seems to agree with that group.
"Who wants to watch a bunch of people fold?" Anderson asked rhetorically. "And that's what poker usually is. From eight hours of filming, you might get one hour of televised content. That's not the case with Poker Night LIVE — you're going to see a lot of flops."
Why is Anderson so sure there will be plenty of action in the new show?
"I think live television is exciting because you just don't know what's going to happen."
For starters, the stakes of the game are significantly lower than the regular PNIA structure at $5/$5 with a $500 buy-in. This may seem too low for a group of big names that we can assume have plenty of disposable income, but for Anderson, it makes sense for a show that is not primarily about poker.
At those stakes, one would expect the various groups of celebs to be focused on the table conversation and on promoting their new movie, book or album, not afraid to make mistakes and let loose when it comes to the poker match that happens to be afoot.
As all these details unfold, one starts to get the sense of being a fly on the wall in a friendly Hollywood home game — one a bit more tame than the fabled high stakes bouts elaborated in "Molly's Game," but if viewers are lucky, maybe featuring some of those players' fellow A-listers.
Location, Location, Location
The show will be shot on location at Gardens Casino. For a show that will rely heavily on drawing non-poker personalities, a spot near Hollywood seems ideal.
"We did an event at the Gardens last fall and I was really impressed," Anderson said. "I think they're the ideal partner, so we're very pleased."
With the goal of getting as big of names as possible on the show, Anderson shared that they even hired a professional in Hollywood whose job is to book talent for promotional shows such as theirs.
Poker Night LIVE will air every Tuesday for 13 weeks, beginning March 20 with "after hours" on Twitch for viewing live on the web.
Fans at home can get on the show through random drawings of players who download and play on the PNIA app. Three lucky players will get on the show in this format during the first run of the show. Another way to get on the show will be through local promos taking place at Gardens.
In addition to the live televised show, PNIA will be hosting livestreamed cash games from the Gardens every Wednesday, Thursday and Friday, offering lots of chances for local players to have their moment in the Twitch spotlight.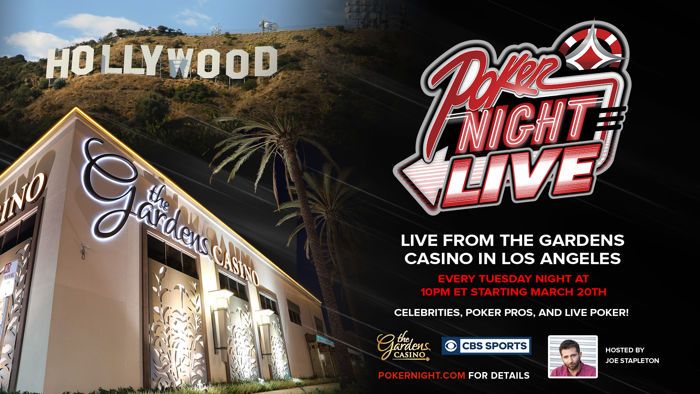 Images courtesy of Poker Night in America