PPPoker introduces Pot Limit Omaha Hi/Lo Club Game Option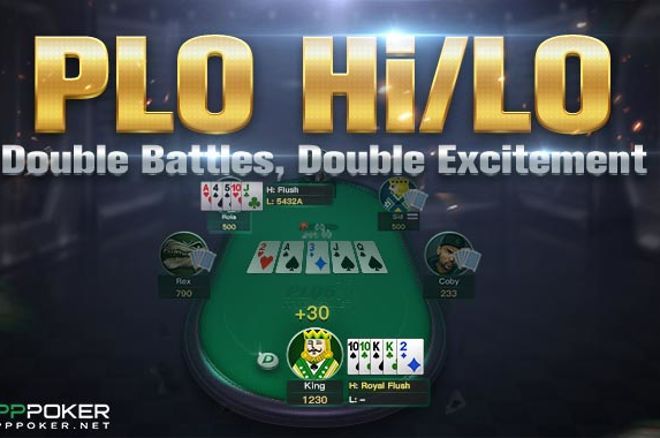 PPPoker's continuing mission to provide the best online club-based poker platform has produced yet another exciting game addition, this time in the form of PLO Hi/Lo.
Pot Limit Omaha Hi/Lo is now available for PPPoker players to enjoy in their in-app Club games against friends, family and the worldwide poker community.
The Hi/Lo format is available to play in both PLO4 & PLO5 options, and creates 'double the battles, double the excitement'.
What is PLO Hi/Lo?
For those of you already familiar with the increasingly popular Pot Limit Omaha poker format, you will be happy to hear PPPoker has expanded your playing options further and introduced the Hi/Lo option into Club games.
If you are new to the Hi/Lo format, let's break it down for you.
Omaha Hi/Lo Rules
If you know how to play pot-limit Omaha (or "Omaha high"), you are well on your way to learning how to play Omaha hi-lo.
PLO Hi/Lo Basics
Hi/Lo is a split-pot format variation of PLO where half the pot is awarded to the best high hand at showdown, and the other half awarded to the best low hand.
The high hand is determined in line with the standard PLO hand ranking rules, whereas the low hand is determined using the traditionally lower ranked cards.
The best PLO Hi/Lo low hand is 5432A, otherwise known as the wheel. In Hi/Lo games, an Ace is used as both a high and low card.
It's also important to remember that in Hi/Lo games, the low hand must always consist of five different cards ranked eight or lower.
Examples:
87654 – qualifies as a low
8654A – qualifies as a low
4432A – does not qualify as a low (Only four different cards eight or lower)
98765 – does not qualify as a low (Nine is higher than eight)
If no player has a qualifying low hand at showdown, the entirety of the pot is awarded to the high hand.
---
---
PPPoker continues its expansion in 2020
Since its birth in 2016, PPPoker has continued to ramp up offerings to its loyal players with promotions such as 'Anyone Can be a Poker Lover' which awarded three poker cruise trips.
As well as this, their in-app expansions have included features such as 'Chip Storm', 'Multi-Times', 'SpinUp' and 'EV Chop'.
Aside from these new in-app advancements, PPPoker recently released their 2020 System Reliability Report  outlining their efforts to ensure a continued safe and fair online platform.
Measures include a dedicated Anti-Cheating Team, Anti-Bot implementations and Regular RNG Tests. The report details all their safety procedures, including the latest RNG test results in a bid to ensure a protected playing environment.
Find out more about all PPPoker's latest products at https://pppoker.net
Download PPPoker today and create your Club to access exciting the brand-new PLO Hi/Lo as well other popular games such as NLH, OFC and classic PLO.
Battle against players from across the world in Lobby and Global Tournament games too!
For Poker Lovers, By Poker Lovers
Sponsor generated content by PPPoker