Exclusive Interview: Matt "RubberFist" Stout on Dominating WSOPC Online Performance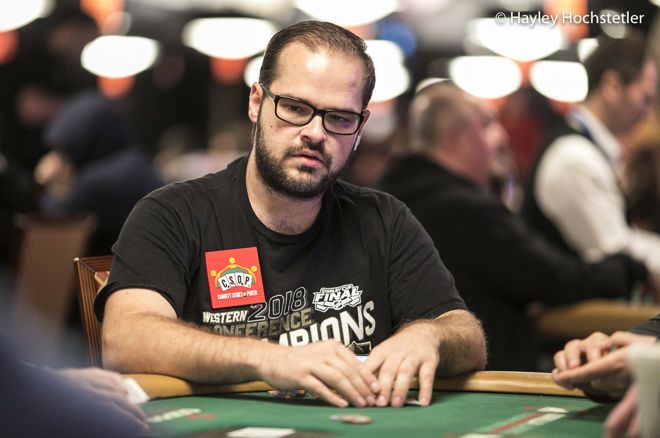 Last weekend, the WSOP.com closed out its 18-ring event online series – the WSOP.com Online Super Circuit Series – which catered to 11,786 entrants and awarded $3,948,356 in prize money.
The series was open to those inside the borders of Nevada, New Jersey, and Delaware, and no one did better than Las Vegas-based poker pro Matt "RubberFist" Stout, who claimed the title of "Casino Champ" for a seat into the 2020 Global Casino Championship alongside Champie "kiddchamp" Douglas, who won the Main Event for $130,410.
Stout amassed 140 points on the leaderboard in six cashes totaling $122,389. That included capturing two gold rings, which brought his lifetime total up to five. His first victory came after he bested the 941-entry field in Event #2: $215 Monster Stack for $43,286 and then nine days later he did it again when he topped a 531-entry field to win Event #11: NLH Big $500 for $63,234.
WSOP.com Online Super Circuit Series Leaderboard Results
| Place | Player | Points | Rings | Cashes | Earnings |
| --- | --- | --- | --- | --- | --- |
| 1 | Matt Stout | 140 | 2 | 6 | $122,389 |
| 2 | Jonathan Dokler | 127.5 | 1 | 8 | $126,812 |
| 3 | Chad Layne | 115 | 0 | 5 | $94,368 |
| 4 | Gage Doyne | 102.5 | 1 | 4 | $136,825 |
| 5 | James Carroll | 102.5 | 1 | 7 | $74,382 |
| 6 | Brian Altman | 92.5 | 1 | 3 | $67,321 |
| 7 | Brian Sherrier | 87.5 | 0 | 5 | $44,385 |
| 8 | Eric Vanauken | 80 | 0 | 4 | $57,180 |
| 9 | Anthony Zinno | 77.5 | 0 | 4 | $24,801 |
| 10 | Andrew Dean | 75 | 1 | 5 | $56,803 |
Q&A w/ Matt Stout
PokerNews recently caught up with Stout to chat about his various victories in the WSOP.com Online Super Circuit Series.
PokerNews: How do you feel about winning the WSOP.com Online Super Circuit Series "Casino Champ" for a 2020 Global Casino Championship seat?
Stout: I'm ecstatic. I used to buy into it as a WSOP qualifier, but once they increased the field size over 100 for the $1 million at stake, yet still charged WSOP qualifiers $10k to enter, I stopped. I've also wanted to attend WSOPC Cherokee for a while but the timing never quite worked out. A lot of my close family including my sister, nieces, and nephews live in Eastern North Carolina so I hope to make a big trip out of it.
Was winning the leaderboard a goal of yours? At what point did you think you had a good chance of winning it?
Any time there's a valuable prize associated with a leaderboard I want to win it, and obviously winning Event #2 was a great head start. I started feeling good about my chances when I took sixth in the $1K 6max two days later because that was my third or fourth cash, and when I won my second ring of the series I was pretty sure I'd be able to pull it off.
What are your best highlights/favorite moments from the series?
I was all in with ten-high on the river for my tournament life in the first event I won, not once but twice. I often get called a nit by my friends (and even my wife), so getting through twice in a row in those spots on my way to victory was a pretty awesome feeling. Ironically, in the tougher field that I beat the second time, I remember just being a card rack in most of the key spots, just always having it and not having many tough decisions.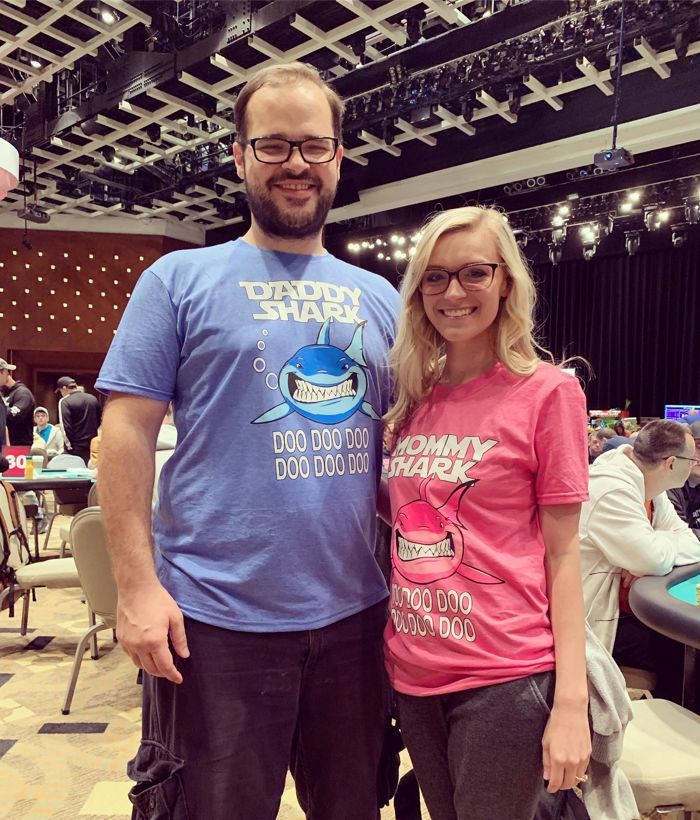 What's the story w/ your wife, Brittney, wanting to win one ring and you saying you were going to win two?
Before the series started, Brittney told me she was going to win her first ring. Since we're both hyper-competitive, I half-jokingly one upped her by saying that I was going to win two rings in the series so that I could fill one whole hand with rings.
This run came right after your honeymoon. What was that like?
We arrived home from nine nights in Tahiti literally an hour before the first event started. I was half asleep and didn't fare well in that session, but got some sleep and was apparently ready to go for the gold on Sunday.
You also won $122K in prize money. What does that mean to you at this point in time?
Aside from providing for a family for the first time in my life, this also came at a time when we'd just spent buku money on two weddings and a dream honeymoon only to find that neither of us could work. Brittney has been dealing at the Wynn, and I've been playing a ton of live PLO cash and spending half or more of my work year helping different beneficiaries run their own CSOP events. The timing couldn't have been much better for us.
What is life like for you right now amid the current pandemic?
I'm just trying to lay low and am grateful to have regulated, legal online poker in my home state right now. I'm also even more grateful to be somewhat young and not have a compromised immune system. But even if we're less vulnerable than most in the event that we do get it, I feel the social responsibly to do my best to not be part of the problem. I'm just enjoying having this much time with my new wife and one-year old son, grinding a ton, working on my game, and trying to get some home projects done, amidst a decent amount of drinking and video games, of course.
Any update on future CSOP events? We assume they're on hold given all that's going on?
Sadly, we had to push back the date of our biggest event of the year, St. Jude Against All Odds, which was originally scheduled for April 4. We're also unsure about our Three Square event which was originally penciled in for Wednesday, July 1. We remain optimistic that we'll be able to resume operations soon, but also want to make sure that we don't encourage the spread of the disease. In the meantime, we're working on ideas for how we can do some fun online fundraisers for our favorite beneficiaries, so stay tuned.
For more on Stout you can follow him on Twitter @MattStoutPoker.
For those looking for more opportunities to play during this unique time, WSOP is launching its "WSOP.com Online Championships: Spring Series" on April 5th. Click here for more information.
Executive Editor US, PokerNews Podcast co-host & 2013 WSOP Bracelet Winner.