Insane Pot at GGPoker High-Stakes Cash Game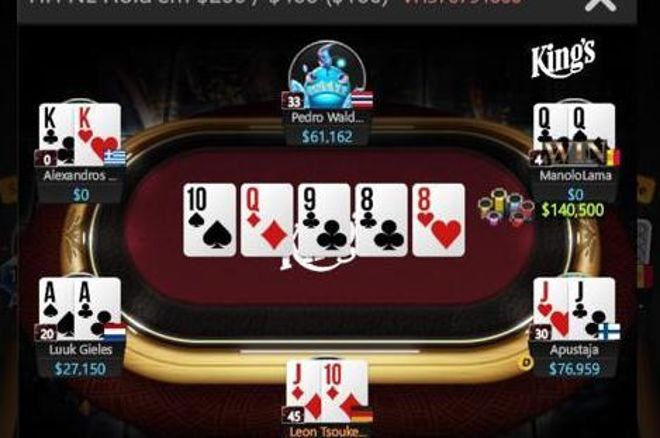 While most of the focus on GGPoker for both players and observers has been on the ongoing World Series of Poker bracelet events, high-stakes cash action has been popping as well.
Never was that more clear than on Monday, when a wild hand went down, one that wouldn't have looked out of place in a James Bond movie scene.
Crazy Three-Way All-In Pot
The game in question was $200/$400 six-handed no-limit hold'em with a $100 ante all around to spice things up. There was even a straddle for $800 from under the gun to further juice the preflop pot.
"ManoloLama" opened things up second to act with a raise to $2,000. "Apustaja" called on the button, as did Leon Tsoukernik in the small blind. Big blind Luuk Gieles was ready with a three-bet to $12,600. From the straddle, Alexandros Kolonias wanted to play for even more and shoved for $38,800. "ManoloLama" stuck in their $48,550.
At this point, "Apustaja" and Tsoukernik decided the action was too much for them, so they let their hands go. Gieles, however, was in there with a quick call covering both of his all-in opponents.
Gieles: A♠A♣ (66.92%)
Kolonias: K♣K♥ (17.89%)
"ManoloLama": Q♠Q♣ (14.69%)
According to the PokerNews odds calculator, Gieles rated to take the $140K pot down more than two-thirds of the time with his aces.
However, the GGPoker RNG had a different outcome in mind as the board ran 10♠Q♦9♣8♣8♥ to give "ManoloLama" a full house.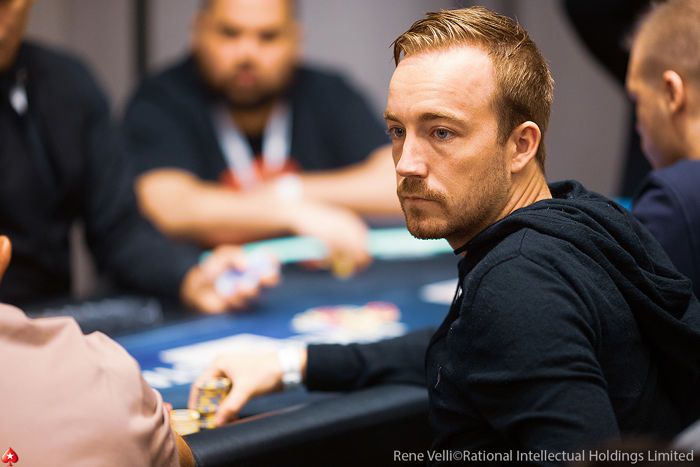 Aces over kings and queens is a rare occurrence, but not once-in-a-lifetime by any means. What made the hand more wild was the other hands involved. GGPoker lets players who folded show their cards, and Tsoukernik revealed he'd held J♦10♦, while "Apustaja" showed they'd released J♣J♥. Both players would have made straights only to see an even more massive pot shipped to "ManoloLama."
Here's how the odds would have shaken out had everyone stayed in the pot:
Gieles: A♠A♣ (50.47%)
Kolonias: K♣K♥ (16.48%)
"ManoloLama": Q♠Q♣ (12.79%)
Tsoukernik: J♦10♦ (13.31%)
"Apustaja": J♥J♣ (5.54%)
Follow all the latest from the WSOP - LIVE!
The cards are in the air in the GGPoker WSOP Online. The PokerNews live reporting team is on top of all things WSOP. Don't miss a beat!
Nosebleed Action Galore
While that $200/$400 pot may be a special occurrence, there's certainly been no shortage of high-stakes action in recent days on GGPoker. In fact, the site has been consistently hosting some nosebleed action that would make the fans from the old Full Tilt days feel right at home.
Not only has $200/$400 no-limit hold'em been running on occasion, but nearly every day, there has been action at the $200/$400 pot-limit Omaha table. In fact, there's usually been a full table worth of players willing to battle at those lofty stakes. Marcello "lazyexpress" Marigliano, Timofey Kuznetsov and Wiktor Malinowski have been some of the regs in the games.
The latter, known and feared as "limitless" for years in the highest-stakes games on PokerStars, has been sitting at all of the biggest games on the site daily, waiting for action with $80,000 in front of him at $200/$400.
He's had several sessions battling heads up with Tsoukernik where the players straddled back and forth until they were playing $1,600/$3,200. Seeing a $300,000 stack hasn't been uncommon, and some pots have gotten near the $600K mark.
For those looking to watch or play the biggest poker games online, GGPoker appears to be the place to go right now.
Sign Up for a GGPoker Account Through PokerNews
If you want to play in the WSOP 2020 Online on GGPoker, you'll need to sign up for an account. By downloading GGPoker via PokerNews entitles you to a welcome bonus worth up to $600. Your first deposit is matched 100% up to a maximum of $600, setting you up nicely in time for the WSOP Online.
The bonus releases into your account in $10 increments each time you earn 6,000 Fish Buffet Points, which is the equivalent of $60 in rake or tournament fees.