Live Poker Returning to Minnesota, But Some California Rooms Close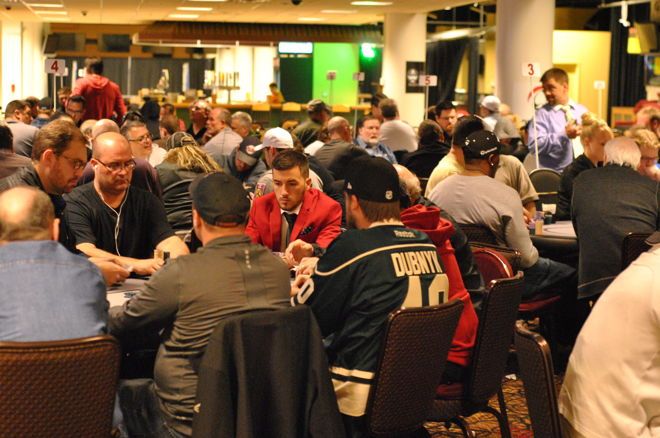 Table Of Contents
The ongoing spread and poor containment of the coronavirus in the United States continues to make the return of live poker as normal far from assured.
Two U.S. states with strong player bases appear to be headed in opposite directions. While poker players itching for a return to action in Minnesota got some good news as a prominent room announced its reopening there, California players were dealt a harsh blow as the governor mandated a shutdown of the rooms that had reopened.
Minnesota Players Can Return in Early July
A Wednesday press release from Canterbury Park brought news that Minnesota grinders have undoubtedly been waiting for: live poker will return to the state on Thursday, July 9 at 10 a.m.
"It is time to start dealing poker again, and with the experience we have gained running table games, we are extremely well prepared," Vice President of Card Casino Operations Michael Hochman said. "When poker will return has been one of the most-asked questions I have fielded since March. I am glad to have the answer now and look forward to July 9 when we put the cards in the air."
The room, which is located in a suburb of the Twin Cities, had reopened some of its table games on June 15.
While the poker room, which deals primarily limit games ranging from $3/$6 to $40/$80, will begin spreading action again, it won't exactly be business as usual. Normally sporting 26 tables, the room will only reopen with 14 as a measure to space the players farther apart than normal. Furthermore, games will be dealt six-handed. In the aggregate, this means the room will operate at about 36% capacity.
According to the presser, safeties measures include acrylic shields at each table, a ban on table-side dining, and sanitizing of chips on a daily basis.
"Disinfecting is a constant process that we take very seriously," Hochman said. "The acrylic barriers we've designed offer another layer of protection for both our team members and our guests. We'll have a bottle of hand sanitizer on top of every dealer button on every single table."
August has been targeted for the return of tournament play.
Thursday afternoon, competing Twin Cities room Running Aces announced it would open even sooner than Canterbury Park. A tweet from the room circled July 6 at 10 a.m. as the date and time when cards would again fly. Running Aces' website states that guests will undergo mandatory non-touch temperature checks, and masks and barriers would be in use to further ensure guest and employee safety. Daily chip cleaning and "increased" frequency of deck changing will also be employed.
No plans have been released for tournament poker.
All other state rooms are listed as "closed indefinitely" by Ante Up.
California Reverses Openings in 19 Counties
Cardrooms in California began opening as early as mid-May, according to Ante Up, but progress in The Golden State has been reversed.
Gov. Gavin Newsom announced on Wednesday that cardrooms would be among targeted indoor businesses mandated to close for the next three weeks, alongside restaurants, bars, movie theaters and other entertainment options. The restrictions are aimed at curbing continued spread of the virus in 19 counties deemed to have the highest risk, which apparently encompass 70% of the state's population. California has seen cases rise in recent days, with 5,000-plus new cases reported in eight of the past 10 days.
Popular cardrooms at The Bicycle, Commerce and The Gardens are in the affected areas. Note that some rooms may remain open either because they're outside the affected counties or because they're on tribal grounds and not subject to the mandate. Thunder Valley and Jamul Casino each confirmed to PokerNews that they're still dealing cards, so players would be advised to check in with their local room if they're unsure of the situation.
Rivers Pittsburgh Also Closes
Another notable poker room outside those two states announced Thursday it has closed for the time being as well.
Rivers Casino Pittsburgh, located near the downtown area of the populous city, will close at 12:01 a.m. on Friday to comply with county health regulations. The poker room there sports 30 tables and has hosted several tournament series.
"The health and well-being of our Team Members, guests and the community is our number one priority," a tweet from the casino read.