Ten Things You Didn't Know About the WSOP Online on GGPoker
The World Series of Poker Online is well underway across both WSOP.com and GGPoker. From the 1st August, the WSOP Online will be exclusively on GGPoker, so whether you're playing on the client for the first time or you're a seasoned online pro, we thought we'd bring you ten things you didn't know about the WSOP Online on GGPoker.
Remember, you can stay up to date with all of the tournament action from the WSOP Online right here on PokerNews by heading to the Live Reporting section of the website!
Follow all the latest from the WSOP - LIVE!
The cards are in the air in the GGPoker portion of the event. The PokerNews live reporting team is on top of all things WSOP. Don't miss a beat!
WSOP Version of Popular GGMasters Tournament
The GGMasters is consistently one of the most popular tournaments on GGPoker, especially considering the annual leaderboard where one lucky player will walk away with a GGPoker sponsorship package valued at $500,000.
Well now the GGMasters makes its WSOP debut, complete with a $1m guarantee. The $150 freezeout takes place on 9th August at 17:00 (BST) so make sure this tournament is firmly in your diary!
WSOP Online Leaderboards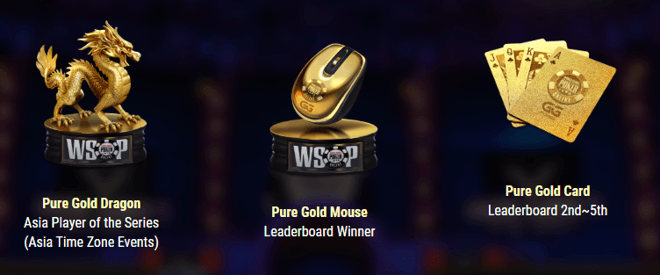 While the summer chase will be all about the gold WSOP bracelets, there's plenty more of the precious metal over at GGPoker. Throughout the series, the overall leaderboard will keep track of the biggest winners. Several solid-gold prizes are up for grabs for those that consistently do well:
Pure Gold Dragon - Asia Player of the Series (Asian Time Zone Events)
Pure Gold Mouse - Leaderboard Winner
Pure Gold Card - Leaderboard 2nd-5th
Day 2 Staking
We've talked about WSOP Online Day 2 Staking before on PokerNews. It makes railing players in the 2020 WSOP Online even more exciting, as they close in on a share of some HUGE guarantees as part of the schedule.
Even Daniel Negreanu is a fan, telling PokerNews that the addition of Day 2 staking makes the GGPoker Staking platform "a whole lot cooler."
"In the client, you could always buy or sell before the start of an event," said Negreanu. "But now you can make even more informed decisions based on day one results.
"This allows you to either sell and lock up some cash, or buy some players who already have a big stack. Allows for more intelligent investing. I think it's great."
WSOP Daily Promotions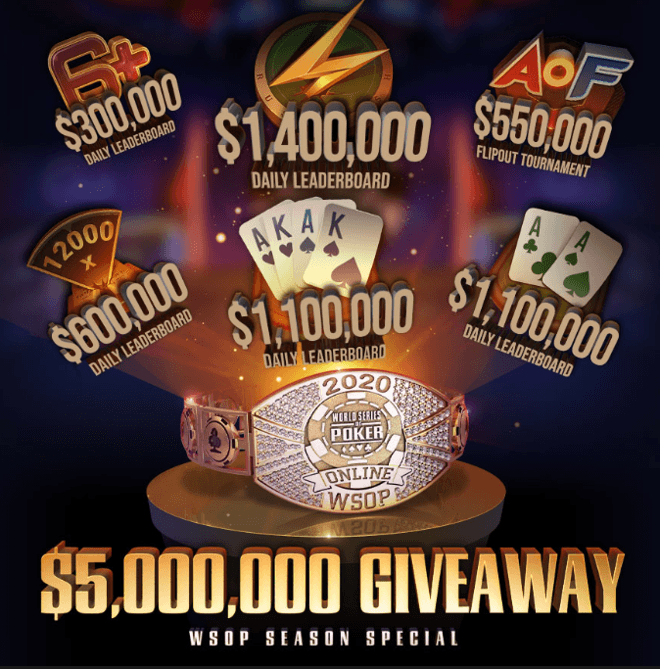 To celebrate the unique online World Series of Poker, GGPoker has put upan unprecedented giveaway of $5,000,000 in WSOP Online 2020 tickets — the biggest giveaway in the history of online poker! There are six promotions to choose from, each with their own leaderboards:
For a detailed overview of each promotion, click on the links above. The $5,000,000 WSOP Giveaway promotion will run until August 30.
---
---
Convert Multiple Event Tickets into T$
If you are lucky enough to win multiple WSOP Online event tickets, don't worry! Your hard work won't go to waste. After the series has finished, your unused tickets will be exchanged for T$ that you can use to enter any tournament on GGPoker.
Pick Your Own WSOP Event
When the WSOP Online schedule on GGPoker was announced, the poker community was intrigued to see a new type of bracelet event announced! Three 'People's Choice' events were announced, with the formats and buy-ins yet to be announced. One of them is a 'Pros Vote' where the events will be decided by you! So keep an eye on GGPoker socials for when the opportunity arrives for you to pick your WSOP event!
Stay tuned for more details about these prizes!
WSOP History: Looking Back at the November (and October) Nines
Win WSOP Tickets Through Spin & Gold

The popular Spin & Gold format will feature an additional $2 Spin & Gold to win your way directly into the $5K WSOP Main Event or up to $10,000 in cash.
The special WSOP Spin & Gold will feature the following prizes & probabilities:
| Multiplier | 1st | 2nd | 3rd | Frequency |
| --- | --- | --- | --- | --- |
| 12,000 | $10,000 | $8,000 | $6,000 | 1 per 1,000,000 |
| 3,000 | $5K WSOP Main Event ticket | $500 WSOP Satellite ticket | $500 WSOP Satellite ticket | 55 per 1,000,000 |
| 30 | $50 WSOP Satellite ticket | $10 WSOP Satellite ticket | - | 4,045 per 1,000,000 |
| 5 | $10 WSOP Satellite ticket | - | - | 100,000 per 1,000,000 |
| 3 | $6 | - | - | 200,000 per 1,000,000 |
| 2 | $4 | - | - | 695,899 per 1,000,000 |
Take Advantage of Bubble Protection
GGPoker's popular Bubble Protection is available throughout the WSOP Online. It's available for all non-phase events with buy-ins less than $999. This means that if you register before the start of play and go on to bubble the tournament, you'll receive your buy-in back.
This is available for at least 18 of the 51 WSOP Online events on GGPoker.
Best Stack Forward
Any player that makes it to the end of a Day 1 with a stack is allowed to take part in additional Day 1s if they want to, providing they have not exceeded the maximum number of re-entries.
However, if a player finishes multiple Day 1s with chips, only the highest chip stack will go to Day 2.
How to Play the GGPoker 2020 WSOP Online on a Budget
Not got a huge bankroll? Check out how to play the GGPoker 2020 WSOP Online on a budget here on PokerNews
GGPoker Cashiers Withdrawal Assistance
Have you made a special trip abroad to play in the WSOP Online on GGPoker? Will you be returning to a restricted territory once it's all over? Hopefully you'll have some hard-won prize money to withdraw, so don't worry. GGPoker's cashier service will be on hand to assist you with withdrawals should you be no longer able to access the GGPoker client.
---
Sign Up for a GGPoker Account Through PokerNews
If you want to play in the WSOP 2020 Online on GGPoker, you'll need to sign up for an account. By downloading GGPoker via PokerNews entitles you to a welcome bonus worth up to $600. Your first deposit is matched 200% up to a maximum of $600, setting you up nicely in time for the WSOP Online.
The bonus releases into your account in $10 increments each time you earn 6,000 Fish Buffet Points, which is the equivalent of $60 in rake or tournament fees.
Will Shillibier is based in the United Kingdom. He started working for PokerNews as a freelance live reporter in 2015 and joined the full-time staff in 2019. He graduated from the University of Kent in 2017 with a B.A. in German. He also holds an NCTJ Diploma in Sports Journalism.