How to Win BIG Spin & Gold Multipliers on GGPoker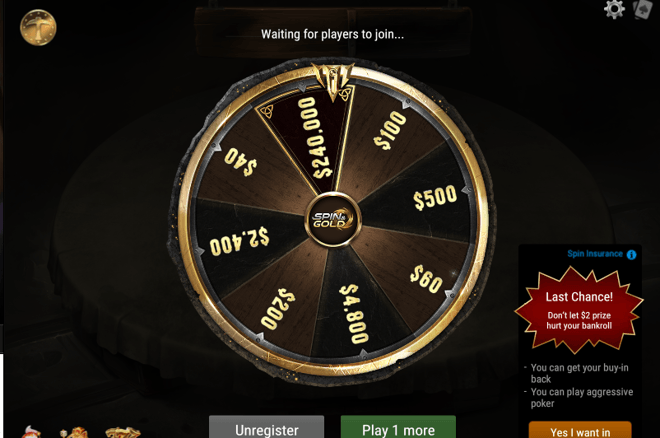 Table Of Contents
It's now been two months since GGPoker launched their innovative take on three-handed jackpot sit and go's. With Spin & Gold, players can win up to 12,000 times their buy-in, with extra challenges and squeezing options increasing the excitement even further.
If you've not hit the Spin & Gold tables yet, don't fear. We're here to give you a handy guide on how to win some of the biggest multipliers if you are lucky enough to end up with one at your table! Follow our strategy tips on how to win big at GGPoker Spin & Gold!
Try Spin & Gold Tournaments Today!
Take a look at the Spin & Gold Payout Table, with more details on just how much you can win!
| Multiplier | Frequency | Payout: Buy-ins |
| --- | --- | --- |
| x2 | 464,882 in 1,000,000 | 1st: 2 buy-in(s) |
| x3 | 444,012 in 1,000,000 | 1st: 3 buy-in(s) |
| x5 | 85,000 in 1,000,000 | 1st: 5 buy-in(s) |
| x10 | 5,000 in 1,000,000 | 1st: 8 buy-in(s) |
| | | 2nd: 2 buy-in(s) |
| x25 | 1,000 in 1,000,000 | 1st: 20 buy-in(s) |
| | | 2nd: 5 buy-in(s) |
| x120 | 75 in 1,000,000 | 1st: 80 buy-in(s) |
| | | 2nd: 30 buy-in(s) |
| | | 3rd: 10 buy-in(s) |
| x240 | 30 in 1,000,000 | 1st: 160 buy-in(s) |
| | | 2nd: 60 buy-in(s) |
| | | 3rd: 20 buy-in(s) |
| x12,000 | 1 in 1,000,000 | 1st: 5,000 buy-ins |
| | | 2nd: 4,000 buy-ins |
| | | 3rd: 3,000 buy-ins |
---
In order to win some of the big Spin & Gold multipliers, here is some helpful strategy advice!
Vary Your Aggression
Most recreational players will be looking to win big when they click on the Spin & Gold window, so seeing another "boring" 2x multiplier won't be exactly what they're looking for and will soon be looking to move onto another one.
However, you can put yourself in a position to take advantage of this by varying your aggression. Because there's an increased chance that players simply won't care as much about a 2x multiplier, widen your ranges and bluff less in order to take advantage of your opponents' potential sloppy plays.
Conversely, when you do stumble upon a big multiplier, bluff more and bluffcatch less in order to capitalize on any tight play from your opponents.
Play to Win
The 2x, 3x and 5x multiplier are all winner-takes-all, and that should incentivize you to play to win. You're not trying to ladder, you have to push all the way to the finish in pursuit of victory.
And even with the big multipliers, if you fill yourself with the notion of playing to win, you'll put yourself in the best spot possible to take down a big first prize when it happens to you!
---
---
Focus on the Small Multipliers
A vast majority of your volume at the Spin & Gold tables will be in the 2x or even 3x multiplier level. Therefore don't sacrifice your ROI by giving these any less attention than they deserve. Similarly to the first point, make these a real focus for your tournament grind and you'll reap the rewards when others are dreaming of the big multipliers.
Work on Your Push-Fold Strategy
The hyper-turbo structure will mean that there will come a time when the Spin & Gold ends up in a push-fold state. Revise your shoving ranges in order to maximize the pressure on your opponents, and make sure you know your calling ranges in order to know what to do in certain situations.
---
---
Bankroll Management
It's common practice in any poker tournament variant to ensure proper bankroll management before focusing on a specific tournament. It's generally the consensus to have 200 buy-ins in order to have a proper bankroll for Spin & Gold jackpot three-handed tournaments.
Don't worry if you're just playing for fun, you won't need as many as that, but if you're looking to grind them then a bankroll of 200 should be a prerequisite.