WPT World Online Championships a "Touch of Class" Says partypoker Pro Roberto Romanello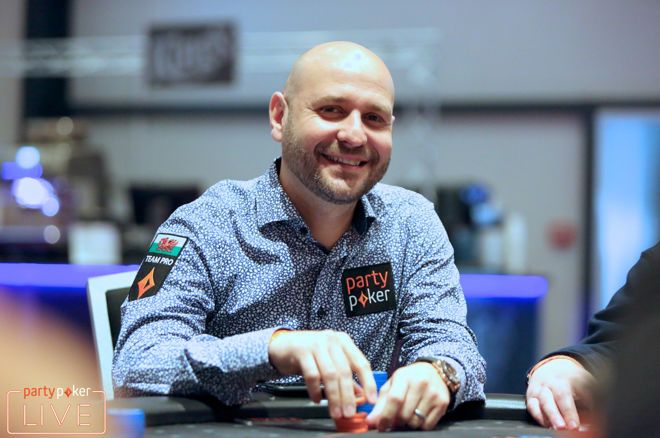 It's been a whirlwind couple of years for partypoker Pro Roberto Romanello. From humble beginnings as a restaurant worker to EPT and WPT champion, the former circuit grinder has now settled down, but that hasn't stopped him from adding another title to his poker resume.
Over the weekend, the Welshman became only the ninth player to win poker's Triple Crown, by winning the WSOP Online Event #39: $1,500 No Limit Hold'em, to go with EPT and WPT Main Event titles.
PokerNews' Sarah Herring caught up with the partypoker Pro to discuss the victory, as well as looking ahead to the World Poker Tour World Online Championships on partypoker.
Head to the WPT World Online Championships Hub!
Get all the latest information about the World Poker Tour World Online Championships right here on PokerNews
From Poker and Travel to Wife and Kids
Romanello is now father of two children with his wife Catherine, something he says changed his life completely.
"Everything just turned upside down!" said Romanello. "I mean, having my family around me and being with partypoker, it means it's pretty relaxed when I play. I'm lucky enough to still be able to balance family life with playing a little bit of poker as well, but the twins are just incredible. And it's not easy! It's very busy, it's very tough. But I wouldn't change it for the world. It's just incredible."
Romanello said when he first started playing poker, he fell in love "straight away" and very soon was caught up in the poker lifestyle, travelling to play at venues all around the world.
"I had the time of my life. My wife Catherine always supported me when I was travelling, and I was lucky enough to win some major events along the way. That's what my goal was, I just had a buzz for major events - I still do! When I play a major event just something special comes out of me and I have that drive to win.
"And then I started getting older, and it wasn't fair on my her. I felt like it was the right time for me to settle down. And that's when I decided to take a step back as I wanted to start a family. So I did, and I wasn't on the circuit as much as I was."
Before the Game: Roberto Romanello the Restaurant Worker
Romanello and partypoker
Whilst simultaneously taking a step back from traveling and regularly featuring at major festivals around the world, Romanello took on a new role with partypoker.
"There were the right sort of people [at partypoker], back then, who wanted me to come on board. Rob Yong was there and it brought the spark back out of me. Although I'm now full-on with family life, I've only been playing partypoker live events, and it's easy to see why. Because it's the same as the old days!
"They've got the right people around them. It's like a sort of family and it does make a difference and it's made it nice for me to go and play. I just enjoy being around the right people and it makes me want to play the game and play these live events like I used to. I'm very grateful for the opportunity to be on the Team."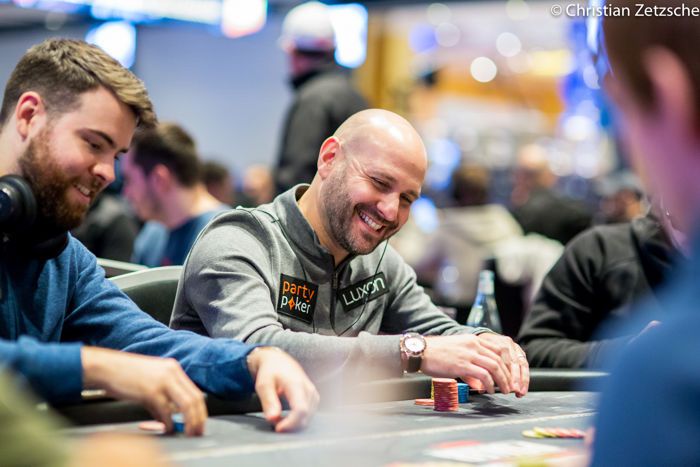 Playing in the WSOP Online
Having won both EPT and WPT titles in the space of two years, Romanello said that at the back of his mind he had always wanted to complete a Triple Crown with a WSOP bracelet victory.
"When I won the EPT and the WPT, my goal that year and the year after was to win a bracelet. It's tough; I know I had a bunch of final tables and I've come close a couple of times. And when I got married and had kids, I was a bit more chill about it; I wasn't chasing it as hard as I used to."
With the announcement that the WSOP would take place online, Romanello says he thought he may as well "give it a shot."
"It's very weird, the drive I have for something when I really want it. I knew I was going to give it a good shot, and lucky enough it was on the first Sunday. And what better place to do it than when I'm at home!
"When I play a Main Event I have this hunger to do so well, and I give it everything. I just go through those gears in a different way when I play a major tournament, simple as that."
---
---
Romanello said that he was grateful to win the bracelet at at home alongside his family
"I had a couple of friends and my brother railing me, and afterwards when I posted in the family group with my brothers and everyone, they were just ecstatic."
WPT Online
Romanello is now looking ahead to the $100m GTD World Poker Tour World Online Championships on partypoker as the relationship between the WPT and the site continues to grow.
"The WPT brand and the people behind it are solid," said Romanello. "It makes sense because there are two big brands and they just gel so well."
The introduction of real names to the online felt is another addition to the festival, and is a feature that Romanello loves.
"For me it's perfect, because that's what I'm all about. It gives it that specialness just like in the live game. I think it's brilliant."
10 reasons you need to play in the WPTWOC events
With the festival running until September, there is still plenty of time to get involved.
"It's a lot tougher with the competition from big festivals out there, but they know that and have acknowledged that. For me, and I'm not just saying this because I'm with partypoker, it's got that touch of class. They've put in the work and they're interacting with all the big players.
"There is definitely some value in this festival; the games are great and the guarantees are big. It's a great festival."
---
Grab Up To $30 Worth of SPINS Tickets
Download partypoker via PokerNews and you can receive up to $30 worth of SPINS tickets when you make your first desposit.
Deposit $10 to receive $10 worth of free play, made up of:
Day 1 = 1 x $5 SPINS ticket + 5 x $0.25 SPINS tickets
Day 2 = 5 x $0.25 SPINS tickets
Day 4 = 5 x $0.25 SPINS tickets
Day 6 = 5 x $0.25 SPINS tickets
Up your initial deposit to $20 and $30 worth of free play is yours, made up of:
Day 1 = 1x $5 SPINS ticket + 5 x $1 SPINS tickets
Day 2 = 1 x $5 SPINS tickes + 5x $1 SPINS tickets
Day 4 = 4 x $1 SPINS tickets
Day 5 = 2 x $3 SPINS tickets