Finals Set in RIO Legends Showdown: Ayras Versus Rabichow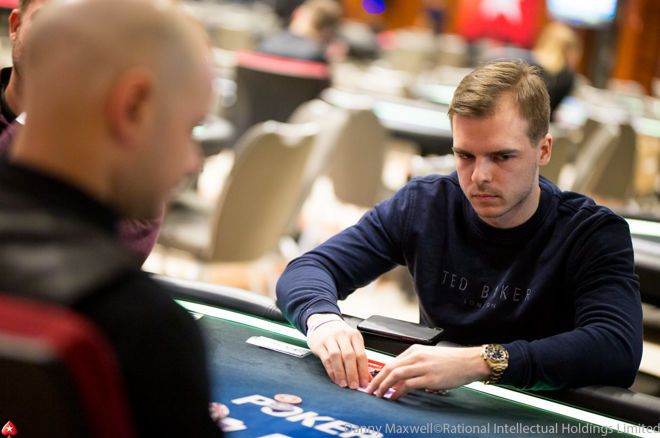 Six elite heads-up no-limit hold'em players started out in Run It Once Legends Showdown and just two remain. It'll be Kevin Rabichow versus Pauli Ayras in the finals.
They outlasted fellow semifinalists Bjorn "AsianFlushie" Li and Fedor Holz, as well as Mikael "ChaoRen160" Thuritz and "Makeboifin," and they're now set to play 2,250 hands across three sessions of €50/€100 stakes. Despite the pseudo round-robin format in the opening round, the two have yet to square off in the contest.
The winner will get €40,000 and huge bragging rights while the runner-up must content himself with €20,000.
All of the action will be streamed on the Run It Once Twitch channel with commentary and cards up.
Here's a look at how they got there.
Check out Run it Once Poker and start becoming a legend yourself!
Legends Showdown Semifinals Recap
Kevin "krab42" Rabichow Defeats Bjorn "AsianFlushie" Li
Li got off to a nice start by slowplaying aces preflop, just calling a three-bet and seeing a dreamy
board roll off. Rabichow bet small on the flop and big on the turn then checked the river with less than pot behind. He made the standard call off with
after Li shoved and was quickly down a stack.
Rabichow worked back to even then earned about €12K back in a standard flip as they got it all in with Rabichow holding jacks and flopping a set against ace-king.
Another huge pot involving jacks followed shortly after. Rabichow raised with
and called a three-bet from Li, who had
. The
flop saw Li bet on the small side and Rabichow call. The
arrived and Li check-raised all in, failing to pair the board on the river to drop another €24K pot.
Another highly unfortunate situation developed for Li when he put a three-bet in with
and checked down until the river, when he made a set on
. Unfortunately for him, that same card gave Rabichow another spade flush, this time with
. Li went for a check-raise all in on the river after Rabichow bet pot for €2,000 and saw the rough run of luck had continued at showdown.
Yet another flush-over-flush cooler in Rabichow's favor gave him a lead of about €65K at break.
Not much happened until after the next break, with about 200 hands left. At that point, Rabichow raised and called a three-bet with
against
and the flop came
. Li barreled off with his nut blocker, ending with an overbet shove on the river that Rabichow snap-called.
Li tried to get back in by bet-three-betting a flush draw against Rabichow's top pair of aces in a three-bet pot, but it seemed only Rabichow was allowed to make flushes as he pleased. One more stack went to Rabichow when he turned a Broadway straight with king-jack and got an overbet shove paid by Li's trip aces, and Li found himself in a €92K hole.
Rabichow kept running like hot fire early as he made several big hands. While Li avoided big river payoffs, he was still down €20K almost instantly. However, he managed to grind back to about where he'd started the session after about 200 hands thanks mainly to catching an all-in bluff with trip aces when Rabichow blasted with king-high for twice the pot.
Li made some headway in a four-bet pot when he got a fortunate runout of
after four-betting with
and having Rabichow call with
. They both checked the flop, then Rabichow check-called the next two streets to send a €25K pot to Li.
The biggest pot of the match came up after just a single preflop raise by Rabichow, who bet €220 on the
flop with
. Li raised to €880 with
and then checked again on the
. Rabichow bet small again with €650 and Li fired in the double check-raise to €5,000. Rabichow peeled, and when Li shoved the
river for a pot-sized bet of €12K, Rabichow looked him up but couldn't beat the flush for the €36K pot.
Things started to get interesting with about 350 hands left when Rabichow four-bet the
and then bet €1,475 on a flop of
in position. Li called with
to create a pot of €8,850 and turned Broadway on the
. Rabichow shoved for €10K and didn't get there, dropping his edge in the match to €60K.
That was the end of the drama, though. Li never got closer than €50K behind and wound up taking an L worth €79K across the two sessions.
Pauli "Fiilismies" Ayras Defeats Fedor "CrownUpGuy" Holz
Holz had dominated Ayras in the opening round and picked up where he left off as Ayras bluffed off a stack with a missed flush draw right away, running smack into Holz's Broadway on a four-straight board.
They passed the halfway point with Holz up about €5K after peaking up nearly €20K.
At about 430 hands in, with the ledger back to about even, Ayras went up a stack when he hit a flush with
on
. He bet the river for €2,625 into €3,500 and Holz went for a check-raise to €7,125 with
but the bluff just resulted in a bigger pot for Ayras.
A hero-call by Holz pushed Ayras farther ahead as the former got in a big check-raise with
on
when they were almost 130 blinds deep. Holz peeled with
and then called a shove of slightly under the €9,500 pot on the
turn only to see he didn't have an out in the deck.
Ayras got a four-bet worth €3,000 in when they were even deeper, holding
, and he paired up on the
flop against Holz's
. Holz check-called €1,800. He check-called €4,800 more on the
turn as Ayras squeezed out more value before both players checked the
river.
Ayras was up €30K at that point and while Holz got some back down the stretch, he still wound up down €22K.
There wasn't much movement for the first 100 or so, then Holz four-bet with
only to face a five-bet shove. He called it off and ran into the
, failing to improve to get down just a little under €40K.
Holz then correctly hero-called as Ayras three-bet him preflop and potted for €2,000 on
. Holz peeled, bringing a
, which Ayras shoved for €7,350 effective. Holz found the call button with
but Ayras hit a straight on the river with
.
Ayras was the one put to the test, but he passed as well when Holz three-bet preflop and barreled off on
. Ayras found the call with
and beat Holz's
, not having to fade any cards on his turn to play hero since they were already all out there.
Holz had shown before he could engineer a big turnaround, and he needed one down €65K with 600 of the 1,500 hands remaining. He certainly pushed the action as he went for another big bluff, three-betting
and c-betting €1,320 on
. Unfortunately for him, he'd been outflopped by
and Ayras went nowhere. Both players checked the
, and Holz shoved for almost twice the pot on the
river. Ayras called in a hurry and the situation looked even more bleak for the tournament legend.
It looked like Holz was about to at least cut into the deficit when he got
in for a €23K pot and flopped his ace against pocket jacks, only for a jack turn to leave him dead. A further flush-under-flush cooler got Holz down more than €90K and he opted to simply wave the white flag with about 500 hands left.
Overall Results
With only the finals left, here's the breakdown of money won in the event:
| Player | Result | Money Won |
| --- | --- | --- |
| Kevin "krab42" Rabichow | Advanced to finals | +€93,768 |
| Pauli "Fiilismies" Ayras | Advanced to finals | +€51,766 |
| Fedor "CrownUpGuy" Holz | Eliminated in semifinals | +€9,179 |
| Bjorn "AsianFlushie" Li | Eliminated in semifinals | -€89,113 |
| Mikael "ChaoRen160" Thuritz | Eliminated in opening round | -€1,260 |
| "MakeBoifin" | Eliminated in opening round | -€64,339 |
Rabichow hasn't had the massive peaks of Ayras, but his consistently solid results have him as the biggest winner thus far.
Legends Showdown Odds Entering Finals
Here's a look at the current PokerShares odds as of Monday afternoon:
| Player | Market Price | Implied Probability |
| --- | --- | --- |
| Pauli Ayras | -139 | 56% |
| Kevin Rabichow | +119 | 44% |
Ayras has been installed as a fairly solid favorite considering it's a match-up of two top-level cash pros in a small-sample heads-up match. Rabichow will be looking to buck the odds when it's time to face off with the fast-rising Finn.
The Legends Showdown continues Tuesday with the first match of the finals:
In 24 hours, we'll be kicking off the Finals of the Legends Showdown! @KRabichow will be playing three 750 hand ses… https://t.co/76TX9guByB

— Run It Once Poker (@RunItOncePoker)