RIO Legends Showdown: Holz Crushes Ayras to Grab Top Seed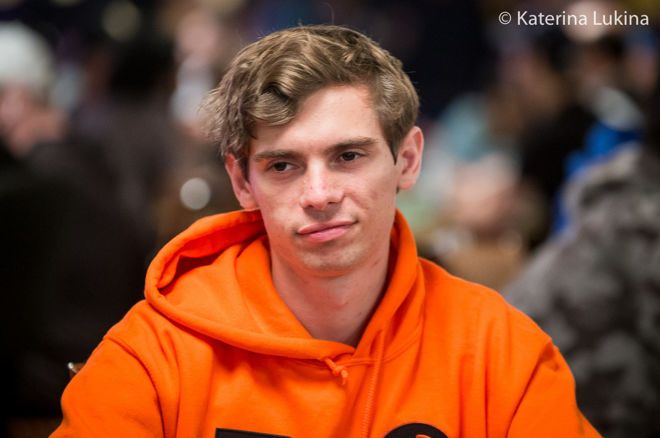 Nosebleed cash poker is considered a specialist's world, by and large. Players need to sink hours upon hours of study into a specific discipline, it is commonly believed, in order to compete with the very best. That usually means other aspects of poker skills will naturally lag a bit.
Fedor Holz is proving there's still room for an outsider to shine.
In the Legends Showdown at Run It Once Poker, the player known almost exclusively for his high-stakes tournament success has taken the field by storm to grab the top seed heading into the semifinals. He looked like an underdog to even make it through, much less hold the top seed, but a crushing victory over consensus favorite Pauli Ayras gave Holz the boost he needed and relegated Ayras to the fourth seed.
That means those two will rematch when the semifinals go down, while Kevin Rabichow and Bjorn Li will butt heads on the other side of the bracket.
What is Legends Showdown?
In Legends Showdown, six top players are battling in heads-up no-limit hold'em at €50/€100 stakes, with two of those players now eliminated.
The remaining players battle in 1,500-hand heads-up matches in the semifinals, with each match split into two sessions. Winners will go to the finals, which feature three sessions of 2,250 hands total.
Prize money will be awarded to those who emerge as the best in the challenge. The winner gets €40,000 and some significant bragging rights, while the runner-up will receive €20,000.
All of the action will be streamed on the Run It Once Twitch channel with commentary and cards up.
Check out Run it Once Poker and start becoming a legend yourself!
Week 3 Legends Showdown Recap
Thuritz got dug into an early hole when he lost several sizable pots, but he shot back into the profit when he three-bet the
and turned the nuts on an
board. He fired big on the turn and shove the river for about 75% of the pot and Li snap-called with
on the unlucky runout.
Thuritz spent most of the next few hundred hands in a slim lead, though he did peak around +€18K after one heater.
Li managed to chip away until he was back up a handful of blinds when he found his own heat just before the 500th hand. There, he three-bet and then called a four-bet to €2,400. The board roll off
and Li check-called €1,200 on the flop then check-shoved for a little over €10K effective. That created a pot of more than €28K and Li was in fantastic shape with
against
. He collected the huge pot to cement his fledgling lead and go up about €15K.
Another big pot went Li's way when he made aces up with
against sixes up with
, and that put him up about €20K. Thuritz was unable to turn things around in the small number of hands left and wound up down €25K.
A little over 80 hands in, Holz was stuck a bit but moved into the lead when he flopped a set of fives in a three-bet pot against the ace-eight of Ayras, good for top pair on the board of
. Ayras checked after three-betting and called off all three streets, including a pot-sized river jam to drop a €20K pot.
Holz increased his lead when he three-bet preflop to €1,000 and Ayras called. The flop brought
and Holz bet €650. Ayras peeled and Holz barreled the
for €1,250. This time he was met with a raise to €4,000. Holz called and checked the
. Ayras shoved for €6,760, a little over half the pot, and Holz tanked briefly and called with
. The hero call was a winner as Ayras held
.
Another stack went to Holz on a river cooler where he hit the second-nut straight with
and Ayras made top two with
. Suddenly, Holz was up about €35K and rolling.
Holz was up €50K when another dream runout occurred. This time, in a three-bet pot, Ayras barreled off on
with
, but his flopped two pair was beaten on the river as Holz backed into a flush with
.
After Ayras doubled up with aces when Holz wouldn't fold
after pairing his six, a monster pot came up when both players were about 170 blinds deep. Holz raised and called a three-bet, then Ayras bet €1,000 into €2,000 on
. Holz called and both players checked the
, bringing a
. Ayras checked the double-paired board and Holz bet €10,000, more than twice the pot. Ayras opted to shove for Holz's last €5,400 and the German snapped it off with
for tens full. Ayras had been bluffing with
.
It just seemed every big pot played out perfectly for Holz. When Ayras was strong, Holz would be stronger. When Ayras chose to bluff, Holz had strong bluff catchers. When Ayras four-bet a good hand like pocket nines, as he did near the 600-hand mark, Holz flopped a pair with king-queen and stacked him on the river.
The final big blow came when Holz raised, Ayras three-bet and Holz called. On the
flop, Ayras slowed down with a check and Holz checked back. The turn was a
and Ayras check-called a pot-sized bet of €2,000. On the
river, Holz shoved for €7,000 and Ayras called off the slight overbet with
after a long tank, but Holz got sick value with
.
Ayras chose to take a break down a staggering €100K. He tried to make a comeback but after losing another €4K or so, he waved the white flag and opted to not even play out the final 100 hands or so.
Overall Results
With the first round of matches over with, here's how the standings shook out:
| Rank | Player | Record | Money Won |
| --- | --- | --- | --- |
| 1 | Fedor "CrownUpGuy" Holz | 2-1 | +€100,409.64 |
| 2 | Kevin "krab42" Rabichow | 2-1 | +€14,192.37 |
| 3 | Bjorn "AsianFlushie" Li | 2-1 | -€9,537.92 |
| 4 | Pauli "Fiilismies" Ayras | 2-1 | -€39,464.06 |
| 5 | Mikael "ChaoRen160" Thuritz | 1-2 | -€1,260.47 |
| 6 | "MakeBoifin" | 0-3 | -€64,339.56 |
Legends Showdown Odds Entering Semifinals
Here's a look at the current PokerShares odds as of Monday evening:
| Player | Market Price | Implied Probability |
| --- | --- | --- |
| Pauli Ayras | -169 | 63% |
| Fedor Holz | +142 | 41% |
| | | |
| Kevin Rabichow | -109 | 52% |
| Bjorn Li | -109 | 52% |
Interestingly, the market hasn't been convinced by Holz's beatdown of Ayras in the final match of the first round, installing Ayras as a fairly significant favorite with more than 60% implied probability of victory even adjusting for the vig.
The Legends Showdown continues Tuesday with the first match of the semifinals, Kevin Rabichow versus Bjorn Li in their first of two sessions. Be sure to check it out on Run It Once's Twitch channel.