The Battle of Malta Heads to GGPoker with a $3 Million GTD Main Event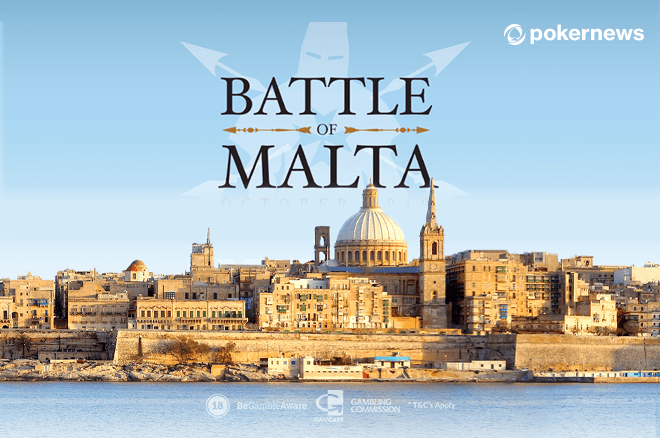 The iconic Battle of Malta festival will be held from November 1-22 online at the world's fastest-growing online poker network GGPoker per a joint announcement by the festival's organizers Casino Malta by Olympic Casino and GGPoker.
This follows a move by many popular festivals including the World Series of Poker recently hosting its worldwide schedule at GGPoker.
The schedule will be released in the near future. What we know for now are both that it will be more than a three-week affair headlined by a $550 Main Event that will guarantee a whopping $3 million.
GGPoker is Honored to be the Preferred Partner
GGPoker is understandably excited about hosting yet another big festival at its global poker network.
"​I'm genuinely excited to announce that the Battle of Malta 2020 will be hosted at GGPoker​," said the Director of Live Events & Sponsorships at GGPoker John Scanlon. "It's an honor to be unveiled as the organizers' preferred online partner, and I'm confident that this year's Battle of Malta will be bigger and better than ever!"
Play in the Battle of Malta at GGPoker
About the Battle of Malta
The Battle of Malta is one of the most popular festivals in Europe of the year. This is even more true for low- and mid-stakes recreational players looking for a fun atmosphere with the prospects of winning big at the felts with events scheduled nonstop.
The Battle of Malta Main Event grows every year and set the €555 event set a new record last year when an enormous field of 4,657 entrants generated a mouth-watering €2,258,645 prize pool. Moldova's Serghei Lisii shipped the event for €247,167 after agreeing to a heads-up deal with Steven van Zadelhoff (second - €217,167).
For the past couple of years, the festival has been held at the spacious Intercontinental Arena located in the luxurious Intercontinental Hotel and was hosted by Casino Malta by Olympic Casino.
Many poker players held out hope that this year's event would go on as planned at Casino Malta with the amount of COVID-19 coronavirus cases around much of Europe including Malta reduced during the early summer.
As you are likely aware, the outbreak came back for a second wave near the end of the summer in most of Europe including in Malta leading Casino Malta to announce that this year's event was canceled.
Read More: Latest COVID-19 Cancellations include Master Classics, Two Malta Events
"It is with a heavy heart that Casino Malta had to postpone the much-awaited Battle of Malta live event, but we're elated to partner with such a prestigious brand as GGPoker," said the General Manager of Casino Malta Slawomir Świtalski. "We look forward to seeing everyone in Malta in 2021 for a very special Battle of Malta."
Although players will be unable to feel the cards and chips in their hands they will now be given a safer option to play from the comfort at home in a full schedule guaranteeing $3 million at GGPoker.
Join GGPoker and Choose One of Two Awesome Bonuses
Download GGPoker via PokerNews, deposit $20 and get $100 in rewards!
You'll get $40 in free tickets over the first six days following your eligible deposit, no strings attached! All free tickets awarded as part of this promotion will expire after 30 days
| Day | Instantly Credited Tickets | Extra All-in Or Fold Challenge |
| --- | --- | --- |
| Day 1 | $9.50 in Spin & Gold Tickets | Play 100 AoF Hands - Get $2 Cash |
| Day 2 | $5.00 in Spin & Gold Tickets | Play 200 AoF Hands - Get $4 Cash |
| Day 3 | $4.00 in Spin & Gold Tickets | Play 300 AoF Hands - Get $6 Cash |
| Day 4 | $5.00 in Spin & Gold Tickets | Play 400 AoF Hands - Get $8 Cash |
| Day 5 | $6.50 in Spin & Gold Tickets | Play 500 AoF Hands - Get $10 Cash |
| Day 6 | $10.00 in Spin & Gold Tickets | Play 1,000 AoF Hands - Get $15 Cash |
But to grab up to $60 in additional rewards, simply play All-In or Fold on each of six days. Hit the daily hand targets to claim up to $45 in cash. Complete all 6 AoF Challenges and get a $15 GGMasters Satellite Ticket on Day 6!
If you simply want a matched bonus offer, you can do that instead.
With a matched bonus, GGPoker matches the amount of your eligible deposit dollar-for-dollar, up to a maximum of $600. This matched amount is credited to your bonus balance, which unlocks into cash as you play. $5 will be unlocked for every $20 paid in net rake/tournament fees. You'll have 90 days to unlock your bonus balance into cash.