Midway Poker Tour Update: Owners Radio Silent, Most Players Remain Unpaid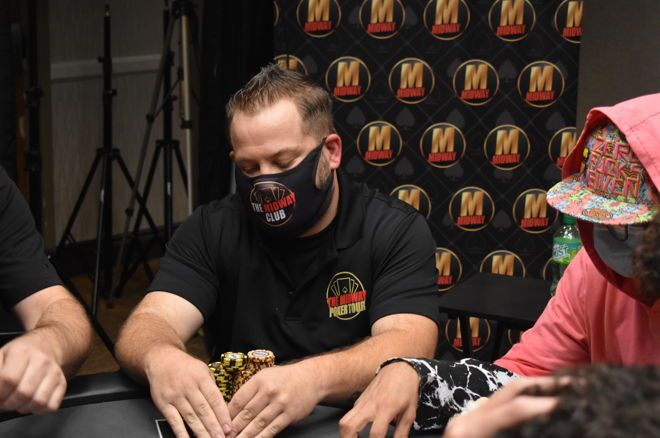 At the beginning of the month, the inaugural Midway Poker Tour, which had a charity connection with 4 KIDS Sake, Inc., found itself at the center of a payout controversy in its $1,100 buy-in Main Event, a tournament that attracted 266 runners.
The top 31 players were guaranteed $2,300 in prize money. However, due to the Illinois Charitable Gaming Acts and Regulations (230 ILCS30), organizers were only able to pay out $500 in cash atop the cost of the buy-in. As such, players only received $1,600 in cash no matter their finish, while the remainder of their "prize" would be awarded in precious metals.
The planned loophole was that those metals could then be bought back on-site for cash, thus making the players whole. Unfortunately, organizers wound up overpaying for the metals and that lost value was passed along to players to the tune of approximately 30% of their advertised prizes. To top it off, no one was on-site to buy back the metals as originally planned.
Dan Bekavac (pictured above), founder and operator of the Midway Poker Tour, pledged to make players whole, but where do things stand now?
Read about what exactly happened at the Midway Poker Tour here
Attempt to Pay Back Players
On Oct. 5, a day after the tournament debacle, Bekavac made a post on the Midway Poker Tour Facebook page that read in part:
"I will do my best to make things right with all that were affected by the horrible events that transpired on Sunday, due mostly to my actions and my inactions. I put a lot of time and money into this venture to bring Live Poker back, but I may have rushed things along, while not having everything in place at the start. I take 100% responsibility, and again I will do my best to rectify the unfortunate and embarrassing situation that unfolded on Sunday."
It appeared that Bekavac and company were attempting to make players whole by paying out a flat 30 percent of the original prizes (a total of $62,731 in prize money) back to the players. PokerNews has confirmed that $12,546 has been repaid to 19 of the 31 players.
However, only two of those players – Rocco Pace (fourth place) and Nicola Ditrapani (eighth place) – came from the final table. As such $50,185 of missing value remains with 12 players yet to be made whole including winner Renato Spahiu, who was missing $16,038 in value from the $55,060 top prize.
None of the unpaid final tablists have heard from Bekavac in a couple of weeks, and several of them have hinted that they are considering legal action.
Unpaid Players
| Place | Player | Cash Prize Paid | Remaining Prize | Total Advertised Payout | Missing 30% Value |
| --- | --- | --- | --- | --- | --- |
| 1 | Renato Spahiu | $1,600 | $53,460 | $55,060 | $16,038 |
| 2 | Satoshi Tanaka | $1,600 | $36,580 | $38,180 | $10,974 |
| 3 | Joseph Paris | $1,600 | $24,200 | $25,800 | $7,260 |
| 5 | Amanda Heidbrick | $1,600 | $12,520 | $14,120 | $2,756 |
| 6 | Josias Santos | $1,600 | $10,000 | $11,600 | $3,000 |
| 7 | Steve Federspiel | $1,600 | $8,080 | $9,680 | $2,424 |
| 9 | Bob Peppe | $1,600 | $5,080 | $6,680 | $2,000 |
| 10 | Frank Lagodich | $1,600 | $3,690 | $5,290 | $1,107 |
| 12 | Benjamin Craig | $1,600 | $3,690 | $5,290 | $1,107 |
| 14 | Jason Kapoor | $1,600 | $2,520 | $4,120 | $756 |
| 19 | Kevin Maahs | $1,600 | $1,000 | $2,600 | $300 |
| 22 | Alex Tremanis | $1,600 | $1,000 | $2,600 | $300 |
PokerBros Shut Down Online Club

While Bekavac was respondent to the players for a couple of days after the event, he and his partner Jason Trezak, have been radio silent for more than two weeks. Their silence came at about the same time popular app PokerBROS issued the following statement on the Midway Poker Tour:
PokerBROS have been made aware of the payout controversy that impacted players at the Midway Poker Tour in Illinois this past weekend. As the details from what occurred at the event became known, it became clear that the event organizers also required players to download the PokerBROS app and register an account with the Midway Club as part of the registration process.

PokerBROS would like it to be made clear that they did not have prior knowledge of this event, did not endorse it and the use of its trademarked name/logo without prior authorization is strictly against PokerBROS Terms of Service. As a result of this breach by the Midway Club, their Club has been banned from the PokerBROS platform.

Any players who are impacted by the closure of the Midway Club, are encouraged to contact PokerBROS directly for support. PokerBROS customer service team can be contacted by email: [email protected]
Was the Online Club a Ponzi Scheme?
The closure of their unregulated, unlicensed poker club and players no longer being paid not communicated with seems like more than a coincidence.
An agent for the Poker Bros Midway Club spoke to PokerNews on the condition of anonymity about the club's operation, which they likened to a Ponzi scheme:
"In the Midway Club the agent buys chips from a person named 'Missy Manager' and we fund our player's account. For example, Agent A sends Missy $500 and she funds Agent A's account with said $500. Agent A's player then sends $500 to Agent A for his chips and then Agent A funds his player account. Now, this is where the Ponzi Scheme comes about. So, my player wants to cash out say $1,000 they put him on a payout list and he gets his money as other agents buy chips from his account. Where did the initial $500 go I, as an agent, sent to buy the $500 in chips the first time?
"So technically the only way you're cashing out is an agent has to purchase chips from other agents and if no one is buying no one is getting paid."
"Now, here is where it gets even more confusing. Let's say they have a $100K GTD tournament the Midway Club is just one union/club but the tournament is played by different unions as well. So, say the Midway Club has 75 players in the tournament at $60 a player, the other unions are collecting money from their players as well, so the prize pool is funded by multiple union and clubs and when a player cashes he gets the chips put into his account but how is he supposed to cash out a $20K win when the prize pool was funded by 20 different clubs/unions? I'm sure it's impossible.
"So now you have these guys with $20K in chips unable to cash out unless an agent is buying chips. They also have a bad beat that is funded across multiple unions/clubs as well. So technically the only way you're cashing out is an agent has to purchase chips from other agents and if no one is buying no one is getting paid. Where is the initial money spent for the chips originally? That is the question. Paying for Danny's million-dollar house is my guess."
The agent then reiterated a popular theory – that Bekavac and company were using funds from their online operation to pay back players from the live tournament. However, once Poker Bros shut down the club, that flow of cash disappeared, hence the total lack of payments and communication.
Where Things Stand with the Charity
The 4 KIDS Sake, Inc. charity, which had partnered with the Midway Poker Tour for the event, was slated to earn 50 percent of proceeds after operational costs. It was related to PokerNews that Bekavac and the tour were claiming operational expenses in excess of what was made and there were no funds for the charity, who claimed to have brought in just $640 from a tip jar.
Representatives of the charity have been in contact with PokerNews, and while they have declined to discuss the matter in detail, they have stated that they are considering how best to proceed, which may include a legal remedy.
Has the State Opened an Investigation?
While the Midway Poker Tour had hoped to exploit a loophole to payout players, which you can read more about here, the Office of the Illinois Attorney General, which monitors charitable gaming licenses, put a stop to the original plan of recycling the precious metal and having someone on-site to buy it back.
That happened when AG investigator Terence Shiel visited the tournament. PokerNews reached out to Shiel, who referred us to the Illinois Department of Revenue (IDOR). The IDOR Public Information Officer Sam Salustro issued the following statement to PokerNews:
"IDOR issued license #CS-00102 to MPT on September 30th, 2020. IDOR's role in this process is to issue charitable games licenses to suppliers who are expected to abide by state law and regulations. I would have to defer any further questions to local law enforcement agencies who may have more jurisdiction over the issues you present."
When PokerNews asked a follow-up question about whether or not the IDOR was aware of any ongoing investigation, we received the following response:
"Tricky question actually, we're unable to comment on the existence or not of any investigation."
Where Do Things Stand Now?
As of publication, the Midway Poker Tour's Bekavac and Trezak have been radio silent for more than two weeks, while both the unpaid players and the charity have indicated they may pursue legal action. Additionally, the IDOR remains mum on whether or not they, or any law enforcement agency, are looking into the matter.
Another unanswered question is what happened to the collected fees from the event? While the shorted silver situation concerned the tournament prize pool of $258,020, there was $34,580 collected in fees ($130 from each $1,100 buy-in). Where that money is or went remains unaccounted for at the present moment.
Executive Editor US, PokerNews Podcast co-host & 2013 WSOP Bracelet Winner.