Maria Ho, Boston Rob & Breaking Bad Actor Confirmed for RunGood's "Trivia for Toys"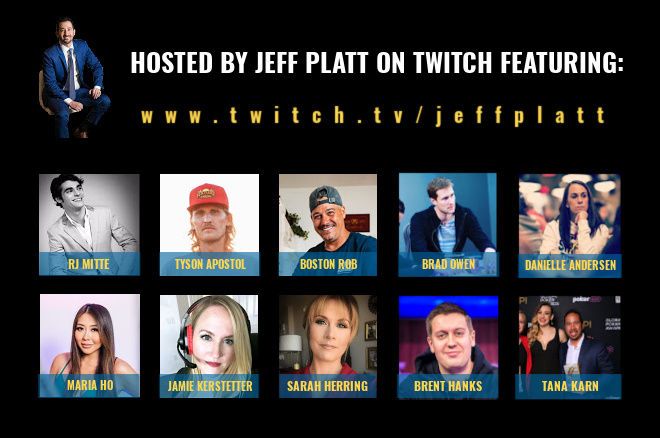 Table Of Contents
Want to win some great prizes just for playing trivia for a good cause? If so, RunGoodGear.com, the sister company of the RunGood Poker Series (RGPS), is giving you that chance at 9 p.m. ET/6 p.m. PT this Tuesday, Dec. 8 on Twitch. What's more, it's absolutely free to play!
The two-hour LIVE "Trivia for Toys" charity show will be capped at 2,000 players and hosted by commentator Jeff Platt, who fans may know as a co-host of the PokerNews Podcast. First place will receive an Apple iPad, second place a Mini Theragun, and third place Apple Airpods.
For those interested in participating, all they have to do is tune into www.twitch.tv/jeffplatt on a computer and then joining the game from a mobile device. Instructions on how to join from your phone's browser will be explained on the stream.
To spice things up, RunGoodGear had gathered a roster of both poker and TV celebrities to participate including Breaking Bad actor RJ Mitte, Survivor stars Boston Rob and Tyson Apostol, poker analysts Maria Ho and Jamie Kerstetter, PokerGO's Brent Hanks, GPI Award-Winning Vlogger Brad Owens, poker pro Danielle Andersen, and PokerNews' very own Sarah Herring.
Trivia for Toys Details
Remember, it's free to play!
When: Tuesday, Dec. 8 at 9 p.m. ET/6 p.m. PT
Where: Twitch at www.twitch.tv/jeffplatt
Why: To raise money to buy toys for kids via The One Step Closer Foundation
Who: You and the above list of poker and TV celebs
How: Pull up the stream on your computer or television and play via your mobile device. Instructions on how to log on will be given on the stream.
All for a Good Cause
Donations throughout the two-hour event will go towards purchasing gifts for The One Step Closer Foundation Holiday Party (The 1SCF). The 1SCF hosts a holiday party for children admitted to hospitals during the month of December.
Last year, the One Step Closer Foundation purchased over three hundred gifts and gave them to all the children admitted to Texas Children's Hospital and siblings ranging from 1-16 years old.
"It is a delight to watch these children light up as they enter the room and see the hundreds of gifts we bought for them," said Jacob Zalewski, President and Founder of The One Step Closer Foundation. "Having gone through such a difficult and trying year in 2020, we are so grateful for any donation as every penny will be used to provide joy and happiness to these children during the holidays."
Tana Karn, founder and CEO of RunGood, added: "We've worked with The One Step Closer Foundation for years now and each year they've steadily out done themselves for bettering the lives of children affected with Cerebral Palsy and other afflictions. Hospital stays are no fun, especially during the holidays. Looking forward to helping change that for many."
For those who can't make the event but still want to help, you can donate by clicking here.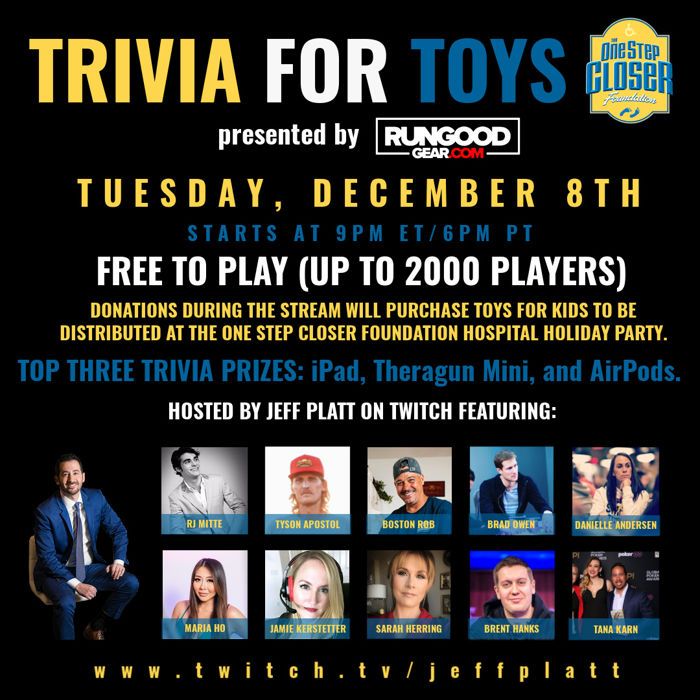 Executive Editor US, PokerNews Podcast co-host & 2013 WSOP Bracelet Winner.