Seinfeld's Jason Alexander Beats Kevin Pollak in WPT Charity Tournament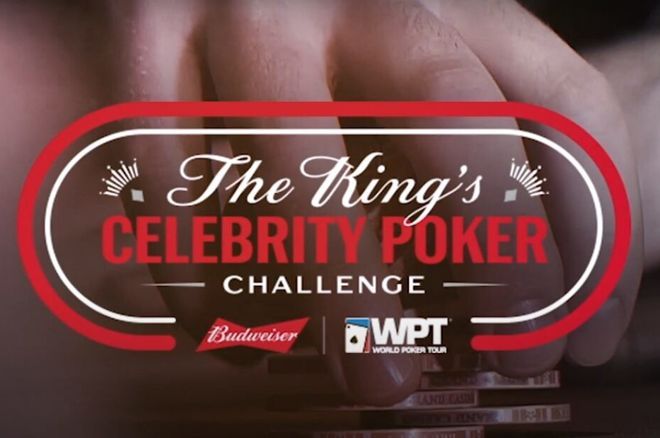 Seinfeld actor Jason Alexander has won 'The King's Celebrity Poker Challenge' which premiered on ClubWPT last night. The event partnered with Budweiser to help raise $125,000 for World Central Kitchen, a charity that is helping to deliver meals to families, seniors and frontline healthcare workers.
Alexander defeated comedian and actor Kevin Pollak heads-up, in an event that was streamed on the World Poker Tour Twitch channel.
The event also featured Mad Men star Jon Hamm, World Central Kitchen founder, Chef José Andrés, NBA all-star Pau Gasol, and surfing champion Kelly Slater
Click Here to Donate to the World Central Kitchen
The King's Celebrity Poker Challenge Results
| Place | Player | Donation |
| --- | --- | --- |
| 1 | Jason Alexander | $50,000 |
| 2 | Kevin Pollak | $15,000 |
| 3 | Jon Hamm | $15,000 |
| 4 | Pau Gasol | $15,000 |
| 5 | Kelly Slater | $15,000 |
| 6 | José Andrés | $15,000 |
Donations were made by Budweiser to World Central Kitchen on behalf of the players
Re-Watch the King's Celebrity Poker Challenge on YouTube
Recap of the Action
The players each received 25,000 in chips, with the blinds starting at 25/50. It took 40 minutes for the first elimination, with chef José Andrés heading to the exit. He was eliminated by Kevin Pollak who moved into the chip lead.
After his elimination, Andrés told Lynn Gilmartin that he felt "invincible" despite his early exit, and thanked the WPT for their involvement.
"I'm super happy and thankful to World Poker Tour and Budweiser to support the men and women in the frontline of World Central Kitchen"
Kelly Slater went next after trying to hero-call Jon Hamm with ace-high, only for Hamm to have flopped two pair. This put Hamm second in chips, but it was Pollak who still sat as the big stack.
Christian Jeppsson Wins WPT Online Championship
Click here to read how Jeppsson won $923,786 in the WPT Online Championship on partypoker
Eventually both Hamm and Pollak sat level in chips at the top of the counts, but Jason Alexander closed the gap when he eliminated Pau Gasol in fourth place.
Alexander was on fire, blasting past his two opponents and into the lead, and eliminated Hamm in third place. Hamm flopped top pair, but Alexander made a set and took a commanding lead into heads-up play.
"It was very fun," said Hamm. "Obviously [World Central Kitchen] is pretty impressive so that part has been amazing! I'm very familiar with what the organisation has done and I've worked alongside him on some of those projects. What [José Andrés] is doing is super important!"
Heads-up Chip Counts
| Player | Chip Count | Big Blinds |
| --- | --- | --- |
| Jason Alexander | 129,802 | 108 |
| Kevin Pollak | 20,198 | 16 |
It didn't take long for a winner to be crowned. Pollak got his last seven big blinds in with queen-ten of clubs and was called by the queen-nine of hearts by Alexander. However, it was the former Seinfeld star who rivered a flush to secure victory and a $50,000 donation to the World Central Kitchen.
"It was a blast and it's an amazing cause. I couldn't be more proud of my friend Jason Alexander for taking the trophy," said Kevin Pollak.
"It's fantastic and God bless [World Central Kitchen Founder] José Andrés," said the newly-crowned King's Celebrity Poker Challenge champion Jason Alexander.
"Innovative" WPT Partners with Budweiser
"WPT is always looking to be innovative," said Adam Pliska, CEO of the World Poker Tour. "This partnership with Budweiser leverages our 18 seasons of world-class production and our ClubWPT online platform, to bring real poker into people's homes during this unprecedented era without live events.
"We graciously thank our partners at Budweiser for their contribution of $125,000 to help those in need during this time."
"Budweiser has had a long legacy of an association with competition," said Monica Rustgi, Vice President of Marketing, Budweiser. "We, like everyone else, are missing the excitement of watching a live game," "Bud wanted to give people chance to feel a little of that thrill of competition while staying safe at home [...] and to make a positive impact by spotlighting the great work of World Central Kitchen."