Bally's Las Vegas to Host Power Poker Series With $750K in Guarantees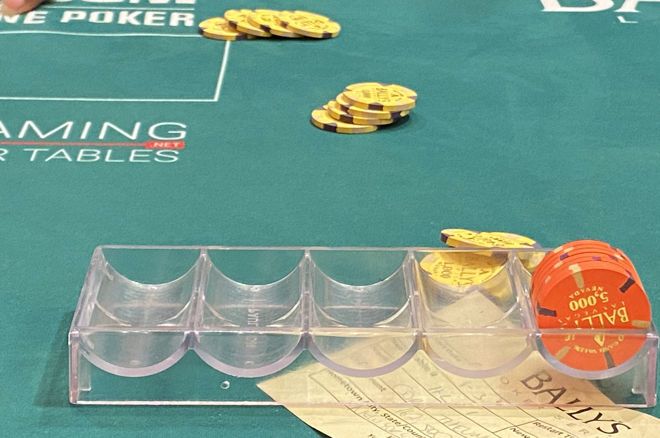 With another poker series coming up in early February and lasting nearly an entire month, Bally's Las Vegas will continue to serve as host for those looking to play live poker in Sin City.
The property's Power Poker Series kicks off Feb. 4 and lasts until March 3, offering $750,000 in guarantees through the entirety of the festival. It features 48 numbered events, a slew of satellite options, a leaderboard for additional prizes, and culminates with a $100,000 guarantee on the Main Event.
The Power Poker Series follows up on the venue's recent Main Event Mania and Back to Action series, which gave thousands of poker players the chance to whet their live poker appetites after the game had been largely on ice for months. As with those series, Power Poker Series will be played eight-handed with plexiglass dividers and mandatory use of masks by players and staff.
Series Highlights
The schedule follows a pattern offering two numbered events on most days, one starting at noon local time and one starting at 3 p.m. Each one will be preceded by a satellite guaranteeing a seat.
Of course, the Main Event will be the biggest attraction, with a $1,000 buy-in and a $100,000 guarantee. It has starting days on Feb. 28 and March 1 — each allowing a single reentry — and then plays down to a winner across Day 2 and Day 3 the following days. Most of the events are two days long.
A big focus for the series is non-hold'em tournaments, which make up about half of the schedule. Players will have the opportunity to play a variety of games and mixes, mixed triple draw, triple stud, and even pot-limit Omaha hi-lo and big O. H.O.R.S.E. and PLO events at the $1K price point give players the option to play these games a bit bigger as well.
Those looking for higher buy-in action can get it in the form of three high rollers as well, priced at $1,500, $2,200 and $3,300.
Nearly every numbered event has a guaranteed prize pool, the only exceptions being heads-up tournaments — one for $400 and one for $600 — capped at 128 players.
Each day will also feature a $2K guaranteed nightly at 7 p.m. for $175.
Added Value Via Leaderboard
As Bally's has done in the recent series, they'll be giving away some added value to the loyal players frequenting the events and performing well, in the form of a points leaderboard.
Each player cashing will earn points toward the leaderboard, which builds toward the Main Event. The top 20 earners will be rewarded with seats to the Main Event, each worth $1,000.
Power Poker Series Full Schedule
| Date | Time | Event |
| --- | --- | --- |
| Feb. 4 | 12 p.m. | EV#1 $500 NLHE ($10K GTD) |
| | 3 p.m. | EV#2 $400 O8 ($8K GTD) |
| Feb. 5 | 12 p.m. | EV#3 $600 NLHE ($12K GTD) |
| | 3 p.m. | EV#4 $400 HORSE ($8K GTD) |
| Feb. 6 | 12 p.m. | EV$5 $500 NLHE Monster Stack (50K chips) ($25K GTD) |
| | 3 p.m. | EV#6 $400 Triple Stud ($8K GTD) |
| Feb. 7 | 12 p.m. | EV#7 $400 Big Game Stack (50K chips)($10K GTD) |
| | 3 p.m. | EV#8 $400 Triple Draw Mix ($8K GTD) |
| Feb. 8 | 12 p.m. | EV#9 $400 PLO ($10K GTD) |
| | 3 p.m. | EV#10 $600 HORSE ($10K GTD) |
| Feb. 9 | 12 p.m. | EV#11 $600 NLHE ($12K GTD) |
| | 3 p.m. | EV#12 $400 TORSE ($8K GTD) |
| Feb. 10 | 12 p.m. | EV#13 $800 NLHE ($15K GTD) |
| | 3 p.m. | EV#14 $600 Triple Stud ($10K GTD) |
| Feb. 11 | 12 p.m. | EV#15 $400 Heads-Up NLHE (128 Max) |
| | 3 p.m. | EV#16 $600 O8 ($10K GTD) |
| Feb. 12 | 12 p.m. | EV#17 $400 Seniors Event ($10K GTD) |
| | 3 p.m. | EV#18 $1,000 HORSE ($15K GTD) |
| Feb. 13 | 12 p.m. | EV#19 $500 Big Stack Bounty NLHE (50K chips) ($20K GTD) |
| | 3 p.m. | EV#20 $400 PLO / O8 / PLO8 Mix ($8K GTD) |
| Feb. 14 | 12 p.m. | EV#21 $600 Super Stack NLHE (60K chips) ($25K GTD) |
| | 3 p.m. | EV#22 $300 Ladies Event ($5K GTD) |
| Feb. 15 | 12 p.m. | EV#23 $600 Heads-Up NLHE (128 Max) |
| | 3 p.m. | EV#24 $600 Triple Draw Mix ($10K GTD) |
| Feb. 16 | 12 p.m. | EV#25 $600 PLO ($10K GTD) |
| | 3 p.m. | EV#26 $400 Nine-Game Mix ($8K GTD) |
| Feb. 17 | 12 p.m. | EV#27 $800 NLHE ($15K GTD) |
| | 3 p.m. | EV#28 $400 Big O ($8K GTD) |
| Feb. 18 | 12 p.m. | EV#29 $500 NLHE Chop it (15% of field paid equal prizes) |
| | 3 p.m. | EV#30 $800 PLO ($12K GTD) |
| Feb. 19 | 12 p.m. | EV#31 $600 1/2 NLH 1/2 PLO (12K GTD) |
| | 3 p.m. | EV#32 $400 Stud8 / O8 Mix ($8K GTD) |
| Feb. 20 | 12 p.m. | EV#33 $500 NLHE Monster Stack (50K chips) ($50K GTD) |
| | 3 p.m. | EV#34 $600 Nine-Game Mix ($10K GTD) |
| Feb. 21 | 12 p.m. | EV#35 Super Sunday $500 (40K chips) ($25K GTD) |
| | 3 p.m. | EV#36 $600 Stud8 / O8 Mix ($10K GTD) |
| Feb. 22 | 12 p.m. | EV#37 $600 NLHE ($25K GTD) |
| | 3 p.m. | EV#38 $400 Stud 8 or Better ($8K GTD) |
| Feb. 23 | 12 p.m. | EV#39 $1,000 NLHE ($15K GTD) |
| | 3 p.m. | EV#40 $400 PLO 8 or Better ($8K GTD) |
| Feb. 24 | 12 p.m. | EV#41 $1500 NLHE High Roller 1 ($20K GTD) |
| | 3 p.m. | EV#42 $600 Stud 8 or Better ($10K GTD) |
| Feb. 25 | 12 p.m. | EV#43 $2,200 NLHE High Roller 2 ($25K GTD) |
| | 3 p.m. | EV#44 $600 Big O ($10K GTD) |
| Feb. 26 | 12 p.m. | EV#45 $3,300 NLHE High Roller 3 ($30K GTD) |
| | 3 p.m. | EV#46 $600 PLO 8 or Better ($10K GTD) |
| Feb. 27 | 12 p.m. | EV#47 $1,000 PLO ($15K GTD) |
| Feb. 28 | 12 p.m. | EV#48A - $1,000 NLHE Power Series Main Event (100K starting chips) ($100K GTD) |
| March 1 | 12 p.m. | EV#48B - $1,000 NLHE Power Series Main Event (100K starting chips) ($100K GTD) |