WSOP Circuit Pivoting Online for 2021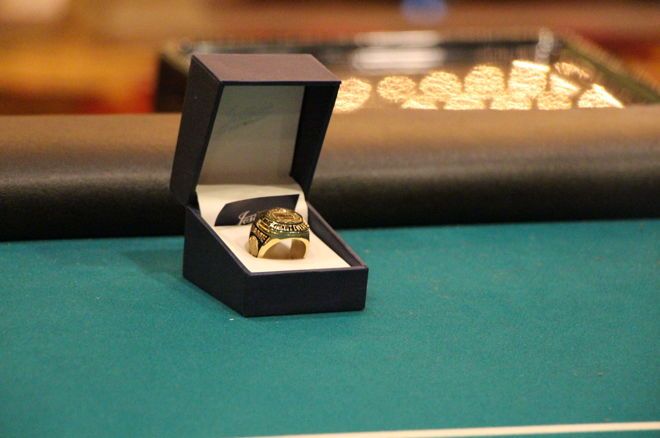 With the immediate future of live poker still cloudy as COVID-19 continues to put a damper on, the World Series of Poker Circuit has opted to shift things online for 2021.
Rather than wait around and see if things clear up, the WSOP announced plans for monthly online Circuit events to take place throughout the year on, in a recent press release. They'll award more than 180 gold rings during these WSOP.com events, each featuring at least 12 and sometimes as many as 18 up for grabs. One has even been tentatively planned for a yet-to-be-revealed legalized market.
Additionally, things will build throughout the season toward a year-end championship event, in much the same manner the Circuit typically builds toward the Global Casino Championship. Small event-specific freerolls will also reward players on an immediate basis, increasing the value available.
Potential for 13 Series
The WSOP Circuit typically offers one or more series per month, and the online schedule will look much the same for 2021. Each month, at least one event will take place awarding either 12 or 18 rings depending on series length.
The series are open to players in Nevada and New Jersey — plus perhaps those in the mystery market hinted at in the presser.
In an effort to encourage out-of-market players to participate, the WSOP has opted to brand some of the tournaments with partnered Caesars properties, offering special room rates for those coming into town to fire off in the poker tournaments. For example, the May series will be "hosted" by Caesars Atlantic City, while the August one will be at Rio in Las Vegas. Players who attend these properties can buy in and cash out winnings locally at the casino cashiers.
As for the unscheduled event, it's "pending launch of the WSOP.com service in a newly regulated market," according to the presser. Given that Michigan was the latest state to legalize online poker, it could be tabbed for a series, but online poker has yet to launch there and WSOP wasn't expected to be one of the brands available at the outset. The other main possibility is Pennsylvania, where WSOP.com has obtained a license but hasn't launched. The company owns a venue there — Harrah's Philadelphia — but the lack of player pooling with other states would seem to be an obstacle.
Schedule Revealed Thus Far
| Dates | Event | Leaderboard Freeroll Date |
| --- | --- | --- |
| Jan. 14-31 | Winter Online Super Circuit | Feb. 2 |
| Feb. 17-28 | Planet Hollywood Circuit | March 2 |
| March 19-20 | Silver Legacy Circuit | April 1 |
| April 10-27 | Spring Online Super Circuit | April 29 |
| May 8-25 | Caesars Atlantic City Super Circuit | May 27 |
| June 10-27 | Summer Online Super Circuit | June 29 |
| July 16-27 | Bally's Online Circuit | July 29 |
| Aug. 20-31 | Rio Online Circuit | Sept. 2 |
| Sept. 15-26 | Caesars Las Vegas Online Circuit | Sept. 28 |
| Oct. 9-26 | Fall Online Super Circuit | Oct. 28 |
| Nov. 10-21 | Paris Las Vegas Online Circuit | Nov. 23 |
| Dec. 8-19 | Harrah's Las Vegas Online Circuit | Dec. 21 |
Added Value from Freerolls and $250K Championship
The normal live Circuit schedule awards "rakeback" in the form of a huge end-of-season freeroll, and the online 2021 Circuit will have a similar system of rewarding loyal customers.
The biggest chunk will come from the $250,000 Year-End Championship, scheduled for Dec. 28.
Every ring winner during the season will automatically earn a ticket for the Championship. Monthly leaderboard winners — everyone who cashes a ring event will earn points, as usual — will also earn seats. Seats will also be awarded to winners of "Second Chance Fast Forward" tournaments — anyone playing a minimum of four events during a given series will get a ticket to the Second Chance. Finally, the top 50 points earners who didn't otherwise win a seat during the course of the season will also be invited, in keeping with the Global Casino Championship's policy.
In total, the WSOP plans to seat 256 players for the Championship.
Those looking for more immediate rewards will get them in the form of a $25K freeroll to run following the conclusion of each series. Usually taking place just a few days after the last event has wrapped, the $25K will be awarded to a small group of players: ring winners from that series and the top 10 points earners from that series.
Those in the top 10 points standings in a given series will also divvy up $10,000 worth of WSOP.com tournament tickets.
According to the WSOP, more than $600K in total will be given back to the players through these mechanisms.
Building Off Expanded 2020 Online Circuit
Despite live poker slowly creeping back into place in the U.S. — a major piece will be back in place when the WPT returns to action in Florida soon — the advent of the monthly online Circuits would seem to indicate that there are no immediate plans for the return of live Circuit events. If they did return, it's not known at this time whether these online points would also count toward any live leaderboard as they do in a normal season.
Ultimately, those players located in regulated markets will be happy to get a selection of monthly tournaments with big prize pools, something that was only coming around once every few months in the pre-pandemic landscape. Players demonstrated their appetites for the the online Circuits when they build huge prize pools during 2020, including some six-figure windfalls.
"Players deserve great tournaments and great value year-round, and that's what we aim to do with the 2021 WSOP Online Circuit Series," said Ty Stewart, WSOP executive director. "We've been thrilled with the big prize pools for WSOP.COM events in 2020, and we only expect to see that grow with this new model."